All about stainless steel
In this article you will learn what stainless steel actually is and what it is made of. We will also show you the advantages of stainless steel and why the material is so well suited for door handles, window handles and door fittings.
Excursus: What is steel?
Stainless steel is a special kind of steel. To understand how stainless steel behaves, let's first take a closer look at steel as a material.
Steel is generally defined as a material that consists almost entirely of iron with a small amount of carbon. More precisely: two percent. If the carbon content is lower, the material is called cast iron. Cast iron cannot be plastically formed, i.e. it cannot be rolled or forged.
Steel, on the other hand, is fascinating because of its many processing possibilities. It can be formed both hot and cold, e.g. forged, rolled, bent or drawn. In addition, steel can be recycled almost indefinitely and is therefore a particularly environmentally friendly material.
Besides carbon, steel also contains residues of other elements such as phosphorus, sulphur or other impurities.
What is stainless steel and what properties does it have?
DIN EN 10020 specifies exactly which types of steel may be called stainless steel. These are alloyed or unalloyed types of steel that must have a particular degree of purity. For example, they must not exceed a certain sulphur and phosphorus content.
Colloquially, stainless steel is usually described as particularly pure, rust-free or rustproof. However, this definition is not correct from a chemical point of view. Stainless steel does not necessarily have to meet the same requirements as stainless steel, nor can all stainless steel be called stainless steel. Nevertheless, in everyday life we usually only refer to stainless steel as stainless steel.
Stainless steel becomes particularly corrosion-resistant depending on the amount of chromium it contains. This causes the so-called passivation. Passivation is the creation of a non-metallic protective layer on a metallic material to increase its corrosion resistance. Some manufacturers chemically induce passivation or pickling in order to obtain particularly uniform surfaces.
Did you know?
Stainless steel can also rust. This happens when it comes into contact with ordinary iron. At first, superficial flash rust develops. Later, deeper, more serious corrosion can develop (so-called pitting).
Stainless steels are also sensitive to substances containing chlorine, e.g. road salt, chlorine cleaner and hydrochloric acid. Sulphur dioxide or silver cleaning agents can also attack stainless steel. Therefore, refrain from using harsh cleaning agents when cleaning.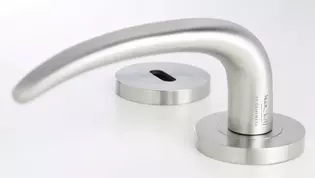 Stainless steel as a material for door handles, window handles and door fittings
Stainless steel is used in many industries because it is considered particularly durable and almost corrosion-free. This is also reflected in the household: whether it's a saucepan or a sink - you can hardly get around stainless steel. Stainless steel is also a convincing material for door handles, window handles and door fittings. Especially in outdoor areas, the material scores with its corrosion resistance and durability. But also in living rooms and at the workplace, handles and fittings made of stainless steel impress with their clear and noble aesthetics.
---
Six arguments for stainless steel for doors, windows and co.
1. Aesthetics
While painted handles made of other materials gradually fade or change colour, door and window handles made of stainless steel always retain the same appearance. In addition, stainless steel handles are convincing with a hand-flattering feel - they simply lie well in the hand. This is due to the fact that stainless steel can be processed in a variety of ways and thus edges and surfaces can be polished particularly beautifully.
A variety of possible surface treatments can also be used to create diverse design highlights: e.g. with a polished surface like our PURISTO glass lock case or in a matt finish like the GRIFFWERK PURISTO S LUCIA PROF glass revolving door fitting with a pair of handles in brushed stainless steel. Complete the ensemble with matching stainless steel living elements, e.g. house numbers or coat hooks.
The special shine of stainless steel is convincing on every line and gives your living room or workplace a clean and modern look.
2. Minimum care
No special maintenance or care is required to keep stainless steel handles or fittings alive. The material can be easily cleaned. All you need is water and a mild cleaning agent. Special stainless steel cleaners are suitable for subsequent polishing, but are not absolutely necessary.
Be careful not to use aggressive cleaning agents such as chlorine cleaner, bleach or oven cleaner - this will preserve the stainless steel surface for a long time.
It is best to clean your stainless steel door handle with the soft side of a sponge or with a microfibre cloth. Steel wool is not necessary. Cleaning once a month is sufficient.
3. Hygienically clean
Stainless steel is a particularly hygienic surface. This is because the material has no pores and bacteria and dirt can hardly stick to it. Or in other words: survival chances for germs are zero. Polished door handles are even more hygienic due to the somewhat smoother surface.
In addition, the material is easy to clean and disinfect. Stainless steel is therefore also used in areas where hygiene is particularly important, e.g. as a material for surgical tools or for work surfaces in restaurants.
4. Corrosion resistance
Just like steel, stainless steel is characterised by its corrosion resistance. This means that even exterior doors hardly ever rust. However, there is one important point to note: So-called non-ferrous metals, e.g. aluminium or brass, oxidise in the air. This oxidation can then be transferred to other parts in the vicinity, causing corrosion. Therefore, you should make sure that all other parts of a door or window handle made of stainless steel are also made of stainless steel, e.g. lock case, bracket, etc. This way you can avoid corrosion damage. This way you can avoid corrosion damage.
Stainless steel handles and fittings do not rust even in humid or salty environments when properly processed and are therefore also suitable for use on bathroom, kitchen or greenhouse doors.
5. Longevity
Not only the lack of corrosion but also the structural stability contribute to the longevity of stainless steel. It is a very strong metal whose surface is well protected from damage. So you can enjoy a particularly long service life with your window handles, door handles or protective fittings. At the same time, you save money because the elements need to be replaced less often or not at all.
6. Sustainability
Stainless steel fulfils two important criteria of a sustainable material: it is particularly durable and also recyclable. Stainless steel can be 100 percent recycled and is therefore particularly environmentally friendly. Around 60 percent of new stainless steel comes from old, already recycled steel. So if you choose a product made of stainless steel, you are helping to reduce waste and protect the environment.
Tip: Are you looking for GRIFFWERK articles made of stainless steel? Then use our sorting function. Under "Surface" you can select "Stainless steel matt" or "Stainless steel polished" and you will then receive the desired products.
---
What might also interest you:
Our stainless steel door handles. The door handle - the jewellery for the door. At Griffwerk you will find the right, high-quality door fitting for every taste - including care tips for stainless steel.