Burglary protection - Burglar-resistant windows and doors
On average, burglaries occur every four minutes in Germany. In addition to alarm systems, there are numerous other ways to equip or retrofit the doors and windows of your house or flat with security technology. Burglars usually gain access to the home by prising open the windows and doors. Not only the security of the front door plays a role - side entrances and cellar windows should also offer the best possible protection against burglary.
The resistance classes of windows and doors explained
For new buildings or conversions, it is advisable to choose windows and French doors whose burglary resistance is certified according to DIN EN 1627. Frames, fittings and glazing are then tested for their burglar resistance as an overall construction. To guarantee correct fitting, the installation on the house should be carried out professionally.
Hardware security for windows and doors
A new standardisation of burglary protection has been in force since 2011. The former WK - resistance classes became RC - resistance class. The old standard DIN ENV 1627 was replaced by the new DIN EN 1627.
The RC class ranges RC1N to RC 3 are recommended by the police in the private sector.
The lowest resistance class RC1N does not have a special specification for glazing. It is equipped with four security fittings and offers only very limited resistance to burglars. The police recommend its use only for windows on upper floors, which could only be reached by burglars via a climbing aid. With this resistance class, it is always advisable to retrofit other burglary protection products, such as an anti-lift device and lockable window handles.
RC2N is often referred to as the entry level class and must already withstand simple levering tools for approx. 3 minutes of levering action. This class is only equipped with standard window glass - i.e. without security glazing.
RC2 Burglar-resistant safety glazing is mandatory for this class and higher according to DIN EN 365. The windows are equipped with mushroom-headed fittings and usually a lockable window handle.
Important: Lockable window handles only offer meaningful burglary protection if they can withstand at least 100Nm. The handles must actually be locked and the removed key should not be kept directly on the window afterwards.
RC3 offer high burglary protection. The resistance time of a lever test of this class is five minutes. Burglar-resistant components of this type include impact-resistant glazing of resistance class DIN EN 365.
RC4 / RC5/ RC6 - The RC4 to RC6 ranges are mostly used for commercial purposes, as they are very expensive and not worthwhile for private use. Mostly, these window profiles are also made of metal. Thus, they are unsuitable for residential buildings as they hardly insulate.
Windows and doors of resistance classes RC4 to RC6 even protect against burglary by experienced perpetrators who also use chisels, cordless drills, axes and powerful power tools.
---
Burglary protection thanks to safety glass
Normal window panes do not offer any protection against burglary. Unless your windows are equipped with safety glass or safety film.
Safety glass is a collective term for special glass that is subject to special requirements in connection with glass breakage. A distinction is made between toughened safety glass (ESG) and laminated safety glass (VSG). ESG safety glass is specially heat-treated glass with increased impact and shock resistance. In the event of breakage, small, blunt shards are produced.
Laminated safety glass consists of two thermally toughened safety glasses and an inner tear-resistant film. In case of breakage, the shards adhere to this intermediate layer.
Safety glass according to DIN EN 356
Pane glasses are tested in the building industry according to DIN EN 356 by means of test methods and classifications of resistance to manual intervention. In private residential areas, glass of classes P1A to P5A is usually used.
In commercial buildings or exclusive residential buildings, glazing of classes P6B to P8B is usually used. These classes are attack-resistant glazing with break-through resistance.
Alternative - safety film for glazing
Retrofitting standard glazed windows with safety glass? This is easier than replacing the glass: with a safety film. Security films are retrofitted to the window pane. Security films are also differentiated according to class. From P1A to P5A, the security of the films thus increases. The resistance to penetration is tested with the help of a metal ball.
The classes of security films that have a break-through inhibiting effect are differentiated from P6B to P7B. Here, the burglar-resistant effect is tested for its resistance with a machine-guided axe and the burglar-resistant effect is divided into different classes of burglary protection.
---
Burglar protection for doors
The correct securing of doors and the correct retrofitting of already installed house and flat doors is decisive for a high burglar-resistant effect. Both the front door and doors of side entrances and cellar doors that are easily accessible must be taken into account. Burglar-resistant security measures are intended to force the burglar to abandon the burglary attempt after a certain period of time. A door that offers optimal burglary protection consists of several parts.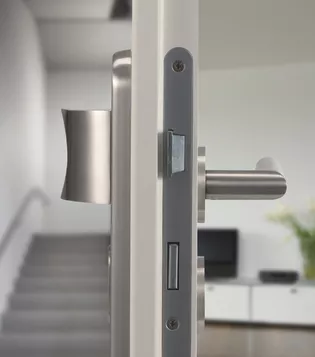 A stable door leaf made of solid wood or, better still, a hardened steel plate, offer a high level of resistance to lifting effects and drilling into the door.
Protective fittings and security locks with invisible screw connections and special hardened steel offer high resistance to external drilling and pulling out of the cylinder lock. A security fitting consists of an inner and an outer shield. The shield is the plate that covers the keyhole and the hole for the door handle. The outer shield is screwed from the inside. The screws are not visible from the outside.
Here, too, there are different protection classes which are divided into four resistance classes (ES0 - ES3). A door in resistance class ES0 offers basic protection against attempts to break it open by physical force or vandalism. With ES1, the protection is higher due to a higher resistance class that can also withstand tools for some time. ES2 and ES3 offer a particularly high level of protection and are mostly used in areas at particular risk of burglary or for commercial buildings.
Mushroom head locks are small hinges that hold the window or door together on several sides. This makes it considerably more difficult to prise open. Due to its shape, this security element got its name.
Door bar locks are recommended to provide additional security for high doors or trim doors. It consists of a metal bar running from top to bottom that opens into lock cases.
Armoured deadbolts consist of a solid crossbar which is fitted behind the door. Across the entire width of the lock and hinge side, the deadbolt protects the door against attempts to lever it open.
In summary: When choosing doors and windows, look for quality and the certifications. In principle, all private individuals, institutions, authorities and agencies can obtain advice on behavioural and security-related areas from the criminal police advice centre. The installation of all burglar-resistant security elements should be carried out professionally to ensure optimal protection.