Doors flush with wall
The principle of the surface - Piatta S
The clear distinction between walls, frames and interior doors is no longer necessary or desired today. Materials and appearance are becoming more uniform. The need for order and visual reduction is changing living culture. Whether flush sliding doors or interior doors with a flush-wall look, you are right on trend.
Our PIATTA S products are perfect for flush-to-wall room doors. They are masters of this design language. The rose can nestle flat against the door leaf like a pane of glass. And PIATTA S does not even require any special milling.
What is a flush door?
As the name suggests, the flat appearance of the room door is the main focus. The door leaf and frame of the flush door are on the same level and together form a continuous surface.
The door leaf does not lie on top of the frame as with conventional doors (rebated door leaf), it fits into the frame of the door when it is closed. For this reason, flush doors are also called butt doors. The hinges of the butt-hinged door leaf are hidden. This means that nothing disturbs the purist, modern look.
What is a flush wall door?
If the door leaf, frame and wall form a smooth surface, it is called a flush-wall door.
If you choose the same colour for the door and the wall, the flush interior door blends almost invisibly into the room and creates a modern and minimalist look. The open wall surfaces visually increase the size of the room.
If accents are desired, a coloured door leaf creates the appropriate contrast.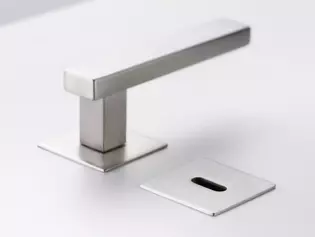 The perfect door handle for the flush door
Those who opt for the flush look for interior doors do not want to compromise on the fittings. Griffwerk offers the optimal door handles for the minimalist look. Our door handles of the PIATTA series convince with their ultra-flat design. The flat rosettes lie almost flush with the door leaf. The entire hardware technology has been relocated to the inside of the door. High-retaining springs ensure optimum return of the handle.
Want an even more minimalist look? No problem. Our flush door handles are also available with smart2lock. Doors can be closed and locked with just one hand. The absence of locking rosettes creates a new, purist door aesthetic.
Install panel-flush doors: Smart mounting in 3 steps
2
Fix flat rosette with SMART-KLIPP
Tip: If you want to buy a door handle with smart2lock, be sure to note the opening direction of the flush door. This determines where the smart2lock pin is located.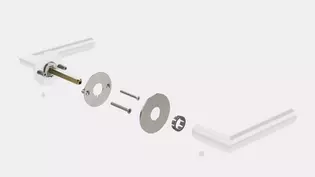 Smart fitting technology
Spring support made of high performance spring steel
High quality metal substructure
M4 screw connection
ultra-flat rosettes with only 2 mm height
SMART-KLIPP
Our door handles for the flush wall door
Integrated locking technology
no key rosette
convenient 1-hand operation
simple emergency unlocking
no more lost keys
compatible with any standard mortise lock