Functional, safe, beautiful: sliding doors for outdoor use
Sliding doors give a new sense of space in an apartment or workplace, save space and are practical. Nevertheless, revolving doors are still the norm, so interior sliding doors are still considered "special". Exterior sliding doors are quite different: they are so integrated into our lives that we often don't even notice them anymore.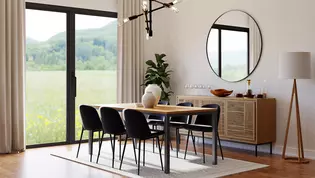 Where are sliding doors used outside?
Actually, everywhere! They are especially popular as balcony or terrace doors, where they merge with the look of the windows and thus guarantee maximum light incidence. Sliding glass doors on terraces and balconies thus provide light, airiness, a positive living feeling and space savings. Although Griffwerk directly produces none sliding glass doors for outdoor use, in this guide we will give you valuable tips for buying them and show you what to look out for if you already use sliding glass doors indoors as well.
The same applies to the entrance to the conservatory or the transition from the conservatory to the house. Easy to handle and space-saving, they are the most practical option to have plenty of room for plants, furniture, window decorations and even hammocks - thanks to the elimination of the turning area, this is how you get that real summer feeling on uncomfortable days.
Exterior sliding doors are also very popular in restaurants, for example, to integrate a patio into the establishment and create the feeling of a larger overall space. This gives the restaurant a cozy, but also open and friendly ambiance.
On barns, workshops and industrial facilities, we find exterior sliding doors mostly made of metal, sometimes of wood, because they are practical to handle and can be much larger than revolving doors, without compromising manageability. Thus, even very large vehicles and machines can easily pass through the doors.
What do I need to consider for exterior sliding doors?
In residential buildings are usually used the aforementioned sliding glass doors outside, which harmonize with the windows. Since they occupy a large area, they must be well insulated to keep energy costs in check.
Furthermore, it is important that the frame and hardware can withstand rain, wind, sun and frost. Aluminum, very high quality plastic or well-maintained wood frames are ideal, in combination with aluminuim or preferably steel hardware.
Those who install sliding doors for access to the exterior often do so for practical reasons. Therefore, operability must be ensured: Look for smooth-running models that are not too heavy, despite triple glazing, and have strong hardware that fits well in the hand.
Exterior sliding glass doors must be burglar-proof. Safety glass is a must and the frames and hardware should be at least RC 2 resistance class. That means they have security strike plates and mushroom head locking bolts so they can withstand a burglary attempt with lever tools for at least 3 minutes. Of course, the door must be lockable. If you have taken over a house where this is not yet the case, you can simply retrofit the sliding patio door with security technology.
Last but not least: the optics
All functionality fades if the appearance is not right, because it decisively determines our sense of space and our well-being. Therefore, make sure that your exterior sliding door harmonizes with the interior design and especially with the nn interior doors, sliding glass doors and fittings . Also, if you want a large sliding patio door to focus on the view of greenery and a light-filled room, don't steal the show with flashy hardware. Window handles in cashmere grey are fine for dark window frames, as they won't stand out. With white frames, light wood or grey aluminum frames, however, it is better to go for Basic, haptically pleasant fittings in a matt stainless steel finish.
Exterior sliding doors with playful but subtle designs are also particularly suitable for conservatories, e.g. matching the Griffwerk glass door design BIRDS & BIRD or NATURE 660.