Glass doors & office space: the perfect home office
Optimum working atmosphere: glass doors with sound insulation enable an undisturbed working day in the home office. Plenty of light and a variety of different glass door designs provide the visual feel-good factor in the office.
Glass door in the home office
Glass doors from GRIFFWERK offer a high level of sound and acoustic protection. Undisturbed video calls: Noise from the surrounding rooms is reduced or is not even audible in the first place.
One sliding glass door in the Griffwerk range in particular stands out - PLANEO AIR SILENT has tightly closing rubber lips that prevent draughts and keep warm heating air in the room. Food odours from the kitchen are thus also kept out. Laminated safety glass (LSG) ensures a high level of stability of the glass pane and, due to its thickness, more sound insulation, because VSG glass consists of at least two layers of glass.
Undisturbed in the home office
In your own home, distractions are pre-programmed. Family members and partners can always reach you. Small questions are quickly asked and cause unwelcome interruptions, especially during important telephone calls. Clear signals can help. A closed door means: "Do not disturb".
With the Smart2lock locking system from GRIFFWERK, the door is locked and unlocked in seconds, with a click on the door handle. By the way: Doors with 'smart2lock' do not require locking rosettes. This creates a completely new door aesthetic. Especially those who receive customers must pay attention to the representative effect of the office. An innovative entrance ensures a perfect first impression right from the start.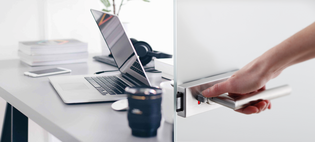 Healthy working in the home office: thanks to glass doors and a suitable room concept
Glass as a transparent material guarantees a high incidence of light. The incident daylight from the windows in the office and the adjoining room is used to the maximum with glass doors and brightens up the room - healthy for the eyes.
Another advantage of the home office: you can furnish it however you like. And what does the best, healthiest furnishing look like? Not as white and sterile as most offices. Because: if you feel comfortable, you can also achieve more. Muted tones are recommended for long and concentrated work. The tabletop in particular should be in a pleasant, lightly tinted shade. Striking tones with high saturation and luminosity should be avoided. The latter draw too much attention to themselves and this disturbs concentration. So that soft nuances do not appear too tired, a few contrasting elements can be used.
Black accents have a very noble effect. They can be repeated in the room, whether as a table lamp, a door handle or a designer piece on a shelf.
The optimal glass door design for the home office
Functionality and design are not mutually exclusive with glass doors. Glass doors are available in different colours and surfaces. Crystal clear or rather frosted without transparency? Green glass or dark smoked glass - there are many door leaf variants. Creative minds can let their imagination run wild when it comes to door design. The glass door design can be customised with lettering or motifs. The design can be applied to the entire door or only parts of it - for example, foil can be applied to parts of the door, or a part of the door can be lasered and thus provided with a pattern. This creates an alternation of transparent glass and frosted, opaque glass. This effect can also be created with sandblasted surfaces.
Rounded overall picture: Door handles and door fittings are also available in different colours and shapes - so that they fit in perfectly with the overall interior.
Subtle colours are advantageous in the workplace. Cashmere grey, velvet grey or graphite black have a calming effect and are not unnecessarily distracting. Glass doors go well with different furnishing styles. They go just as well with rustic room concepts as with clean designer furnishings - in any house or flat, an area can be separated off as a home office with a glass door in such a way that it is integrated harmoniously into the overall concept. Angular or round door handles underline the respective look of the rooms and ensure a harmonious overall picture. The home office with glass doors is practical, modern and enables a working day with a feel-good guarantee.
More on the subject of home offices and glass doors can be found in our theme booklet.
Which glass doors are suitable for offices?
Glass doors for offices can be made entirely of white glass or opaque frosted glass. A combination of white and velvet glass is also possible. Regardless of whether they are sliding doors or swing doors: Glass doors suit every office space. However, care should be taken to ensure that the glass door system closes tightly to avoid draughts and noise.