The big window and door glossary. Part 2: F to S
From F for trap door to S for screen printing: our glossary explains everything you need to know about doors and windows, including design, handles and other accessories. We make technical terms easy to understand.
---
Folding door
A folding door is a door consisting of several parts that fold together when opened. A distinction is made between the folding door in the actual sense, the harmonica door and the folding sliding door.
The folding door consists of individual door leaves. These are attached to each other laterally with hinges, joints or hinged hinges and form the door as movable elements. A folding door can be opened and closed manually, mechanically or electrically. Special folding door fittings are required for locking and unlocking. These also enable heat- and wind-proof constructions.
This could also be of interest to you:
Float glass
Float glass is the term used for flat glass that is produced in the float process. This is a continuous process in which the molten glass is continuously fed from one side onto a bath of liquid tin. The glass therefore floats - which is referred to in English as "floating".
Due to the manufacturing process, the glass spreads out perfectly evenly and impresses with a particularly smooth surface. Float glass is therefore also suitable for the production of glass doors and sliding glass doors.
Interior doors
A door is a movable building element that closes an opening, e.g. a passage or entrance. After opening, the door allows passage into another room.
An interior door is a door that is located on the inside, i.e. that connects two interior rooms. Unlike exterior doors, they do not have to be burglar-proof. Interior doors are usually made of solid wood, wood materials or glass. They are produced as swing doors, sliding doors or folding doors.
You can find more detailed information on interior doors in our blog post "How to find the right interior door".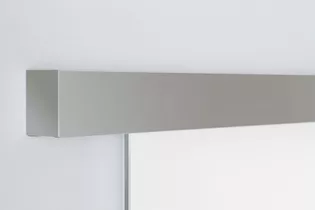 Running track sliding door
To move a sliding door, it needs the appropriate sliding door fittings. The running track of a sliding door is one of them: it makes it possible to move cabinet or passage doors precisely - with little material wear. It also ensures quiet and smooth door movement.
You can read how to install a sliding door correctly in our article "Installation made easy".
This could also be of interest to you:
Skylights
Skylights are transparent areas above the door, usually divided by a cross frame. In this way, the standard dimensions of a door are visually opened upwards. Doors with fanlights or fanlight frames are particularly suitable for high rooms and passageways. Glass is enclosed above the ordinary door frame so that light can shine through. This can be used to brighten up dark rooms.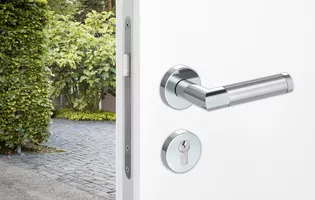 Profile cylinder
Profile cylinders are a special type of locking cylinder. It is one of the most common forms of security door locks. Profile cylinders are therefore mostly found in house or flat entrance doors. Locks with profile cylinders are harder to pick by burglars, which is why they are used on doors with increased security requirements.
This could also be of interest to you:
Sound insulation
Sound insulation generally refers to measures that are intended to attenuate sound transmission from a sound source to the receiver. In concrete terms, this usually includes construction elements such as soundproof walls, e.g. on motorways or railway stations, and soundproof doors, e.g. in offices or schools. But they also include occupational health and safety measures such as sound-insulating headphones at construction sites.
Doors and walls serve as important soundproofing elements in a dwelling. This means that residents are not disturbed by noise from the adjacent living area or from neighbours.
You can read more about sound insulation in our blog post "Sound insulation and acoustics with glass doors".
Sliding door fitting
Sliding door hardware refers to the hardware of a sliding door. A door fitting is used to implement specific functions and features of a door - e.g. the sliding mechanism of a sliding door.
Sliding door fittings are mostly used where there is little space for the rotary movement of a door leaf - i.e. a sliding door is installed Sliding door fittings include: Guides - as rails at the top or bottom, locks - usually deadbolt locks with hook latch, pull handles - attached to the door leaf or recessed as handle shells, door closers.
You can find more information on sliding door fittings in our advice article: "Sliding door fittings: What you need to know".
You might also be interested in this:
Sliding door systems
A sliding door is a door that can be opened by sliding. Thus, no turning movement is necessary and the sliding door does not require a swivel range. Sliding doors consist of one or more door leaves which are guided at the top or bottom. Sliding door systems refer to the type of sliding door guide. It can be suspended or upright and open (i.e. visible) or closed (concealed).
You can find out how to install a sliding door system in our article "Installation made easy". You can find out how sliding doors differ from hinged doors and which door suits you in our article "Hinged or sliding door?".
Locking cylinder
A lock cylinder or mortise lock is defined as the part of the door lock that receives the key. If the key fits, a locking process - i.e. the opening or closing of a door - can take place. If you move into a new flat, you do not have to replace the entire lock, but only the locking cylinder - or more precisely the profile locking cylinder.
This could also be of interest to you:
Screen printing (process)
Screen printing is a printing process in which the printing ink is printed onto the material through fine-meshed fabric using a rubber squeegee. For this reason, screen printing is also referred to as through-printing.
A so-called copying layer is applied to the screen, which is hardened by UV light. Ink-permeable areas are covered so that they do not harden. The finished screen is then pushed into the screen printing machine, the ink is applied and distributed with the flood squeegee. The ink is now pressed through the open areas in the fabric (screen) with the squeegee. This makes the print motif stand out.
Many different materials can be printed with the screen printing process: flat materials such as foils, glass plates or similar as well as shaped materials such as housings or devices. The printing colours differ depending on the material.
This could also be of interest to you:
---