Healthy living thanks to all-glass doors
Healthy living - how does that work? With the right all-glass door, you are well equipped. In this article we explain what glass doors do for healthy living and why daylight should reach every room.
What does healthy living mean?
Housing health is the term used to describe the way in which a living space is designed so that it does not harm or even benefit one's own health. By taking specific measures, the occupants can be protected from negative influences so that their well-being increases and they live in a healthy environment. Such negative influences can be, for example, noise, bad indoor air, pollution or mould.
On average, we spend 80 to 90 percent of the day indoors. That is why the health quality of our indoor spaces plays a special role. Noise, for example, makes us ill, while too much darkness promotes dejection and fatigue. In the long run, this can have devastating consequences for our psyche and state of mind.
To prevent these negative effects from occurring in the first place, you should pay attention to good housing health. One popular preventive measure is the use of all-glass doors.
---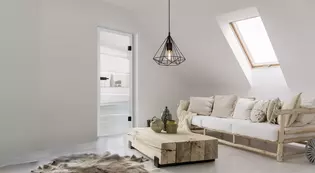 MORE HEALTHY LIVING WITH ALL-GLASS DOORS
Daylight demonstrably and sustainably improves well-being and can lift the mood. The natural light that enters through the all-glass door, for example, is not only better for the human eye than artificial light, but also promotes good sleep. Because: people who wake up with natural sunlight and expose themselves to only a few artificial light sources after sunset produce more of the sleep hormone melatonin. This allows us to sleep better and deeper in a natural way - healthy! In addition, the sun's rays help us get out of bed in the morning, as they gently wake us up.
Especially in our latitudes with short winter days and scarce sunlight hours, daylight becomes a valuable resource. How can we make the best possible use of the available light for healthy living?
In order to integrate daylight throughout your entire home, one type of door in particular is worthwhile in addition to sensibly used window fronts: the all-glass door. Thanks to their translucency, all-glass doors ensure optimal use of the available daylight. Rooms without a direct natural light source thus also benefit from the translucent sunlight. The newly gained brightness demonstrably increases the sense of well-being, leads to a better mood and is also easy on the wallet, as less artificial light is needed. Another advantage: it has been proven that the ability to concentrate and perform increases through the use of natural light sources.
When it comes to living, glass as a material not only inspires with its diverse areas of application, but above all its translucency makes it a popular material in residential construction. Another advantage is that the material is particularly sustainable and durable and does not fade or yellow, even when exposed to high levels of sunlight.
An all-glass door fits into every home - whether as an office door, bathroom door, kitchen door or living room door, at Griffwerk you will find the right room door including fittings for every taste. Glass doors can be used both as swing doors and as sliding doors. In our range you will find glass doors made of toughened safety glass and laminated safety glass.
Glass as a building material scores with its versatility and can be provided with individual decors. In addition to various printing techniques and laser engraving, we offer our glass doors in different glass colours and finishes. Choose between matt or glossy surfaces and find the right all-glass door for your home.
---
Three tips for more healthy living
Healthy living within your own four walls is easy with these three tips.
1. Ventilate
Regular, controlled ventilation is a simple and effective way to improve the health of your home. Replacing the air in the room with fresh air from outside increases the oxygen content. More oxygen in the air allows the brain to refuel, so that we can work faster and more concentrated. In addition to possible pollutants, excess humidity is also carried to the outside. This can prevent the formation of mould. Experts recommend regular ventilation instead of leaving windows open all the time.
2. Sound insulation
Noise from other homes, rooms or the environment can not only affect our hearing. It distracts us and makes us ill and unhappy in the long run. Effective soundproofing measures are an easy way to prevent this. A high-quality door that closes as tightly as possible is a first step. Invest in stable and soundproof interior doors to be optimally shielded against unwanted noise.
Did you know that not only wooden doors, but also all-glass doors from Griffwerk can make a decisive contribution to sound insulation? You can find out more about this in our blog post "Sound insulation and acoustics with glass doors".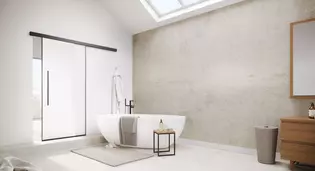 3. Temperature
No one wants to be cold or constantly sweating in their own home. It is therefore important to find the optimal room temperature in order to increase one's own comfort. The temperature that is perceived as comfortable varies from person to person. Therefore, there is no standard temperature for well-being. We recommend: Look for high-quality materials when building your flat or house and invest in modern insulation. This way you lose less heat and can also benefit from a pleasant indoor climate in summer.
Did you know that doors help regulate heat? Simple, but effective: If you want heat exchange, you should leave the doors open. But if you want to maintain different temperatures, e.g. a warm bathroom and a cool bedroom, we recommend closing the room doors.