The interior door as a design object
Interior doors are so much a part of our everyday lives that we often did not perceive them for what they are: important design objects in their own right that give rooms an ambience and entire homes a character.
Interior doors are either classic hinged doors or sliding doors. We present which type of interior door you can use to achieve which interior design effects.
Classic revolving doors
The classic revolving door can be found in every home. Depending on the design and material, it gives the home a different ambience:
Interior doors made of wood are probably the classic in German households. Wooden interior doors radiate warmth and give every home a cosy touch. Depending on whether they are made of dark or light wood, the ambience appears more "typically German" and quaint or Scandinavian, with a hygge effect. With coffered doors as interior doors, you can achieve a more noble touch - or conjure up a touch of the Caribbean in your home with a shabby vintage look paint job. However, vintage interior doors by no means always have to be coffered doors. Even on a classic smooth wooden interior door, a colourful vintage look is refreshing and can spice up a youth room or kitchen, for example.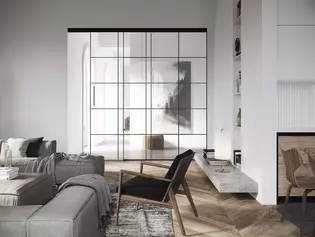 A metal interior door makes you think of a factory or workshop and is therefore suitable for flats in industrial chic. Where it is necessary for safety reasons, e.g. between two parts of a building or in the basement, you can make a metal interior door an eye-catcher by painting it individually - or let it blend inconspicuously with the wall.
White interior doors are particularly trendy at the moment, because they look simple, elegant and can be combined with virtually any style of furnishing: be it inconspicuous white-in-white or as an eye-catcher on a coloured wall, interior doors in white are timeless.
Interior doors made of glass are becoming increasingly popular - and for good reason: they allow light to flood from one room into the other, making for brighter rooms and increased living quality. Clear glass lets in the most light, while frosted glass blends into the wall almost like a white door, providing privacy while letting in light. All-glass interior doors make any home look modern and linear, with a touch of minimalism.
If you want to combine the advantages of a classic, cosy wooden interior door with those of a glass interior door, you should choose an interior door with a light cut-out. The wood provides the cosy character of the room and the light cut-out made of glass lets the light in so that the room appears brighter and larger.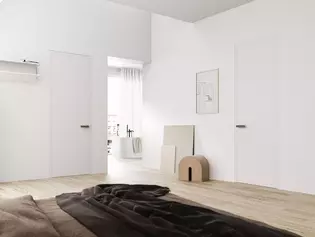 Interior doors made of any material look particularly modern if they do not have an edge frame and visually merge with the wall. Such doors can be designed as spectacular eye-catchers by standing out in colour to the maximum. However, they can also be designed exactly like the wall so that they are barely visible. In this case, the wall becomes the primary design element, to which the interior door is subordinate. Depending on taste, you can design everything between these two extremes with flush-to-wall doors.
Sliding doors are more than space savers
Sliding doors are often used as interior doors where there is little space. But they also determine the character of a room where there would be enough space for other doors. For example, large interior sliding doors made of clear glass visually create a free, open living feeling, while disturbing smells or noises remain behind the door.
Interior sliding doors made of frosted glass or wood can create surprising room effects or, with the right design, an Asian ambience. They also provide a beautiful surface for design elements, for example with large-scale wall tattoos, mirror elements or paint.