Living trend copper
Golden taps? That was yesterday. Today, elegant understatement is the order of the day. The best way to achieve this is with copper.
Copper elements in the home bring a noble shine without looking as ostentatious as gold or as cool as silver. Copper provides subtle splashes of colour without throwing off the balance of furnishings in natural tones. Copper objects have a touch of "retro" without having to resort to the wild patterns and colours of the late 70s.
Accessories such as plates or bowls made of hammered copper sheet or classic hand candlesticks made of copper conjure up an ambience like in the days of the great-grandmother, even in modern homes. They tell stories of the good old days and spread a touch of rustic, no-frills country life.
One element for many styles
Since copper is both metallic and has a warm effect, and has been used for thousands of years both as a material and for decoration (the Copper Age is classified as around 5,500 B.C. - 2,500 B.C., but the first copper processing took place around 8,000 B.C.), it suits many interior styles:
It adds a touch of warmth and colour to the industrial style.
In the country house style and also in houses with modern country furnishings, old copper accessories such as hammered pots and pans create an authentic ambience and modern elements such as lamps provide a contemporary touch without a break in style.
In Ethno-Style, copper emphasises the natural colouring of this furnishing style and, depending on the accessories, creates a Celtic, Nordic, Mediterranean or Andean ambience.
Copper goes very well with the Nordic styles of Scandinavian living, hygge and lagom in matt versions. It brings a splash of colour between the light natural colours and woods without being too conspicuous.
It looks particularly creative when copper objects are used for other purposes and integrated into the home: A copper water pipe makes an excellent eye-catcher with a steam-punk effect as a clothes rail. And with copper wire, screws, nuts, old handles and rods, there are no limits to the decorative creativity in the industrial look.
Copper is healthy
Did you know that copper has antibacterial properties? Copper releases ions that kill most bacteria and also many fungi and viruses. This is why copper is used not only in water pipes, but also in hospitals, but also for high-touch surfaces such as counters at international airports and even in clothing and bed linen. These properties make copper the ideal choice for kitchen surfaces and utensils that goes far beyond the decorative component. Copper taps combine the practical with the beautiful: they make for an eye-catcher in any bathroom, whether industrial, retro, country house or Scandinavian.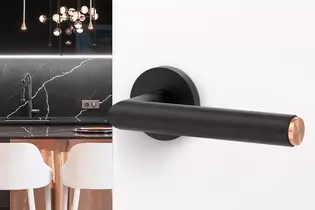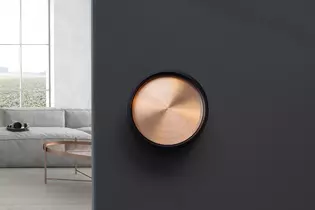 Copper with Griffwerk
With the LUCIA SELECT model in graphite black with copper accent, Griffwerk offers a door handle that discreetly supports your copper accents in all the styles mentioned. LUCIA SELECT is also available as a window handle so that you can create a harmonious design for windows and doors in your room with copper accents.
For sliding doors, we have the PLANEO handle shell in copper with a graphite-black edge in our portfolio. It easily catches the eye and gives your sliding glass door that stylish eye-catcher that connects with the rest of the ambience.