Mediterranean Living
The influences of the Mediterranean interior style are manifold. Typical features: Terracotta, bright friendly colours and sweeping ornaments on natural materials.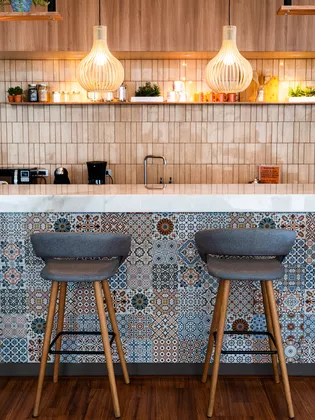 What does Mediterranean mean?
The term "Mediterranean" is derived from the Latin word "mediterraneus". It means: belonging to the area of the Mediterranean Sea. From Spain to Israel - the Mediterranean area covers 23 countries and is therefore very extensive. The Mediterranean style differs from region to region. In the southern Mediterranean, for example, the Arabic influence is easily recognisable, and in the northern part, the European influence is decisive.
Mediterranean style colours and shapes
The choice of colours in the Mediterranean style is characterised by warm earth tones and bright summery colours. Ochre and natural colours play a particularly important role. Yellow to orange walls are immediately reminiscent of a summer house in Italy. Green and blue are also often represented and reflect the green overgrown landscape and the sea in the furnishings. The more light tones are used, the cooler the room appears and thus also visually provides cooling in the warm Mediterranean. Dark accents are set by individual furniture or decorative elements. They offer the eye a kind of fixation and visual points of calm in the room. Blue wooden shutters or turquoise rattan furniture provide a colourful eye-catcher. Doors made of glass can also set accents: Thanks to stylish decor. Artfully decorated antique furniture is also typical of the Mediterranean style. Snail shapes, waves and playful floral patterns predominate. Decorative patterns can be found on furniture, carpets or tiles. Well-known patterns are, for example, meander ornaments, which can be seen everywhere in Greece. Regional plants such as olives, lemons or lavender are also suitable motifs. Colourful mosaic walls, floors or tables are not uncommon. Rustic garden furniture can also be found indoors and spread a terrace feeling in the kitchen and living room. Terrace and living area can be ideally connected with a translucent sliding glass door. Matching door handles from GRIFFWERK: Simple door handle models in graphite black, such as LUCIA and PLANEO, fit wonderfully into the overall Mediterranean picture.
Materials in the Mediterranean living style
Lots of terracotta and wood: Tiles and vessels made of terracotta are typical Mediterranean style elements. Regional woods in particular, such as olive, pine or walnut, are used for furniture in Mediterranean rooms. Ceramics and marble floors in the bathroom or entrance area exude a cool, refined look. Natural stone also looks very good as a worktop in the kitchen. Planks of natural wood create a cosy atmosphere. Cushions made of cotton or linen and light, bright curtains go perfectly with the furnishings. Jute or light, airy chiffon fabrics do likewise. Heavy warm fabrics such as velvet or wool do not suit the warm climate of Mediterranean furnishings. Sculptures made of stone adorn terraces and interiors alike. Seating furniture is woven from wicker or rattan. But artfully curved tables and chairs made of heavy cast iron are also used. The tabletop is composed of tiles to form a mosaic. But wood or glass is also used. Depending on which material predominates, doors are also made of wood or glass. White or natural wooden doors fit perfectly into the light Mediterranean interior. Door handle in cashmere grey: A matching door handle from GRIFFWERK is the simply decorated CAROLA PIATTA S odel in cast iron look.