Sliding doors for the flexible working world
The world of work has changed dramatically in recent years: With the Corona pandemic, the home office option has finally taken hold. Even before that, modern companies relied on open, creative spaces, changing teams and changing seating arrangements. Today, there are sometimes many, sometimes few colleagues in the office, some come for meetings, some are looking for concentration, others for inspiration. Flexibility is therefore the magic word of the modern working world. And not just for employees: Today, it must be possible to use the nn office space as purposefully and therefore as flexibly as possible.
With sliding doors: the best of all office worlds
With the clever use of sliding doors, especially sliding glass doors, you can create adaptable office landscapes with the appropriate use of space in each case:
You can use sliding doors to quickly and easily partition off open spaces to create new work areas as needed.
You save space and can make the most of smaller rooms, as well as fit more work areas into a limited space.
You don't bind yourself to a room layout, as would be the case when moving in permanent walls.
Sliding doors made of clear glass combine the advantages of separate work areas with those of open-plan offices: Light floods into every corner, you feel connected to your colleagues, but noise stays outside. In this way, you combine a friendly ambience with the opportunity to concentrate. This variant is especially suitable for offices where not everyone can have a window seat.
Matt glass sliding doors let light in, but provide privacy - you don't want everyone watching important meetings.
Even those who stay in the home office for days at a time or completely need a comfortable workspace. Sliding glass doors are also here the means of choice to separate a working area, if there is none additional room. This solution for working at home is easy to implement, cheap, practical and aesthetic.
The right Griffwerk products for flexibly designed offices
Which products from the diverse Griffwerk portfolio are the best for designing your office space depends on how the offices are already designed, where they are located and which areas are to disappear (or be visible) behind the sliding door. Generally speaking:
Wide, double-leaf sliding glass doors make the rooms look the largest when the doors are open. It doesn't matter whether the door leaves run in front of or inside the wall, the only important thing is that the opening is as wide as possible. In this way, they create a wide feeling of space with open doors, where ideally you can forget that it is actually two or more rooms.
Tightly closing sliding doors such as our PLANEO AIR SILENT system exclude disturbing noises. So with the sliding door closed, you can hold a meeting with lively debates or make phone calls while employees on the other side can concentrate in peace.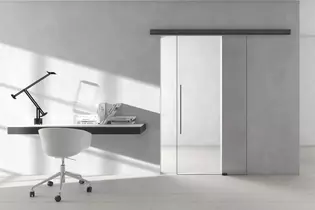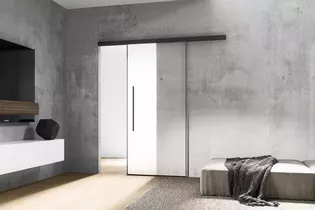 If you separate parts of the room with clear glass doors, so that the visual feeling of a large room is maintained even when the sliding door is closed, choose PURE WHITE quality. This way, colors and light are visible on the other side, unaltered and natural.
If you want to provide privacy with satinated or matt glass when the sliding door is closed, use the door surface to apply the company logo by sandblasting, screen printing or laser process. This way, a piece of corporate identity is always in view.
Fittings are, of course, a matter of taste. In classic office buildings, however, the glass door fittings that fit best on the sliding doors are those that attract little or no attention and do their job with a pleasant feel. Handle shells or Basic handle bars in a matt stainless steel look fit best into an office landscape in such a way that they do not steal the show from the natural light and the wide feeling of space.
Offices or workspaces in converted factory buildings, barns or rooms with a lot of wood and a cozier ambience, on the other hand, can certainly set further accents in the Direction of Industrial, Bauhaus or Modern Country with clearly visible glass door fittings . Round fittings in Griffwerk graphite black are the first choice here.