Which sliding door for which room?
Open living concept with integrated room separation? Only with sliding doors: If, for example, the kitchen with dining area merges into the living room, they offer a way to separate the rooms if necessary. There are numerous designs of sliding doors. Find out here what they are and which door is suitable for which room.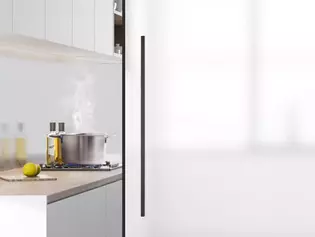 Sliding doors for the kitchen
In the kitchen, the pots and pans are clattering, people are chopping and frying. This can be disturbing for everyone else in the house. For example, when there are guests in the house: You would like to talk to the people from the next room who are sitting at the dining table. A sliding door between the kitchen and dining room separates the rooms if necessary, but can also be opened again in the blink of an eye. Sliding door closed: Annoying noises and food smells caused by draughts do not reach the rest of the flat. A sound and sealing system is particularly suitable for sliding doors that separate the kitchen from other rooms. No swing area: Even a small kitchen benefits from a space-saving sliding door system that runs inside the wall. White sliding doors are ideal for the country house style. But wooden sliding doors are also suitable. It is not only the use of space, but also the look that decides on the right sliding door. A modern kitchen with clear lines or would you prefer a country style with romantic details? The respective furnishing style is optimally underlined with the right sliding door. There are numerous variations of sliding doors that ideally combine space utilisation and appearance. Motion sensor: Especially on the way from the kitchen to the dining room, you sometimes have your hands full; with a motion sensor that opens the sliding door without touching it, you can easily serve your guests.
Sliding doors for the living room
Loft rooms offer a lot of space. Often two or even more living areas are combined within one room. If several people live in the flat, the activities in the house are also often different. Sleeping while still watching TV in the living room - no problem with a sliding door including a soundproofing system. A modern, timeless living room is ideally set off with the look of an equally simple sliding door. A glass sliding door with plain black glazing bar inserts is just as suitable for this as a sliding door made of wood with plain door handles from GRIFFWERK from the PLANEO series.
Sliding door for the office
Work undisturbed: Sliding doors with sound insulation ensure a bright and quiet study. Opaque or transparent - design your home office according to your wishes. Separated and yet connected: Sliding doors between several adjoining offices provide plenty of daylight and a friendly working atmosphere. A glass sliding door with frosted glass offers the possible privacy protection, whereby the frosted glass portion can also only consist of partial pieces. A completely frosted sliding door from GRIFFWERK: SNOWWHITE 501. If only parts of the glass door are to be frosted, for example, the LINES RISING 509 model is ideal.
Sliding doors for the bathroom
Some bathrooms have to manage without windows and daylight. One way to use the light from the adjacent rooms in the bathroom: The installation of a sliding door with a glass door panel. Sliding doors made of satinised glass are particularly suitable for bathrooms. The daylight can be used and the use of frosted glass protects against view. Wooden sliding doors in the bathroom are possible, but require a water-repellent coating and more maintenance due to the water vapour. Sliding glass doors, unlike sliding wooden doors, cannot warp or swell due to high humidity. For undisturbed privacy, a lockable sliding door is also recommended.
Sliding doors in the entrance area
In some flats, there is another door behind the front door that separates the entrance area from the living area. Sliding glass doors are particularly suitable for this, as they allow a view into the flat and ensure a bright and visible entrance area.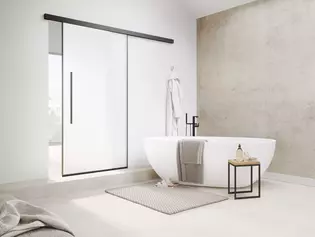 Sound insulation and sealing system
Undisturbed living: Enjoy the peace and quiet or work undisturbed - sliding doors with sound insulation make both possible. Another advantage: Unpleasant draughts and food smells from the kitchen are also a thing of the past with a sliding kitchen door sealing system. Closing tightly: PLANEO AIR SILENT sliding doors from GRIFFWERK reduce sound and seal the sliding doors with rubber lips on the sides.
Soft-close mechanism
Some sliding doors have to be guided by hand until the very end to prevent the door from banging loudly in the frame. An integrated soft closing mechanism on the sliding door prevents this. Before the sliding door reaches the frame, it is braked and closes very gently and quietly. This is also known from drawers or kitchen cupboard doors. The principle is the same. This mechanism is usually installed as standard in glass doors. However, it also makes sense for wooden sliding doors.
Sliding doors made of glass
Sliding doors with a glass door leaf are the brightest sliding door variant and ensure maximum light incidence even when closed. Glass sliding doors can be fully glazed or have plain glazing bars. A mix with another material is also conceivable. For example, the wooden sliding door can also be fitted with glass elements and provide a bright and friendly room divider by selectively letting light in and allowing a view through. You are even spoilt for choice when it comes to the type of glass. Clear glass, white glass, grey glass or would you prefer opaque frosted glass? Lettering or decorative patterns can also embellish a sliding glass door and create a visual highlight next to the adjoining rooms.
Wooden sliding doors
The natural wooden sliding door can do both: elegant and rustic. An untreated wooden sliding door provides a rugged look that is particularly suitable for an industrial-style interior. Sanded and glazed wood provides a more elegant style with a natural look. Rather more gaudy? Wooden sliding doors in different colours are eye-catchers. Rounded off with a door handle in plain silver, such as the RONDO handle bar, but also handle shells from the CIRCLE series by GRIFFWERK, together with the sliding door, blend perfectly into the overall look of the room.