BAU 2023 - Innovations around the Door
Our goal at GRIFFWERK is to make living more comfortable and to equip our customers with products that give long-lasting pleasure and enhance the home. We have comprehensively developed our product portfolio in four areas: "Door Perfection" - everything around the wooden door, glass door systems and the two new areas, Smart Home and LINEART, the innovative frame system. At BAU, we were able to present all our innovations and look to the future together with our visitors!
UVERO: Touch tomorrow!
ELECTRONIC ACCESS CONTROL FROM GRIFFWERK
Up to now, access control has largely worked mechanically via keys. We firmly believe that in the course of increasing digitalization of buildings, i.e. (attention buzzword!) smart home, the key will be replaced by electronic systems. With GRIFFWERK's comprehensive product range, a wide variety of applications can be solved in both the private and commercial sectors. Touch tomorrow today!
---
ONE: Opulence in Gold vs. Innocence all in white
Interior design is always an expression of the personality of the client. A visualization of values and habits. And last but not least, trends and zeitgeist influence our preferences. Whether as part of an opulent mix of materials with exuberant abundance or in minimalist interior design - each seperate element contributes to the overall picture. Our two interiors with ONE door handles in gold and white couldn't be more different. Which would be your ONE?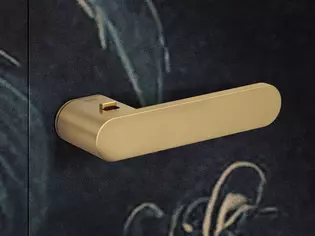 ---
ARIS: a Detail sets the pace
A design that is not only stylistic for the door, but for the whole room: this is what the new ARIS series offers. ARIS sets accents and the combination of fittings from the comprehensive range, allows to create a coherent style across building components, furniture pieces and rooms.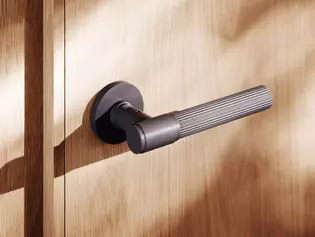 ---
PLANEO X: x-times easier. x-times better and with silent tight closing
X times easier to stock, configure and install - plus a highly attractive pricing structure. Simply X times the better sliding door system for all applications. And in the Silent variant, there is finally a sliding door without compromise: Tightly closing, it is ideal for bathrooms and kitchens.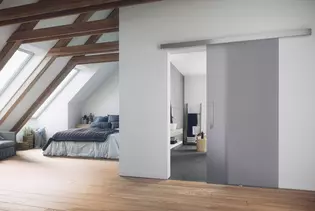 ---
PLANEO WOOD: far east meets Hygge
Successful combination of materials: PLANEO WOOD in oak frames the glass door with a thickness of 36 mm and thus takes away the coolness typical of the material. This combination fits perfectly with the Japandi interior styles - a style that combines the coziness of Scandi style with the reduced aesthetics of Japanese furnishings.
---
LINEART: Aluminium frame system
To meet the customer's demand for a flush wall appearance at an affordable price, we developed an unusual system. The FLAT aluminum frames in white or black surround the door and appear to be flush with the wall. LINEART is available for wooden and glass doors and - a real highlight - even as a reverse-opening version. The highlight: DIN folding doors can be inserted into the frame. This results in an extremely attractive overall price.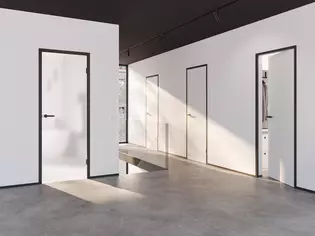 ---
AXUM: PERFECTION DOWN TO THE SMALLEST DETAIL
Discover AXUM - the matching door hinges to our door handles with perfectly coordinated design and surfaces. The harmonious look raises the overall aesthetics of the door to a new level. And to make mounting even easier, we have developed a matching drill template for AXUM hinges.