PLANT-FOR-THE-PLANET Academy at Griffwerk
Everyone is talking about the climate. But what exactly is happening? And what can children do?
At a Plant-for-the-Planet Academy, children learn everything important about the climate crisis and global justice. Plant-for-the-Planet is a foundation that primarily targets children and young people. At Plant-for-the-Planet academies, children and young people train to become ambassadors for climate justice. With this knowledge, they make their voices heard and fight for our future by planting trees, giving lectures, demonstrating and much more. On 1.4.2023, such an academy took place in Blaustein. We support the action, where 23 children from the region learned through lectures and in playful workshops, for example, why CO2 leads to global warming, what the effects of the climate crisis are and how trees can help. Afterwards, we braved the rain and planted almost 400 trees in the Blaustein city forest after a short briefing by the city foresters.
PLANT-FOR-THE-PLANET: Children plant trees for the climate
The Plant-for-the-Planet initiative, a global network of children and young people, is one of the driving forces behind a worldwide movement to plant trees. Trees, as natural CO2 sinkers, buy us time to solve the climate crisis. Restoring destroyed or degraded forests worldwide also creates millions of jobs in the countries of the global South and helps protect biodiversity that is increasingly threatened by us humans. The initiative was founded in 2007 by Felix Finkbeiner, then nine years old, following a school presentation on the climate crisis. He recognized in the trees a way for children to take the saving of their future into their own hands.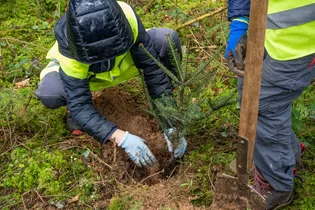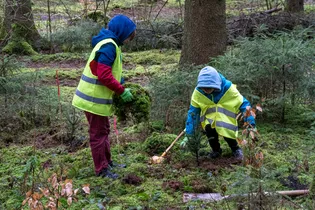 Photos: Alexander Hüttenrauch, Ralf Hinz
Ambassadors for Climate Justice: Children Empower Children
To date, 92,837 children in 75 countries have participated in Plant-for-the-Planet Academies. In the one-day workshops, children who are already engaged as climate justice ambassadors share their knowledge about how trees are a hope-giving, generation-bonding, global part of the solution to the climate crisis. DThe children learn in a very tangible way how the climate crisis threatens their future and the lives of people around the world. They vividly experience what climate justice can look like and develop their own actions for their future in groups. By participating in an academy, they become ambassadors for climate justice.
Many thanks to the other supporters:
Fahrdienst Ulm (www.fahrdienst-ulm.de)
Fotofreunde Blaustein e.V. (www.fotofreunde-blaustein.de)
Forstrevier Blaustein
City of Blaustein