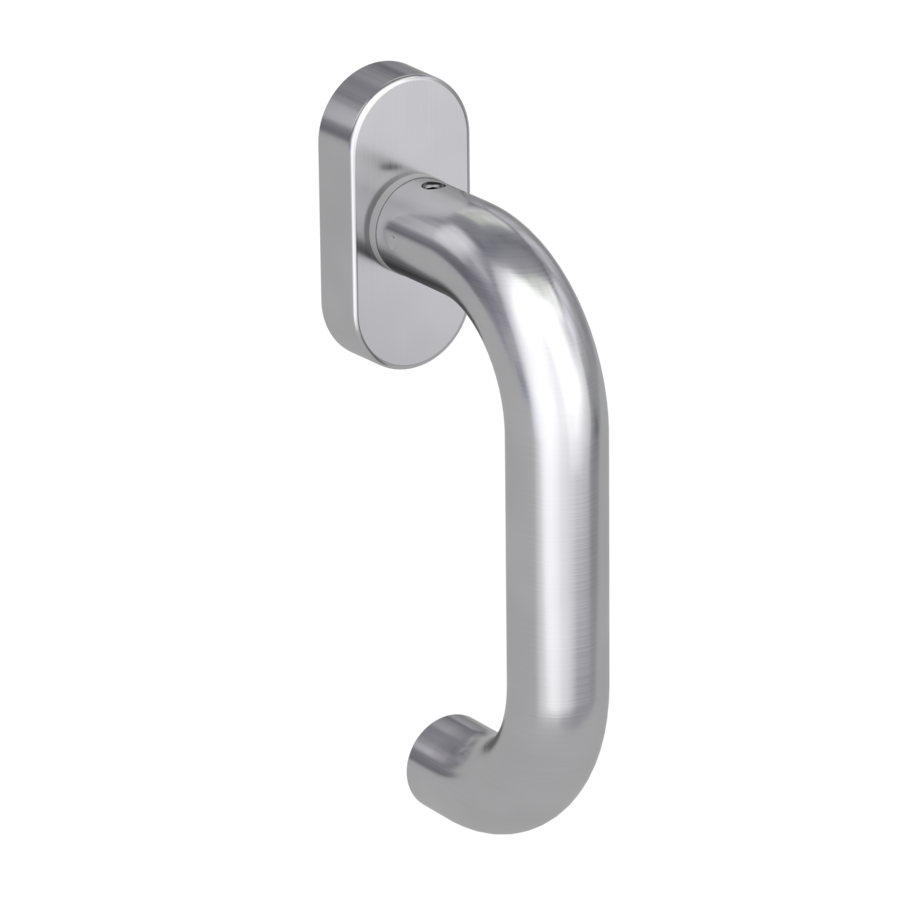 window handle ALESSIA
brushed steel L/R
7x32mm
Window handle ALESSIA
U-Shape: From the stabel to the skyscraper
Handles with ends that turn in towards the door were often used in stables so that reins and leashes would not become caught. These closed handle shapes, such as the ALESSIA, are also prescribed for many public buildings.
Window handles - small design objects with great effect
Window handles are primarily used to open and close a window and are in daily use. A high level of technical requirements must be met, especially when used regularly. But window handles can do more! They are not only practical operating elements, but small design objects with a big effect.
In the Griffwerk range you will find window handles in different sizes, different materials and - thanks to our consistent design across all products - also matching the style of your door handles. So implement your design requirements down to the last detail, whether in matt or shiny, chrome or brass look, in velvet grey or graphite black - with our handles you can set the scene for your old windows or complete your new windows with the matching accessories.
Window handles - shape, colour and material
When choosing your window fittings you should not only consider your window size. Or whether the fittings are lockable. The style of your home and the way your windows open (to the left, right or up) also set an important benchmark for choosing the right design and the right material.
In our range of handles, you will find stainless steel fittings in various looks and feel.
We are particularly proud of the inner values of our products, which is why we only use stainless steel of alloy 304, also known as 1.4301. Due to its composition, this high-quality steel is rust-free and therefore particularly corrosion-resistant and durable. Stainless steel forms a very thin protective passive layer, which rebuilds even after surface damage due to chemical reactions.
Due to the different processing of this stainless steel, especially in the grinding technique, metallic, matt or smooth surfaces are created. We have taken advantage of these properties in our design objects and enable you to choose from a wide range of designs.
Which variant you choose depends on the window material, style and your personal preferences.
Replace window handles - little effort, great effect
Replacing window handles is easy. Here you will find step-by-step instructions:
Removing the cover: Align the handle horizontally to get to the screws that connect the handle to the window. Now you should be able to easily turn the cover that sits over the screws. Attention: Some panels may be glued. You must loosen them carefully, for example with a cutter knife.

Remove the screws and pull off the window handle: It can happen that screws sometimes get stuck, you can loosen them with a little oil so that you don't damage the screw head. As soon as the screws can be removed, you can simply pull off the window handle. Clean the area where the handle is placed very thoroughly.

Install your new window handle: Place the new window handle in the same horizontal position as the old handle. Now slide the square into the window frame. Many handles come with new screws in the set, you can also reuse the old screws. Be sure to tighten the screws firmly so that the handle has no play. Finally, close the new cover and the new window handle is ready for use.
Window handles - technical equipment
The window handles are attached to the window frame by means of the 7 mm thick square pin. How deep the square pin must be pushed into the window to lock it depends on the thickness of the window. You can easily measure this in advance with the help of a thin object, for example a knitting needle. To do this, push the knitting needle into the opening as far as it will go and mark the spot with your fingernail. If you now measure this distance with a measuring tape, you will have the length of the pin.
In addition, our window handles are equipped with a sliding bearing for a durable, smooth and above all silent function. Without costly maintenance work!
Care instructions for stainless steel
High quality material with intelligent surface
GRIFFWERK is not limited to noble design - we are proud of the inner values of our products. We exclusively use stainless steel of alloy 304, also known as "1.4301". This high quality steel is - matt or polished - due to its composition stainless with special corrosion resistance and durability. Stainless steel forms a very thin protective passive layer, which rebuilds even after surface damage caused by chemical reactions.
Our care spray
GRIFFWERK recommends the "GRIFFWERK Care Spray", which is specially designed for our products, to care for and maintain the value of your stainless steel door handles and fittings. It cleans intensively, has a dirt-repellent effect and thus maintains the value of your stainless steel room door set, door handles and door fittings. Please do not use any aggressive cleaning agents or scouring agents containing alcohol for cleaning - regardless of whether the stainless steel surface is matt, polished or shiny. Please note that the surface of the lever handle set can be damaged under extraordinary stress, for example by building dirt, grinding dust, aggressive vapors or salt water. For this reason, clean the handle set with GRIFFWERK Care Spray immediately after soiling. Our GRIFFWERK care spray is available from all our trade partners.