door cover:
rose set round
door handle set ALESSIA
clip on cl3 rose set round
euro profile brushed steel
ALESSIA
U-shape: from the stable to the skyscraper
Door handles with ends that turn in towards the door were often used in stables so that reins and leashes would not become caught. These closed handle shapes, such as the ALESSIA, are also prescribed for many public buildings.
Advantages of clip-on technique:
stainless steel, no visible screws
Clip-on cams for quick installation
Plain bearings, maintenance-free, invisible
Lifting springs, spring steam, bilateral
Subconstruction of high-quality plastic
Audited to DIN EN 1906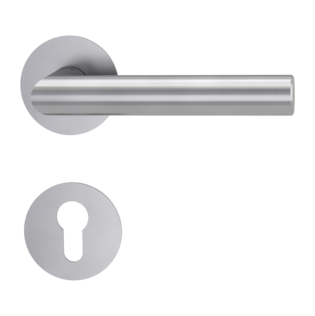 What is a profile cylinder?
A profile cylinder lock is used as a classic for house, office and flat entrance doors. A profile cylinder is a cylinder that can be operated with a key. Profile cylinders therefore also provide a certain degree of protection - although less than protective fittings. Attention: If you want a door handle with profile cylinder insert, please note the marking PZ.
Upgrade to screw technology?
Screw-on technology
screw-on rosette in stainless steel
invisible screw connection and cut fine thread
maintenance-free, invisible slide bearing (no black ring on the door handle)
counterrotating M4 fitting
fixed pivoted door handle
pre-assembled door handle
double sided retaining springs
stainless steel substructure
Care instructions for stainless steel: Door handles, window handles and co.
High quality material with intelligent surface
GRIFFWERK is not limited to noble design - we are proud of the inner values of our products. We exclusively use stainless steel of alloy 304, also known as "1.4301". This high quality steel is - matt or polished - due to its composition stainless with special corrosion resistance and durability. Stainless steel forms a very thin protective passive layer, which rebuilds even after surface damage caused by chemical reactions.
Our care spray
GRIFFWERK recommends the "GRIFFWERK Care Spray", which is specially designed for our products, to care for and maintain the value of your stainless steel door handles and fittings. It cleans intensively, has a dirt-repellent effect and thus maintains the value of your stainless steel room door set, door handles and door fittings. Please do not use any aggressive cleaning agents or scouring agents containing alcohol for cleaning - regardless of whether the stainless steel surface is matt, polished or shiny. Please note that the surface of the lever handle set can be damaged under extraordinary stress, for example by building dirt, grinding dust, aggressive vapors or salt water. For this reason, clean the handle set with GRIFFWERK Care Spray immediately after soiling. Our GRIFFWERK care spray is available from all our trade partners.