CLASSICO LUCIA PROF
revolving glass door lock set with handle pair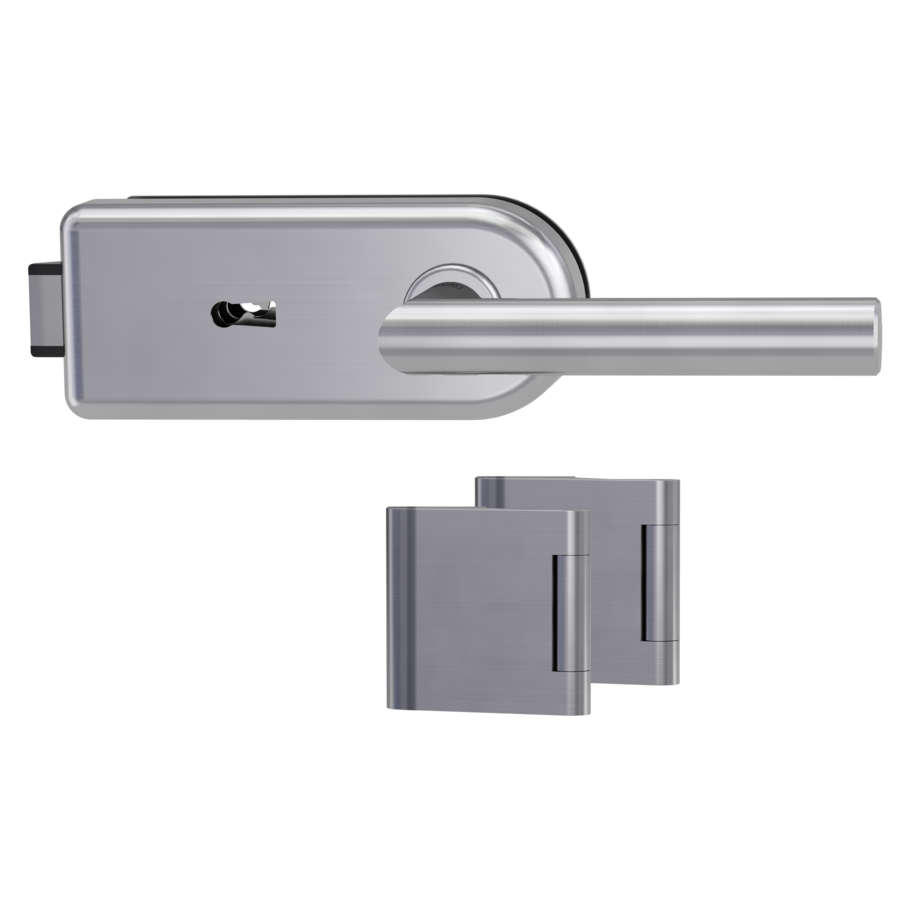 CLASSICO LUCIA PROF
revolving glass door lock set with handle pair
Bohrungsart:
Studio/Office
glass door lock set CLASSICO
mortice lock silent 3-part hinges
brushed steel LUCIA PROF
Glass door fitting CLASSICO 1.0 with door handle LUCIA PROF
Simple lines with Material accents
A glass glass-door lock that offers "everything": straight, simple lines and a soft, flowing rounding. It is carefully unobtrusive and presents the handle of your choice in its prettiest form. CLASSICO is available in the surfaces stainless steel matte, aluminium and polished brass. There are matching hinges for both surfaces.
LUCIA is available in clip-on or screw-on technique in stainless steel, graphite black and graphite black with brass or copper accent. "Our" black is a matte, very deep black. The coating is so resistant that even tools can be coated with it. Nevertheless, it is not sensitive to finger prints.PROFESSIONAL LINE fittings offer a complete range for professionals for commercial fit-outs.The Professional Line units convince with a rosette height of only 8 mm, delicate joints around the screw-on rosettes, smallest radii and the PROFESSIONAL LINE's specific and unmistakable Premium Finish. High-quality equipment details such as the two lifting springs and a subconstruction of stainless steel (not plastic) supplement the offered range.Our new lockable door handles with smart2lock technology provide more privacy in the living space without key or toilet rosettes.
What is a coloured beard lock?
Buntbart door handle sets, known at Griffwerk as BB for short, are suitable for all types of room doors, e.g. interior doors made of wood. This is also referred to as a simple door lock. Buntbart locks should not be used outdoors, as they can be easily opened by unauthorised persons without a key with a locking hook. A BB lock is therefore particularly suitable for interior doors without security requirements.
Care instructions for stainless steel
High quality material with intelligent surface
GRIFFWERK is not limited to noble design - we are proud of the inner values of our products. We exclusively use stainless steel of alloy 304, also known as "1.4301". This high quality steel is - matt or polished - due to its composition stainless with special corrosion resistance and durability. Stainless steel forms a very thin protective passive layer, which rebuilds even after surface damage caused by chemical reactions.
Our care spray
GRIFFWERK recommends the "GRIFFWERK Care Spray", which is specially designed for our products, to care for and maintain the value of your stainless steel door handles and fittings. It cleans intensively, has a dirt-repellent effect and thus maintains the value of your stainless steel room door set, door handles and door fittings. Please do not use any aggressive cleaning agents or scouring agents containing alcohol for cleaning - regardless of whether the stainless steel surface is matt, polished or shiny. Please note that the surface of the lever handle set can be damaged under extraordinary stress, for example by building dirt, grinding dust, aggressive vapors or salt water. For this reason, clean the handle set with GRIFFWERK Care Spray immediately after soiling. Our GRIFFWERK care spray is available from all our trade partners.