door cover:
rose set round
door handle set FABIA
screw on cl4 rose set round
euro profile chrome
FABIA
Stylish furnishings
Magnificent door fittings are witness to outstanding craftsmanlike forging and punching artistry throughout all art historical epochs. Whether in a Baroque or Empire style or reflecting the diversity of history, fittings were the ornaments on every door. The door handle FABIA seems as if it were made specifically for the sophisticated doors of a town villa or also for a homely country house style.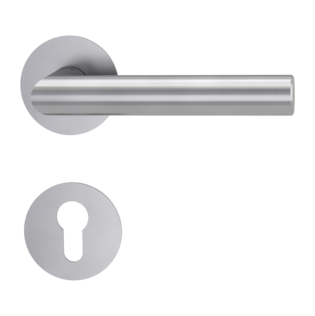 What is a profile cylinder?
A profile cylinder lock is used as a classic for house, office and flat entrance doors. A profile cylinder is a cylinder that can be operated with a key. Profile cylinders therefore also provide a certain degree of protection - although less than protective fittings. Attention: If you want a door handle with profile cylinder insert, please note the marking PZ.