FRAME 1.0 without inlay
door handle set without roses
FRAME 1.0 without inlay
door handle set without roses
Door handle pair FRAME 1.0
velvety grey 38-45mm unlockable
without inlay
FRAME
Consistent
There are clear ideas about how a door handle should look. The usual form ensures that the user always knows how to handle it. FRAME 1.0 appears completely new while still complying with these rules. The patented technique makes it possible to do without roses entirely. The grip shape as such is retained, however. Sufficient on its own, it has a solitary and monumental appearance.
Where should the closing button be located?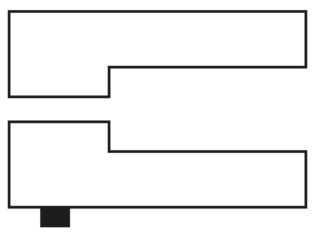 Frame WC right
Inside lever handle with locking knob pointing to the right
For DIN left door opening outwards
For DIN right door opening inwards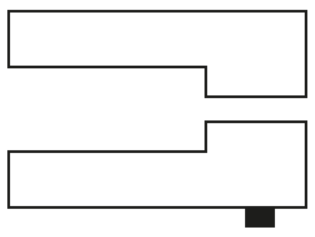 Frame WC left
Inside lever handle with closing knob pointing to the left
For DIN left door opening inwards
For DIN right door opening outwards
Look & Feel!
The surface finish developed by GRIFFWERK, soft2touch by GRIFFWERK, combines an extraordinary look with a velvety soft feel. Surfaces make a decisive contribution to a positive product experience. This is especially true for door handles, which are touched countless times every day - not only on inner doors.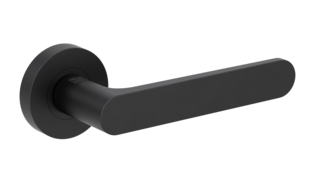 In three colours
In addition to graphite black, there are two other colours to choose from: velvet and cashmere grey. What all surfaces have in common is their exceptional tactile quality. The three new colour shades were developed by GRIFFWERK and coordinated down to the last detail.
Triple finished
For the desired 'soft2touch' effect, three wafer-thin layers are applied. The process has been fine-tuned down to the last detail. A special carrier layer serves as the basis. It has a fine structure so that a lively material effect is created. The texture varies depending on the shade. 'Cashmere' and 'Velvet Grey' are distinguished by a discreetly ground appearance; 'Graphite Black' appears finely grained. The colour tone is defined by the subsequent pigment layer. The particularly pleasant feel of the handles is created by a final soft seal. It also gives the colour shades brilliance and depth.
Inspiration Graphit
We chose an exceptionally matt, very deep black that fits perfectly with the loft-style window and door elements. Glossy black would look much more unsettling, as the reflective surfaces would contrast strongly with the surroundings. Matt simply looks more noble and stands for modernity.
soft2touch advantages at one look:
Design dream thanks to new colors in cashmere grey, velvet grey (nickel-plated) and graphite black
Particularly pleasant to touch due to velvety soft feel
Less cold in the hand than stainless steel
Silky-matt appearance instead of being polished to a high gloss
Available for all systems in the house (glass doors, wooden room doors, windows)