VISION 560
sliding glass door (tsg)
VISION 560
sliding glass door (tsg)
color/opacity: PURE WHITE/matt
valid country:
Germany
Austria
Switzerland
Great Britain
Czech Republic
Slovakia
Slovenia
Netherlands
Spain
France
Italy
sliding glass door VISION 560
TSG PURE WHITE matt
935x2183x8mm
Glass sliding door JETTE VISION
Topographic structures
This glass door by designer Jette Joop is reminiscent of a stylized landscape or fine gravitational lines. The diagonal lines harmonise perfectly with the facets of the fittings. Glass door JETTE VISION is made of high-quality safety glass (ESG).
Clearly recognisable functions, authentic materials, a high demand for quality and durability have been real requirements in the development of our modern sliding glass doors. They represent an elegant and filigree alternative to hinged doors. With sliding doors, room transitions can be staged in a new way. In contrast to revolving glass doors, sliding glass doors do not need a swivel area, because a sliding glass door runs along the wall to save space. Unmistakable design and perfected technology - that is what distinguishes our sliding glass doors.
---
Pure White
White glass has a particularly noble effect and is characterised by a bright lighting effect in modern rooms. The green or grey tinge present in the product range is reduced to a minimum here. With PURE WHITE from Griffwerk, colour-neutral and flexible room design is guaranteed. White tones and daylight are expressed in a particularly natural way.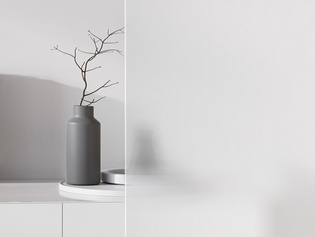 Matt or rather clear glass?
Matt glass surfaces provide better privacy and are also very popular for their aesthetics. The tactile quality of the surface of our matt glass doors nevertheless feels smooth due to the screen printing process and is extra scratch-resistant.
Reflections are softly softened, giving frosted finishes a calmer atmosphere. In contrast to clear glass, the view through frosted glass is only diffused due to the soft drawing. Objects or people behind a frosted glass door are only visible in shadowy form. In addition, the scattered incidence of light gives rooms and objects soft shadows and leads to a natural living feeling.
Sliding glass doors - advantages at one look
Sliding glass doors allow daylight into every room
Each glass sliding door saves space as they have no pivoting range
Sliding doors are a stylish and elegant way of creating connection and separation of rooms - great alternative to the wall as a room divider.
Sliding door systems are ideal for barrier-free living
The sliding door does not close in case of draught
They allow larger dimensions than hinged door
The sliding glass door can disappear behind furnitur
Sliding glass doors turn niches into small rooms - such as a walk-in wardrobe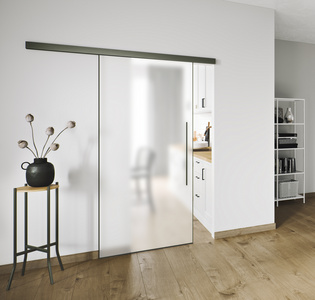 How do I clean a sliding glass door?
When cleaning your interior glass, it is sufficient to clean the surface of the sliding door with warm water. To do this, please use a sponge or a soft, lint-free cloth. Clean over a large area, not selectively.
In the case of residues such as fingerprints on the glass door, you can also use commercially available glass cleaners (foam cleaners). Please do not use any abrasive, corrosive, acidic or alkaline cleaning agents. They attack the glass surface and can cause scratches. Excess water can be wiped dry with a microfibre cloth. If water is left on the glass door for a long period of time, stubborn limescale residues can form.
With VSG sliding doors, make sure that the edge seal does not come into contact with water, otherwise moisture and the cleaning agent can penetrate the laminate.
Attention
Please do not use any scratching tools, razor blades or scrapers. They can leave visible and irreparable scratch marks on the surface.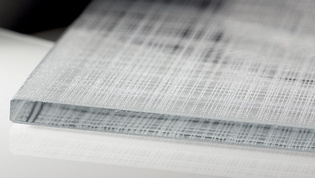 Particular attention should be paid to this with satinised and lasered surfaces
To avoid abrasion of the surface structure, do not apply too much pressure. To avoid the so-called cloud formation, rub your glass door dry over a large area with a microfibre cloth. Do not use paper or cellulose cloths. They cause too much abrasion.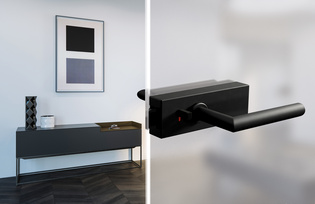 Particular attention should be paid to this with screen-printed glasses
Screen-printed surfaces are softer than the pure glass surface and therefore more sensitive to mechanical cleaning agents. In addition, they must not be cleaned with acids, as these can attack the printed image.