LINES 649
sliding glass door (tsg)
LINES 649
sliding glass door (tsg)
color/opacity: BASIC GREEN/matt
sliding glass door LINES 649
TSG BASIC GREEN matt
935x2058x8mm DIN
LINES 649
Line Line Line
Laser technology allows the finest engravings. They draw through the glass surface very finely. The characteristic lines may vary: strictly arranged, condensing, superimposed or even irregularly broken. These decors blend harmoniously into the living space design.
Glass door: Homely inspired
Glass doors are ideal as room doors for noble and bright rooms - whether kitchen, living room, hallway or bathroom. By the way, to replace an existing wooden door with a glass door is very simple. For a glass revolving door, you can even use the existing frame. With a sliding door, room transitions can be staged in a new way. This looks good and also saves space. Unlike glass revolving doors, they do not need a swing area, because a sliding glass door runs along the wall to save space. With a soft-close version, you treat yourself to additional comfort.
Every all-glass door design from the GRIFFWERK range is basically available as a swing door system or as a sliding door system.
Even in smaller flats, previously unused side rooms can be transformed into attractive, light-filled workrooms with the help of glass doors.
Glass doesn't need to be green
Usually for an all-glass door soda-lime-silica glass is used. It has a distinct green tint. The reason for this is the iron oxide used for the glass melt. Depending on the light conditions, the green cast of the material is more or less visible. The brighter, whiter and clearer the interior design is, the more disturbing this discoloration is. Even in front of a plain, white wall, the difference is clearly visible. Especially in contemporary architecture, pure and high-quality materials are essential.
The pure difference
Glass door instead of wooden door? Of course you want to invite as much light as possible into your rooms. With PURE WHITE by GRIFFWERK, daylight can flow unobstructed into the interior and colours, especially white tones, come across unadulterated and clearly. White glass has been proven to be more translucent than the basic green version. With a six millimetre thick glass door, the light transmission is improved by about three percent. On large surfaces, the light gain has a more pronounced effect. The translucent light is also pure and colour-neutral. If you decide on glass instead of wood for an interior door, light gain is the main reason.
Why White glass?
Our passion for glass began in 2014 when we designed our first collection of glass doors. Glass is a fascinating material: it is 100 percent recyclable. For the production of white glass PURE WHITE by GRIFFWERK, the iron oxide content is reduced to minimize the green tint. White glass has a special lighting effect and brings out the brilliance of decorations. That's why we have been processing white glass with finishing and printing processes since 2016, even at our headquarters in Blaustein in southern Germany - for a perfect result.
Simple float glass has a distinct green tint, which alters the light effect and is also perceptible as a clear discolouration in the glass surface. Pure White glass doors from Griffwerk remain colour-neutral. Our smoked glass MOON GREY: also in the range.
Fascinating Laser technology
Bundled light engraves delicate lines into the glass surface. Point by point and precisely controllable, detailed motives and finely graduated progressions can thus be transferred to glass. Our laser places microscopically small pixels next to each other, permitting photo realistic results. The deeper engravings change the light reflection. Laterally ingressing light makes the patterns virtually light up. Laser-processed glass doors remain transparent. If you wish more protection from looks, simply pick the version in TWO-SIDES with rear satination.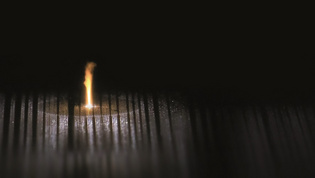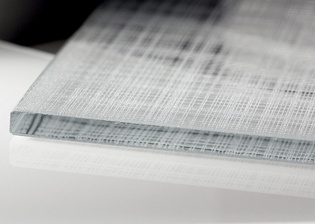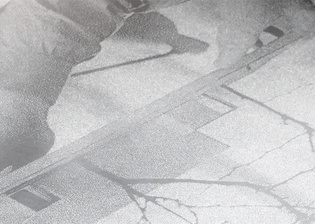 Light in its strongest form
Thanks to innovative laser technology, particularly fine and haptically attractive textures can be engraved on any glass door. The surfaces are durable and easy to clean.
Griffwerk laser doors meet ESG standard
GRIFFWERK offers tested safety for lasered glass doors made of single-pane safety glass ("TSG glass"). According to the German Institute for Building Technology (DIBT), the laser technology applied by GRIFFWERK fulfils all requirements. Since then GRIFFWERK is allowed to mark all glass doors with the TSG test stamp.
The stamp contains the number of the standard (DIN EN 12150) and is placed on the edge of the glass at GRIFFWERK in an optically unobtrusive manner on the hinge side. TSG is available from GRIFFWERK as green glass or in the high-quality white glass variant PURE WHITE by GRIFFWERK. Both glass types can be lasered and also meet the TSG standard when lasered.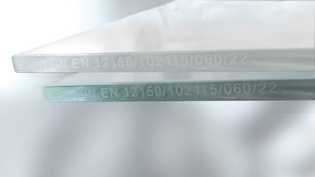 How do I clean my glass door?
When cleaning your interior glass, it is simply enough to clean the surface of the hinged or sliding door with warm warm water. For this, use a sponge or a soft, lint-free cloth. Clean a large area, rather than pointedly.
In case of residues such as fingerprints on the glass door, you can additionally use commercially available glass cleaners (foam cleaners). Please do not use any abrasive, corrosive, acidic or alkaline cleaning agents. They attack the glass surface and can cause scratches. You can wipe excess water dry with a microfibre cloth. If water acts on the glass door for a longer period of time, stubborn limescale residues may form.
For LSG doors, observe that the edge composite must not get into contact with water, since this may cause moisture and cleaning agent to enter the laminate.
For satined and laser-treated surfaces
To avoid abrasion of the surface structure, you should not exert too much pressure here. In order to avoid the so-called cloud formation, rub your glass door with a microfiber cloth to dry a large area. Do not use paper or cellulose cloths. They have too much abrasion.
For screen-print glasses
Screen-printed surfaces are softer than the pure glass surface and therefore more sensitive against mechanical cleaning agents. They also must not be cleaned with acids since they may attack the print pattern.
Attention
Please do not use any scratching tools, razor blades or scrapers. They can leave visible and irreparable scratches on the surface.