surface:
polished/brushed steel
handle LOREDANA
L/R polished/brushed steel
Handle LOREDANA for security fitting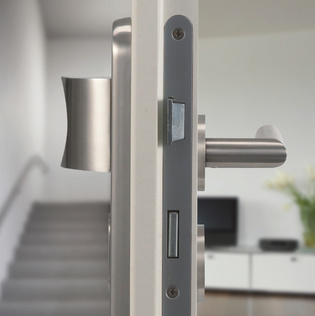 Create your own security fittings.
All doors in one look without giving up security!
Combination security fittings can be combined with rosette sets. This guarantees the protection of the flat door to the outside and to the inside you enjoy the uniform look on all doors. Choose from the extensive range of different designs for an individual result - from lever handle to rosette, from stainless steel to brass look. As a rule, you also receive the same door handle for glass lock cases and for windows.
Construction kit for security fittings
Combine the handle, inner rosette set and combination security fitting according to your design ideas. Our range leaves nothing to be desired.
Consisting of 3 parts
1
Combination security fitting
Available in other versions, with profile cylinder or cylinder cover.
2
Combination inner rosette set
Available in further versions round, square, with and without decorative ring in all surfaces.
Combination inner rose sets always consist of a lever handle and key rose with substructure and screws for the door thickness range 38 - 50 mm.
3
Handle
Can be combined with almost all handles from the Griffwerk range.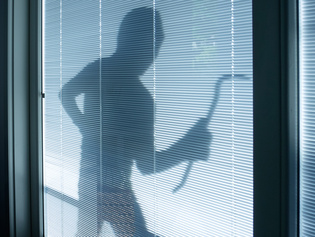 Secure the front door with protective fittings!
Every four minutes there is a burglary in Germany. The biggest weak point in flats: the flat entrance door.
Although around 75% of all burglaries target apartment buildings, too little attention has so far been paid to securing the flat entrance door with front door fittings. Burglars are under great time pressure. Attempts to resist for as little as five minutes fail. Moreover, 80 percent of the perpetrators are only occasional thieves. They do not take a high risk of detection and choose properties with unsecured weak points. Contrary to popular belief, 80 percent of burglaries take place during the day when the residents are out of the house - preferably between 10 am and 1 pm. Apartment buildings are particularly affected.
Prising open the shield of a front door security fitting or pulling protruding cylinders can be effectively warded off with a security fitting from Griffwerk.
Download information leaflet security fittings (only in german)
Effective burglary protection for your home!
The number of domestic burglaries continues to rise in Germany. However, most attempts could be thwarted by the right burglary protection. Too little attention is paid to the protection of front doors in particular.
You should pay attention to this with your flat entrance door:
Invisible screwing prevents screwing on/off from the outside.
Special hardened steel plate offers resistance to drilling, knocking off and bending.
3. Hardened steel cylinder cover prevents the profile cylinder from being pulled out.
Resistance classes of protective fittings
For classification purposes, protective fittings are classified into resistance classes. They indicate how strong the burglary protection is. Depending on your individual protection needs, choose fittings from four different protection classes (ES0-ES3).
GRIFFWERK equipped the revised range of protective hardware with flanking sales support for specialist trade and crafts. GRIFFWERK has solutions at hand for sales exhibitions and mobile consulting as well.
Resistance class ES0
Components in the resistance class have basic protection against attempts to break in with physical force (mainly vandalism) such as kicking, counter-jumping, shoulder throwing, pushing up and tearing out.
✓ Suitable for secondary doors such as garage doors
Resistance class ES1
The casual burglar additionally tries to break open the locked and bolted component with simple tools such as screwdrivers, pliers and wedges.
✓ Suitable for flat entrance doors, front doors
---
Renovation advice for apartements for rent
A safety upgrade in apartments for rent must be coordinated with the landlord just like all changes affecting building substance. A written permit that excludes the obligation to remove it again when moving out is sensible as well. Ideally, change requests should be clarified before entering into the rent contract.
Insured object
Never just pull the front door shut. Under certain circumstances, they are legally considered to be unlocked. In order to benefit from insurance cover in the event of damage, it is worth checking with your insurance company. Take this opportunity to clarify whether the resistance class of the protective fittings is sufficient.
Modernity meets cool elegance
Elegance and modernity characterize this door handle. The highly polished stainless steel elements reflect in a radiant shine, while the gripping surface made of matt stainless steel gently contrasts with it. A special feature is the different processing of the surfaces. Rosettes, handle neck and handle end were polished to a high gloss. Two decorative, fine lines delimit the matt gripping area. The edges of the handle end are softly rounded.
Polished stainless steel
The surface looks like chrome or powder-coated tubular steel, but is stainless steel. The high gloss is achieved by polishing. The polishing of metal is an elaborate process. The surface must be ground in several phases until it is flawlessly smooth. This type of metal finishing has a long tradition in jewelry manufacturing.
Long-lasting shine
Polished stainless steel is resistant, the shine is maintained without special care. Stainless steel is therefore particularly easy to care for and also easy to clean. Because of these properties it is also used for medical purposes. The smooth surface ensures that no germs can settle.
Planning assistance
Which doors fit Loredana?
Loredana is a real all-rounder that can be combined with modern and classic doors. The design fits to style doors as well as to reduced, simple doors. Loredana looks especially noble on white lacquer doors. The polished surfaces are a real highlight for every door and set a brilliant accent.
These living and architectural styles are suitable for Loredana
The design of the Loredana door handles harmonizes with many living and architectural styles. It always brings elegance into play. These noble door handles look perfect in combination with "Clean Chic" with a lot of white. Especially bathroom fittings and door furniture should always be coordinated. So if you have decided on chrome fittings in the bathroom, it is best to combine them with door handles in high gloss. Also nice to go with it: Design classics with elements in chrome or powder-coated tubular steel, such as the Adjustable Table by Eileen Gray (designed 1927) or the Wassiliy Chair by Marcel Breuer (designed 1925).
Operational elements such as fittings and handles should be visually coordinated.
Playing with light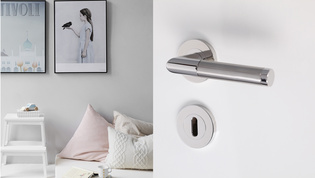 Seeing is light.
The lighting effect of the furnishings characterizes the room atmosphere.
Especially in white living areas, light can unfold its full magic. Soft nuances are created.
History of living styles
Loredana is a modern interpretation of a classic, one could say. In fact, this handle design contains form quotations from two important style epochs of design history, Art Déco and Bauhaus style.
Living in Art-Déco style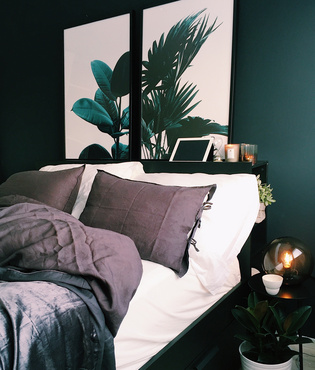 The term "Art Déco" translates as "decorative arts" and first appeared in 1925 in connection with the large Parisian exhibition "Exposition Internationale des Arts Décoratifs et Industriels Modernes". The Wiener workshops are considered the forerunners of Art Deco. They were founded in 1903 by the Secession artists Josef Hoffmann and Koloman Moser.
Typical for design objects of the Art Deco style are clear, often parallel lines, layered forms, symmetries and a geometric simplification of ornaments and shapes. Tastelessness was not in demand. Shapely elegance was aimed for. Everything should have "class".
The preceding industrialization at the beginning of the century had rigorously given priority to what could be produced by machine. Objective pragmatism prevailed. With Art Déco, the artistic, the decorative returned. Frequently used materials were chrome, but also fine woods and polished stone such as marble. Exotic and luxurious attributes were popular. Anyone who wants to take a trip back to this time will think of the glamorous furnishings of the Titanic or of illustrious societies that celebrated their prosperity in the film "The Great Gatsby". The Golden 20's were full of glamour and glamour, it was allowed to be opulent but never degenerated to tastelessness. People liked to be a bit undercooled, not to say distanced. The dandy look belongs to this epoch, but also a new androgynous, sporty image of women. The hair was worn short. The typical "bubble head" was born. One presented oneself in self-confident, elegant poses.
Nostalgia resonates when you look at the Loredana door handle design. The elegance and dynamics of the lines are reminiscent of decorative chrome elements of shapely classic cars. Whether bumper, brand emblem or mirror shining elements completed the form and gave impressive value and unique aura. Cool chrome is a beautiful contrast to colored areas, which should not be too intense, however.
Living in Bauhaus style
Modernity and no-frills practicality make up the timeless, yet sophisticated aesthetics of this style. He was influenced by the State Bauhaus, the art school founded by Walter Gropius in 1919. Geometric basic bodies formed the typical canon of forms. Products should also meet the requirements of the new modernism. This included high functionality, but also industrial producibility in large quantities. For the typical Bauhaus handle by Walter Gropius, therefore, semi-finished products such as drawn tubes were used. The design of the Loredana door handle is also formed by cylindrical basic bodies. The handle neck and the handle are connected by a right angle.
Polished, high-gloss metal, chrome and powder-coated tubular steel can be found in many design classics of the Bauhaus style such as the MTBK 24 teapot by Marianne Brandt. The use of round tube was also very popular. A round tube construction made it possible to build the cantilever chairs by Marcel Breuer.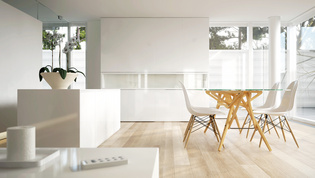 Clear lines, right angles and lots of white: in this ambience, the cool elegance of LOREDANA comes into its own.
Loredana: Origin from Italy
Loredana means translated "the laurel wreath", "the laurel" or "the end of the laurel" and has a Latin origin. It is believed that the name comes from Venice and is derived from the surname Loredan and the town of Loreo.
The history of the GRIFFWERK GmbH also began in Italy, more precisely in the northern Italian town of Lavenone, a community with almost 600 inhabitants. The hardware manufacturer Frascio is located there. The first door handle portfolio was created in cooperation with the Frascio company. Many Italian designs belonged to it and quite a few of the handles bore sonorous Italian names, such as LOREDANA.