window handle LORITA PROF
brushed steel L/R
7x32mm
Window handle LORITA PROFESSIONAL
Handle profiles
The hands have a say when it comes to window handles. Each handle profile has its own character. We distinguish four different profile types: round, oval, square and design. Oval handle profiles, like those of the LORITA set, offer a slightly wider palm rest.
Window handles - small design objects with great effect
Window handles are more than practical operating elements: they are small design objects with a big effect. Especially on windows that you open several times a day, they have to meet a high level of technical requirements.
In the Griffwerk range you will find window handles in different sizes and shapes as well as made of different materials. Thanks to our consistent design across all products, they are guaranteed to match the style of your door handles. So implement your design requirements down to the last detail - whether in matt or glossy, chrome-plated or brass-look, in velvet grey or graphite black. With our window handles, you can set the scene for your old windows or give your new windows the perfect design.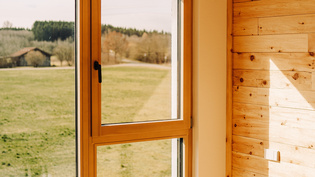 Window handles - technical equipment
The window handles are attached to the window frame by means of the 7 mm thick square pin. How deep the square pin must be pushed into the window to lock it depends on the thickness of the window. You can easily measure this in advance with the help of a thin object, for example a knitting needle. To do this, push the knitting needle into the opening as far as it will go and mark the spot with your fingernail. If you now measure this distance with a measuring tape, you will have the length of the pin.
In addition, our window handles are equipped with a sliding bearing for a durable, smooth and above all silent function. Without costly maintenance work!
Care instructions for stainless steel: Door handles, window handles and co.
High quality material with intelligent surface
GRIFFWERK is not limited to noble design - we are proud of the inner values of our products. We exclusively use stainless steel of alloy 304, also known as "1.4301". This high quality steel is - matt or polished - due to its composition stainless with special corrosion resistance and durability. Stainless steel forms a very thin protective passive layer, which rebuilds even after surface damage caused by chemical reactions.
Our care spray
GRIFFWERK recommends the "GRIFFWERK Care Spray", which is specially designed for our products, to care for and maintain the value of your stainless steel door handles and fittings. It cleans intensively, has a dirt-repellent effect and thus maintains the value of your stainless steel room door set, door handles and door fittings. Please do not use any aggressive cleaning agents or scouring agents containing alcohol for cleaning - regardless of whether the stainless steel surface is matt, polished or shiny. Please note that the surface of the lever handle set can be damaged under extraordinary stress, for example by building dirt, grinding dust, aggressive vapors or salt water. For this reason, clean the handle set with GRIFFWERK Care Spray immediately after soiling. Our GRIFFWERK care spray is available from all our trade partners.