LORITA PROF
door handle set
LORITA PROF
door handle set
door cover:
rose set round
lock type:
smart2lock 2.0
door handle set LORITA PROF
screw on rose set round
smart2lock 2.0 R brushed steel
LORITA PROFESSIONAL smart2lock
Handle profiles
When it comes to door handles, how it feels in your hand is just as important as the aesthetics. Each handle profile has its own style. We have four different profile types: round, oval, square and design.Oval profiles, such as the LORITA door handle set, provide your hands with a more substantial surface to grip.PROFESSIONAL LINE fittings offer a complete range for professionals for commercial fit-outs. The Professional Line units convince with a rosette height of only 8 mm, delicate joints round the screw-on rosettes, smallest radii and the PROFESSIONAL LINE's specific and unmistakable Premium Finish. High-quality equipment details such as the two lifting springs and a subconstruction of stainless steel (not plastic) supplement the offered range. Our new lockable door handles with smart2lock technology provide more privacy in the living space without key or toilet rosettes.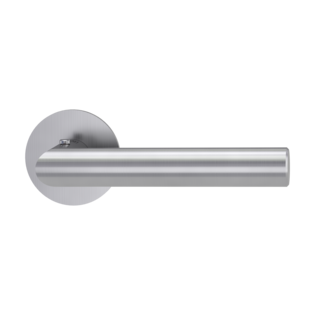 What is smart2lock?
smart2lock stands for an innovative and intelligent locking technology that functions maintenance-free without electronics. A short click activates the mechanism integrated in the door handle. When locked, the door handle can no longer be operated on either side. On the outside, a red indicator on the door handle discreetly signals "do not disturb" - the most beautiful pause sign in the world. Of course, an emergency release on the outside of the door has also been thought of.
Where should the closing button be located?
Right
Inside lever handle with locking knob pointing to the right
For DIN left door opening outwards
For DIN right door opening inwards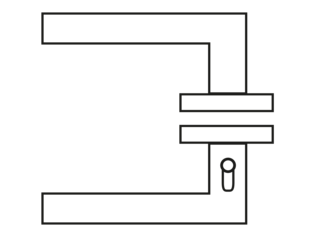 Left
Inside lever handle with closing knob pointing to the left
For DIN left door opening inwards
For DIN right door opening outwards
Mid-Century Modern
Mid-Century Modern stands for a formal design in architecture. The origin of this style of living can be found in the USA and Europe between the 1930s and 1960s. Mid-Century Modern is characterised above all by clear lines, organic forms and streamlined design without further embellishments. In terms of colour, the emphasis is on earth tones. In homes today, the Mid-Century Modern style is often found in sofas and other furniture, but the style is also an interior design idea on door handles. our door handles are perfectly combined with it.
Care instructions for stainless steel
High quality material with intelligent surface
GRIFFWERK is not limited to noble design - we are proud of the inner values of our products. We exclusively use stainless steel of alloy 304, also known as "1.4301". This high quality steel is - matt or polished - due to its composition stainless with special corrosion resistance and durability. Stainless steel forms a very thin protective passive layer, which rebuilds even after surface damage caused by chemical reactions.
Our care spray
GRIFFWERK recommends the "GRIFFWERK Care Spray", which is specially designed for our products, to care for and maintain the value of your stainless steel door handles and fittings. It cleans intensively, has a dirt-repellent effect and thus maintains the value of your stainless steel room door set, door handles and door fittings. Please do not use any aggressive cleaning agents or scouring agents containing alcohol for cleaning - regardless of whether the stainless steel surface is matt, polished or shiny. Please note that the surface of the lever handle set can be damaged under extraordinary stress, for example by building dirt, grinding dust, aggressive vapors or salt water. For this reason, clean the handle set with GRIFFWERK Care Spray immediately after soiling. Our GRIFFWERK care spray is available from all our trade partners.