LUCIA SQUARE
door handle set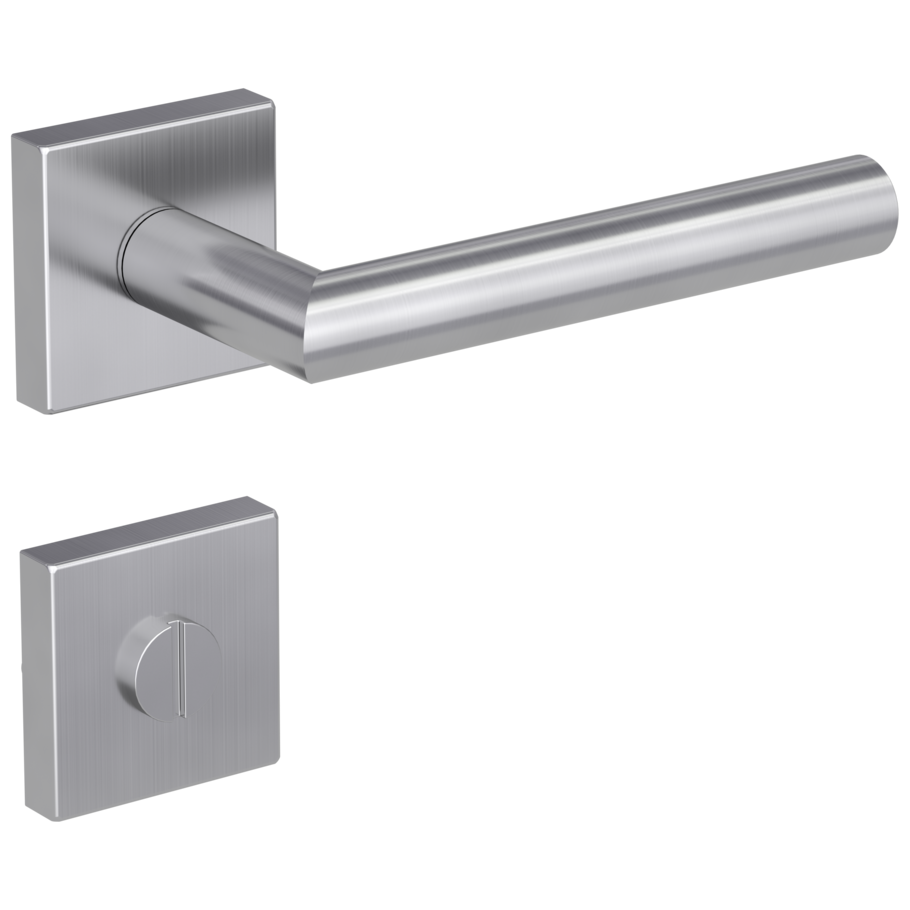 LUCIA SQUARE
door handle set
door handle set LUCIA SQUARE
clip on cl3 rose set square
wc brushed steel
LUCIA
LUCIA. The masterpiece.
Discover the design classic L-shape reinterpreted with Lucia, the masterpiece from Griffwerk. The name refers to the shape of the handle, which looks like an "L" when viewed from above. The L-shape door handle is also called Frankfurt model or Frankfurt shape. Discover the unique character of Lucia and bring the timeless charm of the L-shape door handle into your home. Today, the L-shape is the classic door handle throughout Europe: from Barcelona to Berlin, from Warsaw to Amsterdam.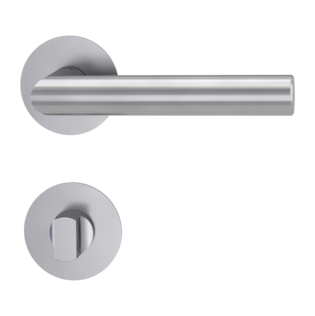 What is a WC-closer?
The rosette set with WC lock is considered the classic for the bathroom. A door handle with WC lock, abbreviated WC at Griffwerk, is equipped with a rotary knob on the inside and an emergency release on the outside. With the WC lock on the inside, the room door can be locked from the inside by turning it once. In an emergency, the door can be emergency unlocked from the outside, e.g. with a coin.
Why does our door handle have a female name at all?
At the beginning of our company's foundation, we have given all handles melodious names. Since this model in the Frankfurt form is an L-shaped handle, we considered a name with L as a good choice. The main reason for the naming is simply the sound of the name, which fits the shape of the handle and is easy to remember. The design of the handle is as sonorous as the name. Simple, slightly industrial and therefore suitable for every house, the door handle with the unforgettable name enjoys great popularity.
Care instructions for stainless steel: Door handles, window handles and co.
High quality material with intelligent surface
GRIFFWERK is not limited to noble design - we are proud of the inner values of our products. We exclusively use stainless steel of alloy 304, also known as "1.4301". This high quality steel is - matt or polished - due to its composition stainless with special corrosion resistance and durability. Stainless steel forms a very thin protective passive layer, which rebuilds even after surface damage caused by chemical reactions.
Our care spray
GRIFFWERK recommends the "GRIFFWERK Care Spray", which is specially designed for our products, to care for and maintain the value of your stainless steel door handles and fittings. It cleans intensively, has a dirt-repellent effect and thus maintains the value of your stainless steel room door set, door handles and door fittings. Please do not use any aggressive cleaning agents or scouring agents containing alcohol for cleaning - regardless of whether the stainless steel surface is matt, polished or shiny. Please note that the surface of the lever handle set can be damaged under extraordinary stress, for example by building dirt, grinding dust, aggressive vapors or salt water. For this reason, clean the handle set with GRIFFWERK Care Spray immediately after soiling. Our GRIFFWERK care spray is available from all our trade partners.