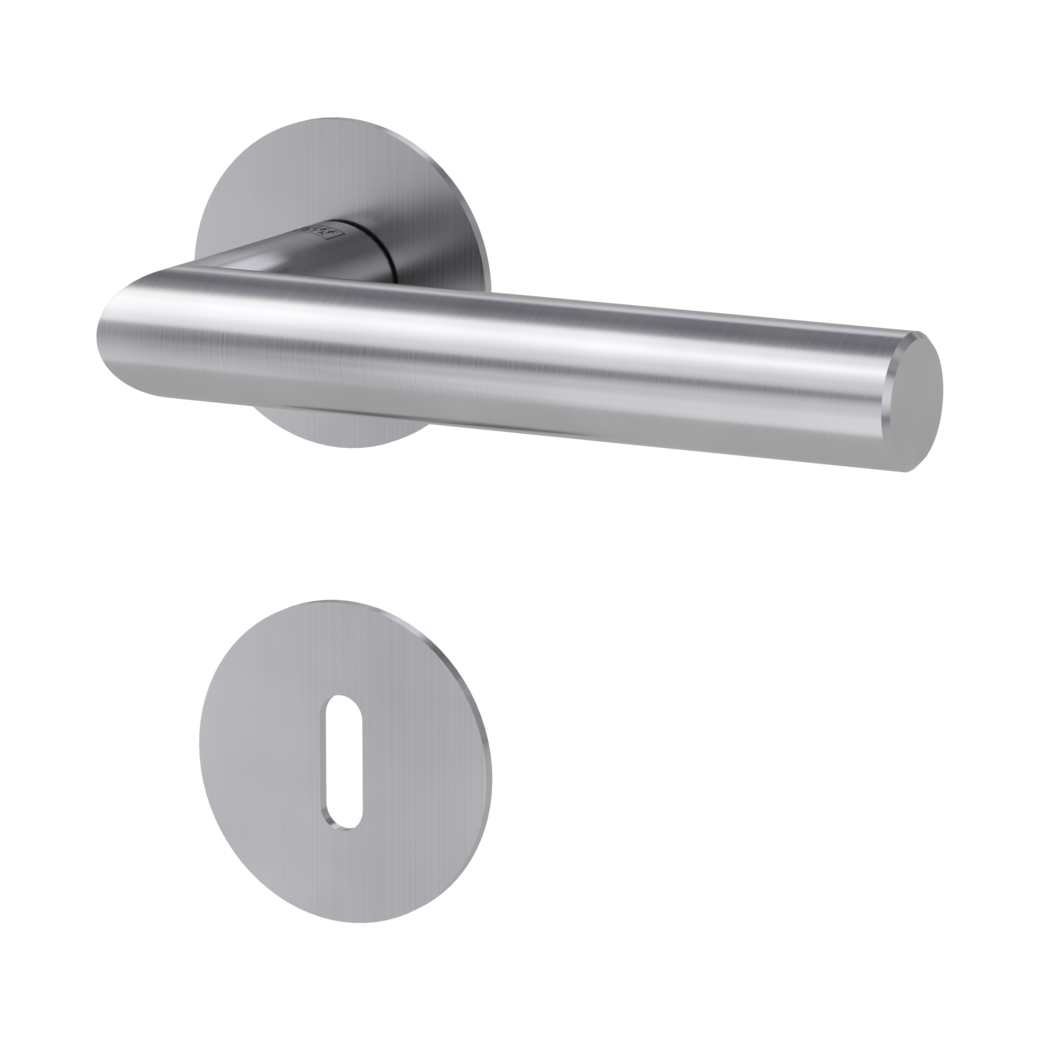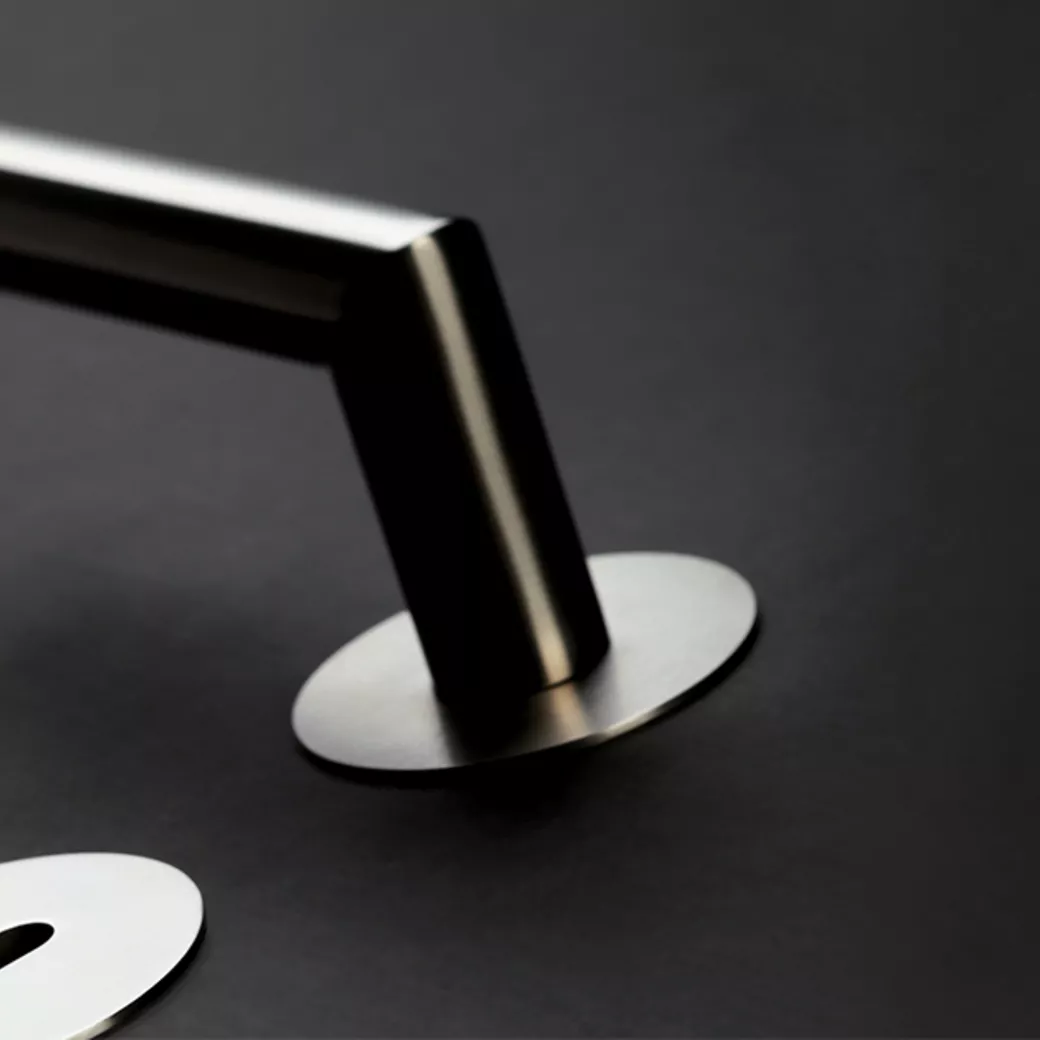 Door handle set
LUCIA PIATTA S
Art. No. 120500171
Type of locking
Cipher bit
Finish
Satin stainless steel
Selection of standard
Not tested
description40char1
LUCIA PIATTA S door handle set
description40char2
Flat escutcheons round
description40char3
Satin stainless steel cipher bit
LUCIA PIATTA S
LUCIA. The masterpiece.
Experience the design classic L-Form in a new interpretation with Lucia, the masterpiece from Griffwerk. The unique character of Lucia is also known as the Frankfurt model or Frankfurt Form. Discover the perfect symbiosis of highest quality, appealing design and flush aesthetics for your doors. Today, the L-Form is the classic door handle throughout Europe: from Barcelona to Berlin, from Warsaw to Amsterdam.
smart2lock by Griffwerk
Mid-Century Modern
Mid-Century Modern stands for a special design in architecture. Living styles originated in the USA and Europe between the 1930s and 1960s. Mid-Century Modern is characterized above all by clear lines, organic forms and streamlined design without further embellishments. In terms of color, earth tones are particularly popular. In homes today, the Mid-Century Modern furnishing style is often found in sofas and other furniture, but the style is also a furnishing idea for door handles. our door handles are a perfect match.
Minimalism
According to the Duden dictionary, minimalism means "to deliberately limit to a minimum". The strength of minimalist interior design lies in the quiet focus on individual furnishing elements. Minimalism is not only a style of living. Rather, it describes an attitude to life that is reflected in the living space. Focus on the essential and do without the superfluous. That is the motto of a minimalist lifestyle. The goal is a simple elegance and purist structure. Choosing a minimalist door handle is the first step towards a minimalist living style.
Hygge
Hygge comes from Denmark and is more than just a style of living: it is a way of life. Cosiness, security and conviviality are particularly important in a hygge atmosphere. Such a room climate is created by warm colours such as beige, cream, white or pastel grey. Supported by natural materials such as wood, wool or stainless steel, hygge turns your living space into a feel-good atmosphere. Choosing the right door handle is the first step towards a Hygge living style. Door handles from Griffwerk with a warm look in the colours cashmere grey or stainless steel are particularly suitable.
Care instructions for stainless steel: Door handles, window handles and co.
High quality material with intelligent surface
GRIFFWERK is not limited to noble design - we are proud of the inner values of our products. We exclusively use stainless steel of alloy 304, also known as "1.4301". This high quality steel is - matt or polished - due to its composition stainless with special corrosion resistance and durability. Stainless steel forms a very thin protective passive layer, which rebuilds even after surface damage caused by chemical reactions.
Our care spray
GRIFFWERK recommends the "GRIFFWERK Care Spray", which is specially designed for our products, to care for and maintain the value of your stainless steel door handles and fittings. It cleans intensively, has a dirt-repellent effect and thus maintains the value of your stainless steel room door set, door handles and door fittings. Please do not use any aggressive cleaning agents or scouring agents containing alcohol for cleaning - regardless of whether the stainless steel surface is matt, polished or shiny. Please note that the surface of the lever handle set can be damaged under extraordinary stress, for example by building dirt, grinding dust, aggressive vapors or salt water. For this reason, clean the handle set with GRIFFWERK Care Spray immediately after soiling. Our GRIFFWERK care spray is available from all our trade partners.
Door handle set LUCIA PIATTA S
Art. No. 120500171