PIANO WHITE
sliding glass door (lsg)
PIANO WHITE
sliding glass door (lsg)
color/opacity: PURE WHITE/white opaque
glass processing:
FFWHITE
valid country:
Germany
Austria
Switzerland
Great Britain
Czech Republic
Slovakia
Slovenia
Netherlands
Spain
sliding glass door PIANO WHITE
LSG PURE WHITE white opaque
935x2058x8.8mm
PIANO WHITE LSG
Trendsetting
LSG PRIME glass shines with an even higher safety aspect. In the event of glass breakage, the fragments adhere to the inner, tear-resistant foil. For families in particular, safety comes first, which is why LSG PRIME-Glas is the right decision here. LSG PRIME-Glas also has a lot to offer in terms of aesthetics. The inner foil can be transparent, translucent or even opaque. In this way, colour tonalities in the interior can be controlled and the desired degree of privacy protection can also be freely selected.
Clearly recognisable functions, authentic materials, a high demand for quality and durability have been real requirements in the development of our modern sliding glass doors. They represent an elegant and filigree alternative to hinged doors. With sliding doors, room transitions can be staged in a new way. In contrast to revolving glass doors, sliding glass doors do not need a swivel area, because a sliding glass door runs along the wall to save space. Unmistakable design and perfected technology - that is what distinguishes our sliding glass doors.
---
Pure White
White glass has a particularly noble effect and is characterised by a bright lighting effect in modern rooms. The green or grey tinge present in the product range is reduced to a minimum here. With PURE WHITE from Griffwerk, colour-neutral and flexible room design is guaranteed. White tones and daylight are expressed in a particularly natural way.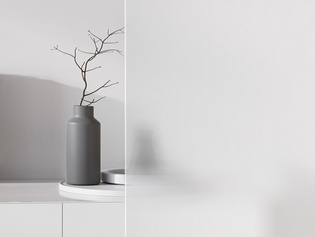 How do I clean a sliding glass door?
When cleaning your interior glass, it is sufficient to clean the surface of the sliding door with warm water. To do this, please use a sponge or a soft, lint-free cloth. Clean over a large area, not selectively.
In the case of residues such as fingerprints on the glass door, you can also use commercially available glass cleaners (foam cleaners). Please do not use any abrasive, corrosive, acidic or alkaline cleaning agents. They attack the glass surface and can cause scratches. Excess water can be wiped dry with a microfibre cloth. If water is left on the glass door for a long period of time, stubborn limescale residues can form.
With VSG sliding doors, make sure that the edge seal does not come into contact with water, otherwise moisture and the cleaning agent can penetrate the laminate.
Attention
Please do not use any scratching tools, razor blades or scrapers. They can leave visible and irreparable scratch marks on the surface.