PLANEO GS_49011
handle bar pair
PLANEO GS_49011
handle bar pair
handle bar pair PLANEO GS_49011
adhesive technique
18x700x11.12mm graphite black
Grip Rod PLANEO GS_49011
Back to a minimalist origin
The PLANEO range of grip bars represent the way back to a minimalist origin. Drill holes in shims are a thing of the past. The grip bars are simply and securely glued onto the shim using SENSA technology. The lightweight aluminium construction makes this technical masterpiece possible. SENSA is the futuristic technology from Grifwerk.
Sliding doors - advantages at one look
Sliding glass doors allow daylight into every room

no swivel range saves space

stylish and elegant way to create connection and separation of rooms

ideal for barrier-free living

no slamming in case of draught

larger dimensions possible than with hinged doors

Door can disappear behind furniture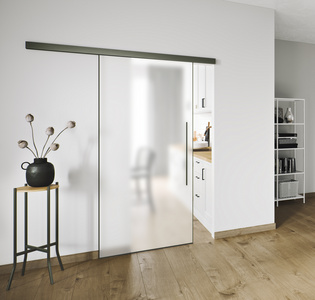 The space-saving wonder
Residential space is growing increasingly scarce in many cities. Rooms must be adjusted to personal needs with smart solutions there. Flats can be visually enlarged by permitting long viewing axes. This is best done with glass doors that "open" rooms rather than blocking the view as conventional wood doors do. With glass doors you can, for example, enjoy a view of the attractive living area form the hallways, while the small side room towards the back yard will profit from the daylight on the sunny South side as a matter of course with a glass door. In particular old buildings often have many small, nested rooms. This difficult floor plan can be improved with glass doors. How about connecting the dining room to the adjacent living room or the kitchen by replacing the old wood doors by new, bright glass doors? You can have such attractive combined rooms in old buildings as well.
Another piece of advice
If space is particularly scarce, sliding doors are a good solution, since they need no swivel range into the room, in contrast to turning doors. They run along the wall in a space-saving way. Your old doors don't have standard sizes or you don't have any wood doors installed at all? Tricky installation situations are particularly easy to handle with glass doors. GRIFFWERK can order nearly any desired special size from specialist trade. Our competent specialist trading partners will help you determine the right sizes. The right fitting can be chosen there as well: GRIFFWERK offers coordinated design systems for fittings and glass doors from a single source.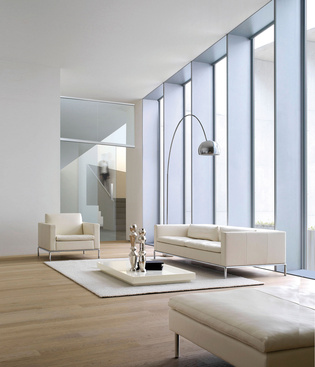 Full height, please!
Low ceilings have an oppressive and uncomfortable effect. If you can, you will choose your rooms to be high - the higher the better. It is among the particularly high-value features in residential construction. It's nice if the doors use the entire height as well. Different doors and fitting solutions are available. Fully glass doors look superior when they are as high as the room. They can be ordered as a special size. Your specialist vendor will advise you about the proper size and fittings to match. He will also know about which door weights are best for which hinges or sliding door systems. Large doors are just heavier after all. There are a number of things to consider to keep them from drooping later. This is true about sliding and turning doors alike.
Individual solutions
GRIFFWERK offers coordinated fitting solutions for room-height glass doors. High-quality equipment details such as drilling hole adapters in the hinges for turning doors also stabilise large doors. GRIFFWERK offers the adapters to match along with the turning door fittings. If you do not want your door to be one unbroken surface, you can choose a solution with panes. Panes are transparent areas above the door, usually divided from it by a transverse frame. The door has a default size but the space is visually opened upwards this way. This may also be sensible if you want to create a design reference to other doors at regular height. 
Optimized floor plans
Glazed doors open spaces, creating a wide viewing angle and make living areas simply brighter and bigger. They are ideal for optimizing floor plans, especially during renovations. In new buildings, so-called open floor plans can be implemented. We will combine functional areas such as the entrance and living area or the kitchen and dining room. Through glass doors now closed light-open room boundaries can be created. They fulfill as windbreak or provide more security through the use of satined glasses. The impression of the open whole is not lost.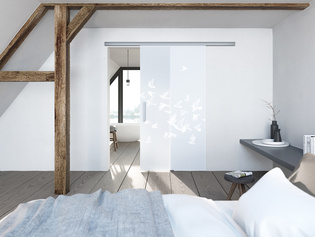 Lighter living feel
Dark rooms not only oppress the mood, but also cause a bad feeling in terms of energy balance. The lack of light must be replaced by artificial light sources. These need electrical power. This in turn drives energy consumption and costs money.
Simple renovation measures can do a lot here. You don't always need new windows. Transparent glass doors will use existing daylight much better. It's a smart solution that can become a true eye-catcher in the living ambience thanks to the great choice of designs.
Glass doors have diverse uses. A windowless hallway, an impractically placed living room on the North side of the building or a side room to become a walk-in closet: Glass doors let friendly sunlight flood into cool rooms and noticeably and sustainably improve the living feeling.
PURE WHITE by GRIFFWERK
High-quality white glass permits particularly bright light. This is used, for example, in PURE WHITE by GRIFFWERK, which does not have the green tinge of conventional float glasses. It fits into the living ambience neutrally and without a tint. Depending on the glass type and refinement, glass doors offer a more open view or better protection. The configuration can be customised. For example, GRIFFWERK offers all glass doors with laser patterns with satiation on the rear (TWO SIDES) as well for better sight protection.
Sustainable planning with glass doors
If you want to plan your living rooms foresightedly, glass doors are a good choice as well. In particular sliding doors with maximum room opening and threshold-less room transfers contribute to accessible living. Whether you choose a sliding door system or a classical fully glazed turning door is a matter of your personal taste. Either way, glass doors offer added value to the living ambience and are even true energy savers at the same time.
soft2touch advantages at one look:
Design dream thanks to new colors in cashmere grey, velvet grey (nickel-plated) and graphite black

particularly pleasant to touch due to velvety soft feel

less cold in the hand than stainless steel

silky-matt appearance instead of being polished to a high gloss

available for all systems in the house (glass doors, wooden room doors, windows)