PURISTO S LUCIA PROF
revolving glass door lock set with handle pair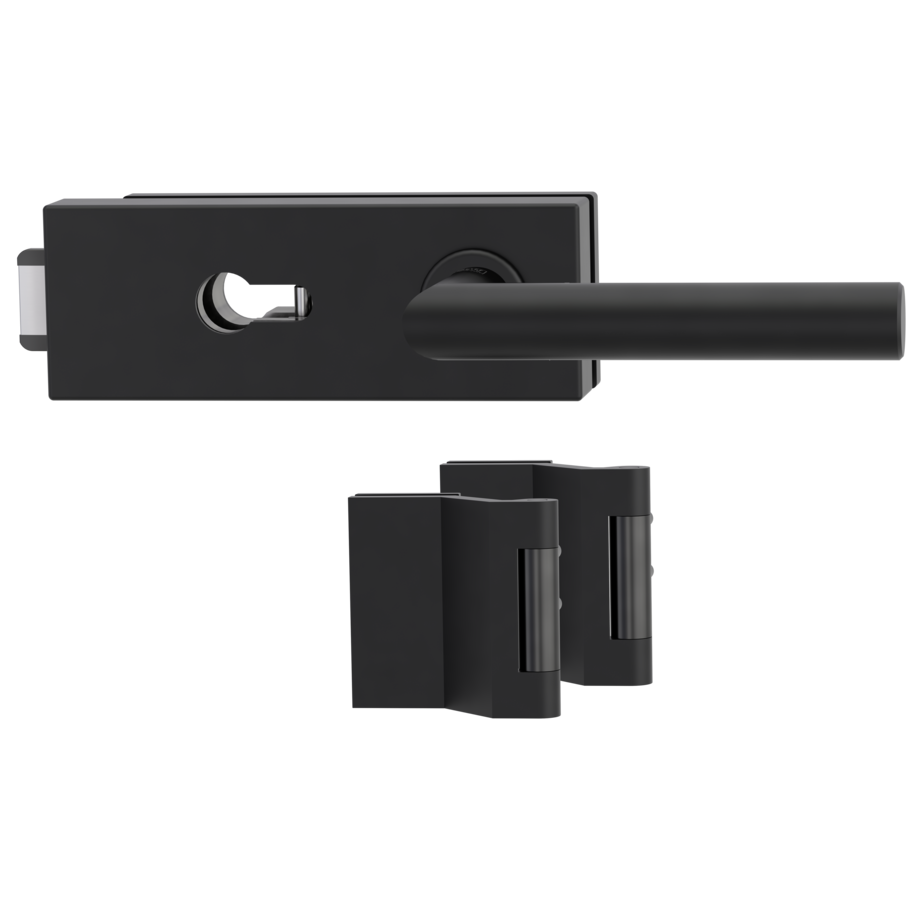 PURISTO S LUCIA PROF
revolving glass door lock set with handle pair
drilling type:
Studio/Office
glass door lock set PURISTO S
euro profile silent 3-part hinges
LUCIA PROF graphite black
Glass door fitting PURISTO S with door handle LUCIA PROF
Strict and clear with Material accents
"Form follows comfort" may have been the specification for the furtherdeveloped design of this extraordinary lock box. The new, comfortable option of closing by 1-hand operation is particularly distinctive. Thanks to revised technology, the closing head is now in reach of the thumb and can be comfortably actuated when pulling the door closed. The outer dimensions of the lock box have also been clearly reduced. The many adjustment options are comfortable as well: The spring force of the door handle can be individually adjusted and the grip position can be corrected to the millimetre.
LUCIA is available in clip-on or screw-on technique in stainless steel, graphite black and graphite black with brass or copper accent. "Our" black is a matte, very deep black. The coating is so resistant that even tools can be coated with it. Nevertheless, it is not sensitive to finger prints.PROFESSIONAL LINE fittings offer a complete range for professionals for commercial fit-outs.The Professional Line units convince with a rosette height of only 8 mm, delicate joints around the screw-on rosettes, smallest radii and the PROFESSIONAL LINE's specific and unmistakable Premium Finish. High-quality equipment details such as the two lifting springs and a subconstruction of stainless steel (not plastic) supplement the offered range.Our new lockable door handles with smart2lock technology provide more privacy in the living space without key or toilet rosettes.
What is a profile cylinder?
A profile cylinder lock is used as a classic for house, office and flat entrance doors. A profile cylinder is a cylinder that can be operated with a key. Profile cylinders therefore also provide a certain degree of protection - although less than protective fittings. Attention: If you want a door handle with profile cylinder insert, please note the marking PZ.
Graphite black
Black is finding its way into architecture, whether on large window fronts, as entrance doors or in interior details. Griffwerk offers the right selection of black fittings. A special feature is the black shade developed by GRIFFWERK, inspired by the black of graphite. The material look is reminiscent of black graphite powder, the feel is surprisingly soft. Graphite black impresses with its unusual, velvety matt finish and soft surface. Graphite black accents can be repeated in the room. They have a very noble effect and do not stand for elegant refinement and luxury for nothing. Griffwerk offers graphite black design in various product categories, allowing a holistic design of any interior. Graphite black is close to the RAL colour RAL 9011 (graphite black). Whether door handle, window handle, handle shell pair or even just handle bar, what is important is a uniform interplay of different colour elements that emerges from a conscious colour concept.