R8 HORIZONTAL
revolving glass door (tsg)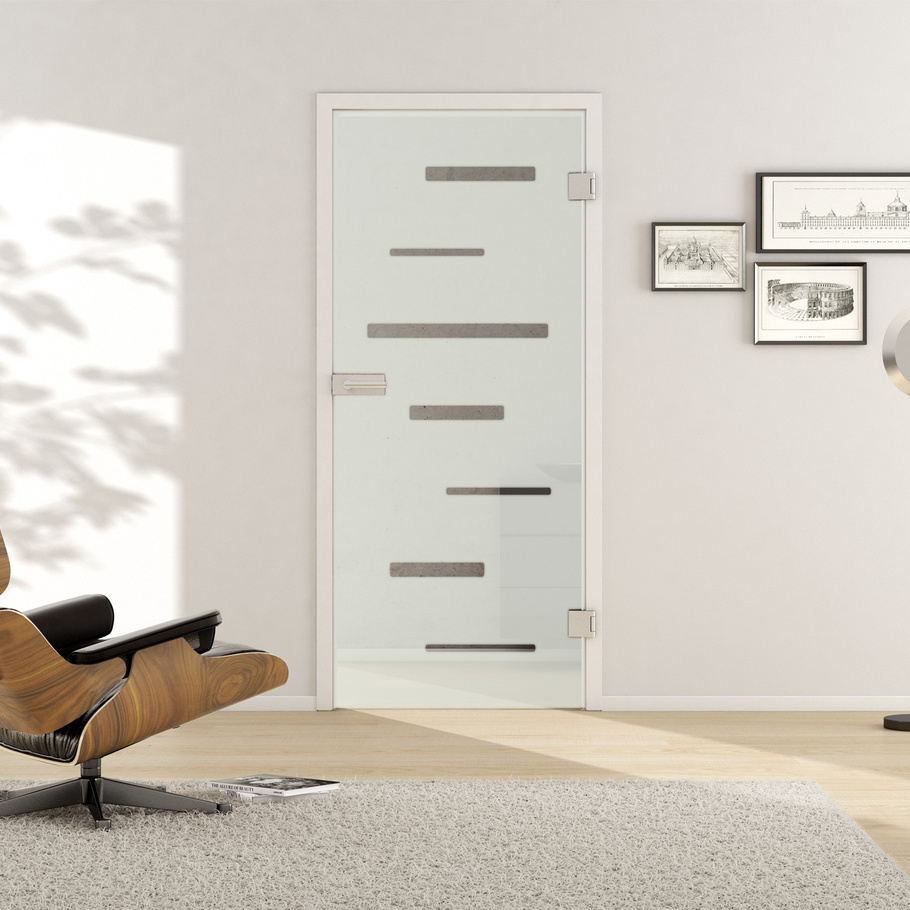 R8 HORIZONTAL
revolving glass door (tsg)
color/opacity: BASIC GREEN/partly matt
Glass revolving door R8 HORIZONTAL
TSG BASIC GREEN partly matt
709x1972x8mm Studio/Office DIN L
R8 HORIZONTAL 511
Geometry
The perfect geometry, based on the model of classic tubular steel furniture from the 1920s, is shown in the symbiosis of right angle and exactly inserted circle radius. The striking shape has been recurrently included in our collection and protected with the designation R8 as a registered trademark of GRIFFWERK GmbH.
Homely inspired
Glass doors are particularly suitable as room doors for noble and bright rooms - whether kitchen, living room, corridor or bathroom. By the way, replacing an existing wooden door with a glass door is very easy. For a revolving door even the existing frame can be used. With a glass sliding door, room transitions can be staged in a new way. That looks good and also saves space. In contrast to revolving doors, they do not need a pivoting range. Sliding glass doors run along the wall to save space. With a soft-closing variant you can treat yourself to additional comfort.
All glass doors from the GRIFFWERK range are available as revolving door systems or sliding door systems.
Spectacular white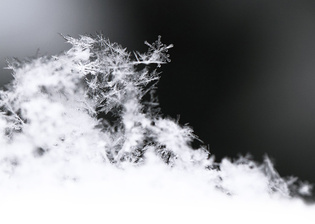 Glass doesn't need to be green
Usually for an all-glass door soda-lime-silica glass is used. It has a distinct green tint. The reason for this is the iron oxide used for the glass melt. Depending on the light conditions, the green cast of the material is more or less visible. The brighter, whiter and clearer the interior design is, the more disturbing this discoloration is. Even in front of a plain, white wall, the difference is clearly visible. Especially in contemporary architecture, pure and high-quality materials are essential.
The pure difference
Glass door instead of wooden door? Of course you want to invite as much light as possible into your rooms. With PURE WHITE by GRIFFWERK, daylight can flow into the interior rooms unadulterated and colors, especially shades of white, come across clearly and unadulterated. White glass has been proven to be more translucent than the basic green variant. In a six millimeter thick glass door, light transmission is improved by about three percent. The gain in light has an even greater effect on large surfaces. The light that passes through is also pure and color-neutral. If you decide to use glass instead of wood for an interior door, the main reason is the gain in light.
Why White glass?
Our passion for glass began in 2014 when we designed our first collection of glass doors. Glass is a fascinating material because it is 100 percent recyclable. For the production of white glass PURE WHITE by GRIFFWERK, the iron oxide content is reduced to minimize the green tint. White glass has a special lighting effect and brings out the brilliance of decorations. That's why we have been processing white glass with finishing and printing processes since 2016, even at our headquarters in Blaustein in southern Germany - for a perfect result.
How do I clean glass doors?
When you clean your interior glass, it is enough to clean the surface with warm water. For this, use a sponge or a soft, lint-free cloth. Clean a large area, rather than pointedly.
If there are residues such as fingerprints, you can also use commercially available glass cleaners (foam cleaners). Please do not use any scouring, caustic, acidic or alkaline cleaning agents, as these can attack the glass surface and cause scratches. Excess water can be wiped dry with a microfiber cloth. If water acts on the glass door over a longer period of time, stubborn lime residue can form.
For LSG doors, observe that the edge composite must not get into contact with water, since this may cause moisture and cleaning agent to enter the laminate.
For satined and laser-treated surfaces
To avoid abrasion of the surface structure, you should not exert too much pressure here. In order to avoid the so-called cloud formation, rub your door with a microfiber cloth to dry a large area. Do not use paper or cellulose cloths. They have too much abrasion.
For screen-print glasses
Screen-printed surfaces are softer than the pure glass surface and therefore more sensitive against mechanical cleaning agents. They also must not be cleaned with acids since they may attack the print pattern.
Attention
Please do not use any scratching tools, razor blades or scrapers. They can leave visible and irreparable scratches on the surface.