SNOWWHITE 501 incl. AIR
sliding glass door (tsg) incl. frame
SNOWWHITE 501 incl. AIR
sliding glass door (tsg) incl. frame
color/opacity: PURE WHITE/matt
sliding glass door SNOWWHITE 501 TSG
PURE WHITE matt 935x2183x8mm
incl. AIR cashmere grey
SNOWWHITE 501 frosted glass
Puristic
Glass doors allow natural light into windowless rooms. Dark rooms look bright and friendly. You even save electricity costs for artificial lighting. Our simple, timelessly elegant decors blend harmoniously into the interior design of your living space. In addition to smooth and satinized glass surfaces, you can also choose from structured glass in the GRIFFWERK range. The rolling process gives these glasses their special appearance in raw glass production. The micromatt surface of screen-printed glass doors reflects light similar to a crystalline, shining snow surface. This light effect is particularly effective in full-surface screen printing. The pure material effect. Unclouded, natural daylight flows into other rooms. The transparency connects functional areas of living to generous, open room impressions. ESG glass doors with ceramic screen printing are particularly scratch-resistant and guarantee a resistant, easy to clean surface. In the screen printing process, the decor is printed onto the glass door and then dried and fired. The thermal treatment fixes the color, making it permanently lightfast, solvent-resistant and abrasion-proof. Toughened safety glass is a specially heat-treated glass with increased impact and shock resistance. In case of breakage, small, blunt shards are produced. All glass door designs from the GRIFFWERK range are basically available as hinged door systems as well as sliding door systems. With sliding door systems, room transitions can be staged in a new way, since in contrast to revolving doors, no pivoting area is required. Sliding doors run along the wall to save space. With a soft-closing variant you can treat yourself to additional comfort.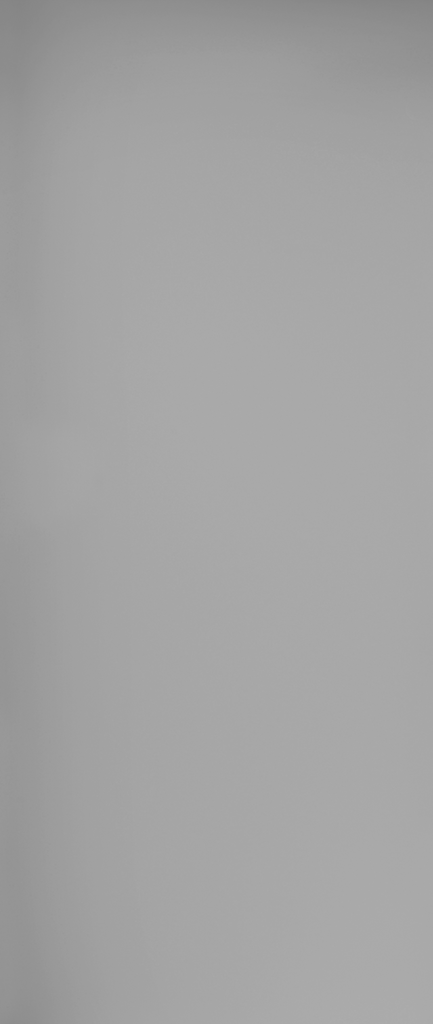 Cashmere grey
The so-called cashmere goats come from the former principality of Kashmir between India, Pakistan and China. Their wool is significantly softer than the finest sheep's wool and one of the most precious and expensive natural fibres of all. It inspired us for our velvety soft surface cashmere grey. Our cashmere grey not only offers luxury for the hands, but also has a silky matt appearance. The shade, which is very close to RAL 7022 (umbra grey), goes perfectly with warm tones and materials. Materials such as wood, patterns in textiles or other fluffy interior accents can be combined.
Pure White
White glass has a particularly noble effect and is characterised by a bright lighting effect in modern rooms. The green or grey tinge present in the product range is reduced to a minimum here. With PURE WHITE from Griffwerk, colour-neutral and flexible room design is guaranteed. White tones and daylight are expressed in a particularly natural way.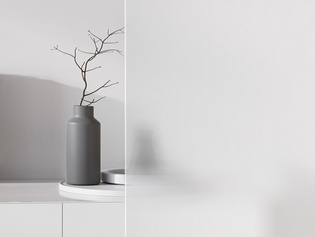 Matt or rather clear glass?
Matt glass surfaces provide better privacy and are also very popular for their aesthetics. The tactile quality of the surface of our matt glass doors nevertheless feels smooth due to the screen printing process and is extra scratch-resistant.
Reflections are softly softened, giving frosted finishes a calmer atmosphere. In contrast to clear glass, the view through frosted glass is only diffused due to the soft drawing. Objects or people behind a frosted glass door are only visible in shadowy form. In addition, the scattered incidence of light gives rooms and objects soft shadows and leads to a natural living feeling.
Look & Feel!
The surface finish developed by GRIFFWERK, soft2touch by GRIFFWERK, combines an extraordinary look with a velvety soft feel. Surfaces make a decisive contribution to a positive product experience. This is especially true for door handles, which are touched countless times every day - not only on inner doors.