TITANO_882 LORITA PROF
security combi set
TITANO_882 LORITA PROF
security combi set
Abdeckung:
rose set round
lock type:
cylinder cover
security combi set TITANO_882 ES1
72mm cylinder cover door 38-50mm
LORITA PROF brushed steel
Security combination unit TITANO SB_882 with door handle LORITA PROF
Certified Protection with oval handle profile
GRIFFWERK stainless steel combination security fitting suitable for use in private and commercial buildings, tested and certified according to DIN EN 1906 Annex A and DIN 18257 usage category burglary security class S1 (ES0) or S2 (ES1) Outside shield with stainless steel cover Cylinder protrusion 10-15 mm possible (with ZA) Profile cylinder perforation optionally available with core pull protection Screwing with M5 screws Protective fitting in installed condition without visible screws/ assembly or disassembly openings in the visible area Inside combinable with almost all handles from the GRIFFWERK range Plain bearings for durable, Long-lasting due to the high corrosion resistance of the handle set The hands are decisive when it comes to door handles. Each handle profile has its own character. We distinguish four different profile types: round, oval, square and design. Oval handle profiles, such as those of the LORITA set, offer a slightly wider hand rest. For fittings in the contract sector, fittings from the PROFESSIONAL LINE offer the complete range for professionals. The fittings of the Professional Line convince with a rosette thickness of only 8 mm, finest joints of the screw rosettes, smallest radii and the PROFESSIONAL LINE own and unmistakable premium finish. High-quality equipment details, such as high retaining springs on both sides and a substructure made of stainless steel (not plastic), complete the performance spectrum.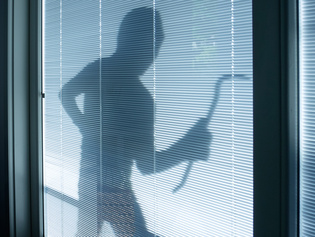 Secure the front door with protective fittings!
Every four minutes there is a burglary in Germany. The biggest weak point in flats: the flat entrance door.
Although around 75% of all burglaries target apartment buildings, too little attention has so far been paid to securing the flat entrance door with front door fittings. Burglars are under great time pressure. Attempts to resist for as little as five minutes fail. Moreover, 80 percent of the perpetrators are only occasional thieves. They do not take a high risk of detection and choose properties with unsecured weak points. Contrary to popular belief, 80 percent of burglaries take place during the day when the residents are out of the house - preferably between 10 am and 1 pm. Apartment buildings are particularly affected.
Prising open the shield of a front door security fitting or pulling protruding cylinders can be effectively warded off with a security fitting from Griffwerk.
Download information leaflet security fittings (only in german)
Effective burglary protection for your home!
The number of domestic burglaries continues to rise in Germany. However, most attempts could be thwarted by the right burglary protection. Too little attention is paid to the protection of front doors in particular.
You should pay attention to this with your flat entrance door:
Invisible screwing prevents screwing on/off from the outside.
Special hardened steel plate offers resistance to drilling, knocking off and bending.
3. Hardened steel cylinder cover prevents the profile cylinder from being pulled out.
Resistance classes of protective fittings
For classification purposes, protective fittings are classified into resistance classes. They indicate how strong the burglary protection is. Depending on your individual protection needs, choose fittings from four different protection classes (ES0-ES3).
GRIFFWERK equipped the revised range of protective hardware with flanking sales support for specialist trade and crafts. GRIFFWERK has solutions at hand for sales exhibitions and mobile consulting as well.
Resistance class ES0
Components in the resistance class have basic protection against attempts to break in with physical force (mainly vandalism) such as kicking, counter-jumping, shoulder throwing, pushing up and tearing out.
✓ Suitable for secondary doors such as garage doors
Resistance class ES1
The casual burglar additionally tries to break open the locked and bolted component with simple tools such as screwdrivers, pliers and wedges.
✓ Suitable for flat entrance doors, front doors
---
Care instructions for stainless steel: Door handles, window handles and co.
High quality material with intelligent surface
GRIFFWERK is not limited to noble design - we are proud of the inner values of our products. We exclusively use stainless steel of alloy 304, also known as "1.4301". This high quality steel is - matt or polished - due to its composition stainless with special corrosion resistance and durability. Stainless steel forms a very thin protective passive layer, which rebuilds even after surface damage caused by chemical reactions.
Our care spray
GRIFFWERK recommends the "GRIFFWERK Care Spray", which is specially designed for our products, to care for and maintain the value of your stainless steel door handles and fittings. It cleans intensively, has a dirt-repellent effect and thus maintains the value of your stainless steel room door set, door handles and door fittings. Please do not use any aggressive cleaning agents or scouring agents containing alcohol for cleaning - regardless of whether the stainless steel surface is matt, polished or shiny. Please note that the surface of the lever handle set can be damaged under extraordinary stress, for example by building dirt, grinding dust, aggressive vapors or salt water. For this reason, clean the handle set with GRIFFWERK Care Spray immediately after soiling. Our GRIFFWERK care spray is available from all our trade partners.