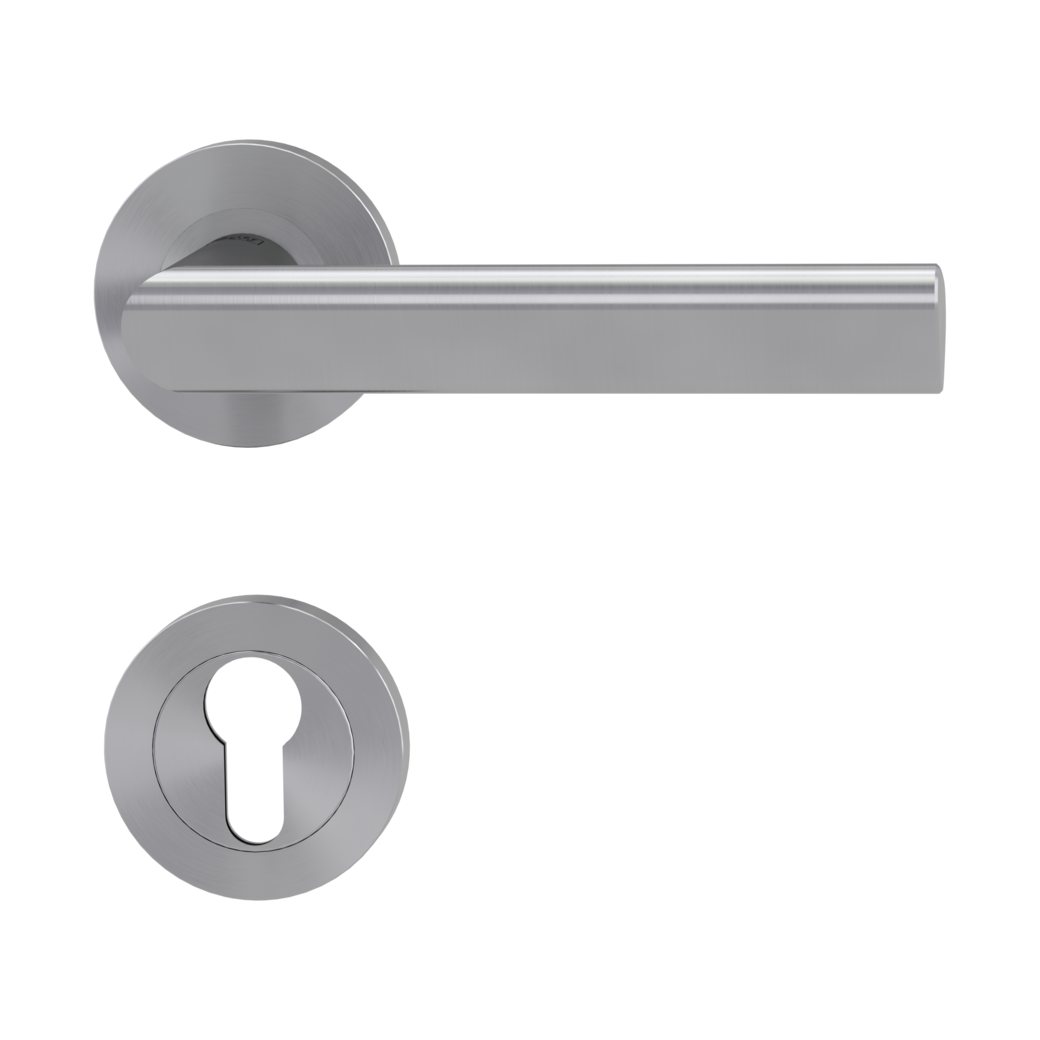 Country validity:
Germany
TRI 134 door handle set
Screw-on system GK3 round escutcheons
Satin stainless steel profile cylinder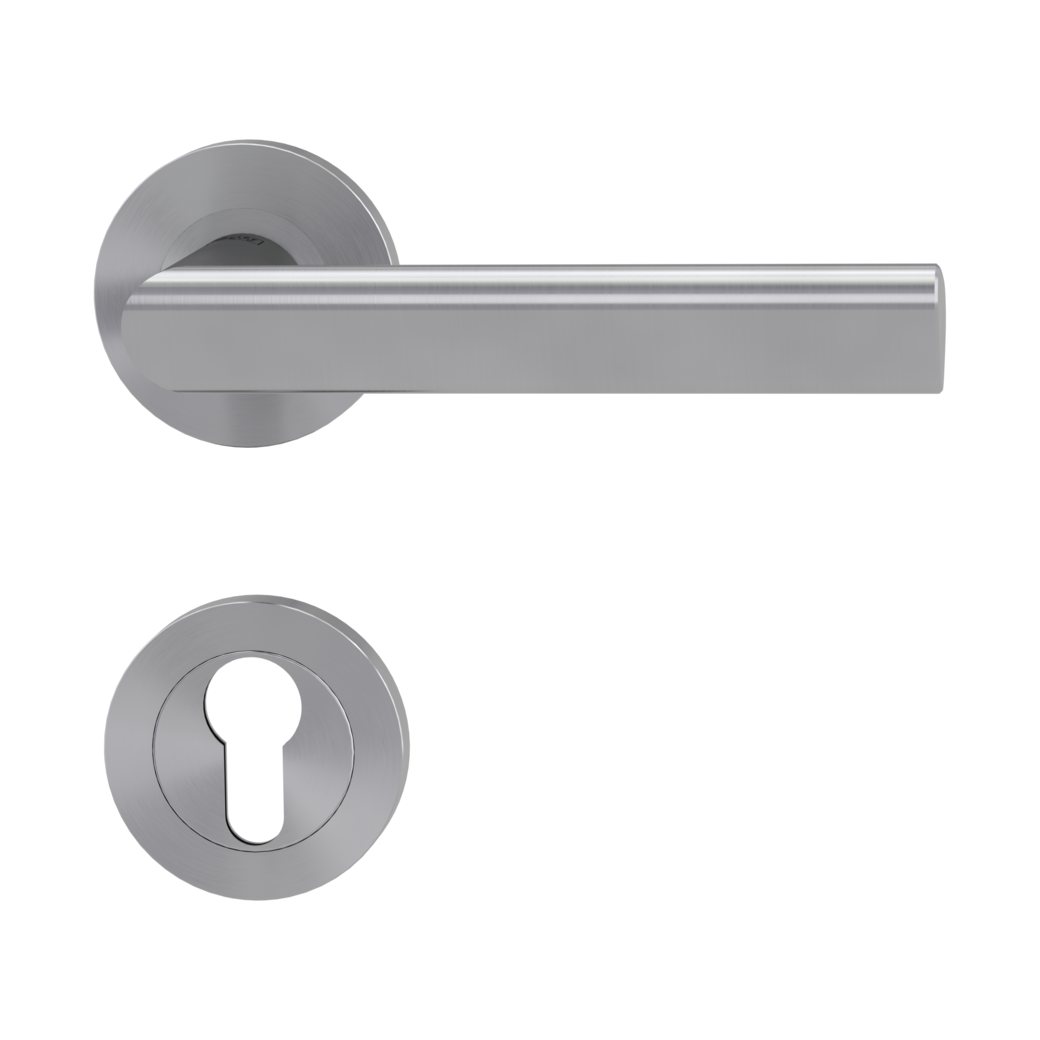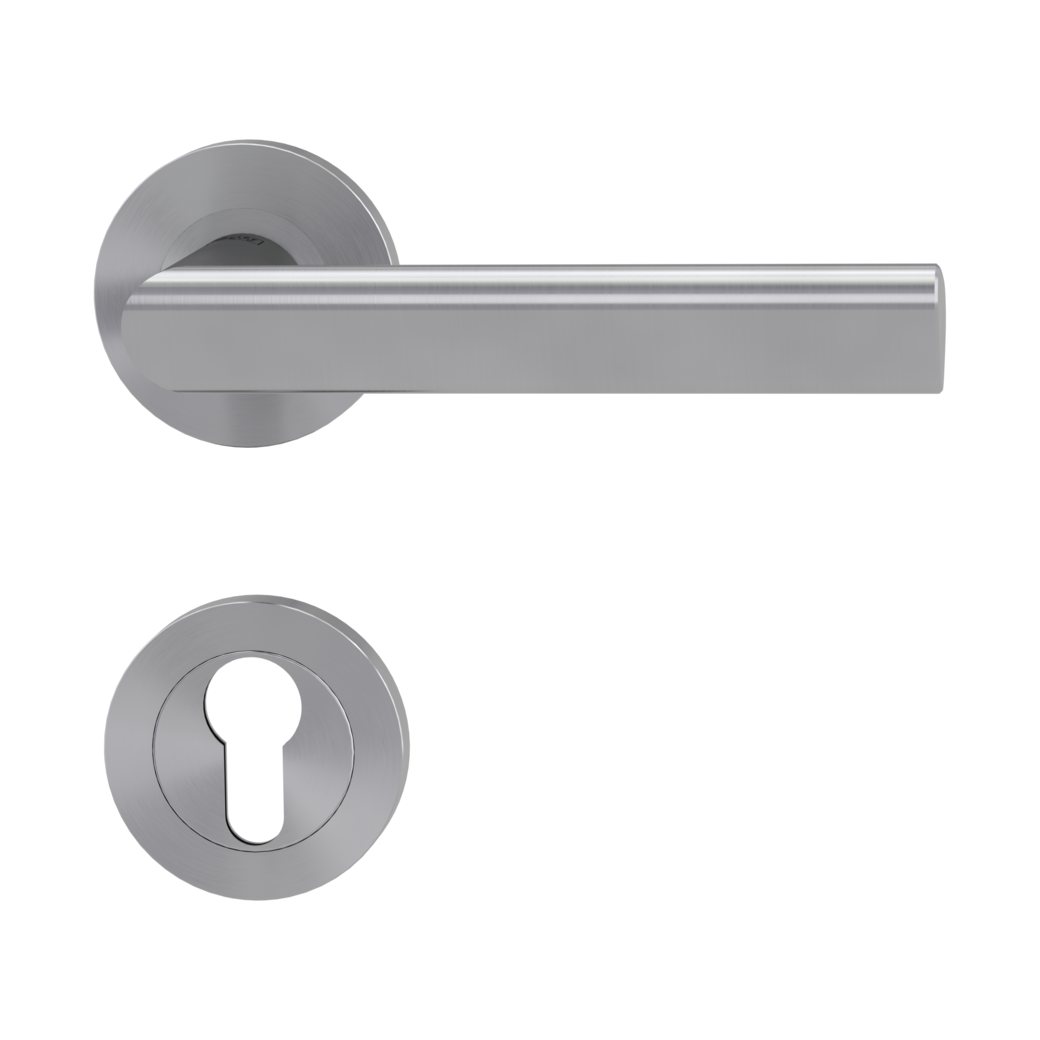 Door handle set
TRI 134
Art. No. 134130271
Country validity:
Germany
TRI 134 door handle set
Screw-on system GK3 round escutcheons
Satin stainless steel profile cylinder
TRI 134
Made for the hand
When designing the TRI 134 handle profile, we took a close look at the cavity that the hand forms when gripping. In the process, we realized that this cavity resembles neither a circle, an oval nor a rectangle, but rather has the shape of a gently rounded triangle. Based on this insight, we developed a completely new handle profile with three sides in Blaustein. The result is TRI 134, a door handle that is literally "made for the hand". Its ergonomic design not only offers unique comfort, but also gives your door a timeless and elegant character. Experience the perfect combination of functionality and design with TRI 134.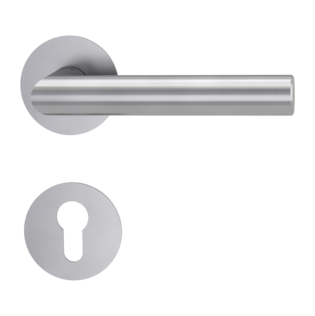 What is a profile cylinder?
A profile cylinder lock is used as a classic for house, office and flat entrance doors. A profile cylinder is a cylinder that can be operated with a key. Profile cylinders therefore also provide a certain degree of protection - although less than protective fittings. Attention: If you want a door handle with profile cylinder insert, please note the marking PZ.
Anatomy and movement patterns guide design
In the search for the perfect haptic experience, GRIFFWERK tested a wide variety of profiles in several studies. Finally, several criteria could be defined that are relevant for a "perfect" gripping experience:
The "perfect" profile corresponds to the hollow space,of the closing hand. This is three-sided for anatomical reasons and not round or rectangular
During operation, the angle of the closed hand is changed, as well as the position of the user in space. The closed hand is therefore "moved" on the door handle. It does not remain static. The edges must therefore be softly rounded to allow for movement play.
Most pressure is exerted on the upper contact surface. This is also the largest contact surface between the door handle and the hand. It therefore plays the most important role for the grip feeling. It is particularly pleasant if it is kept very wide, as is the case with TRI.
The upper contact surface should also be inclined towards the door. An angle that slopes gently towards the door corresponds to the natural posture of the wrist when operating a door handle. Thanks to the inclined angle, the wrist is not hyperextended when pressing the handle (as would be the case with a horizontal surface).
Door handle TRI 134 was developed based on these criteria.
A new classic
Door handle TRI 134 is one of the simple, minimalist design forms that fit any door and any architectural style. In addition to a shapely, restrained design, it offers exceptional gripping comfort.
Haptic in perfection
We have developed a profile cross-section with a "perfect feel". Anatomical requirements and movement patterns were taken into account. The gripping area now has three sides and thus corresponds exactly to the actual cavity of the gripping hand. This is not round but has a three-sided shape due to the joints of the hand.
The Greek pronoun "TRI" ("three" or "threefold") therefore became the eponym of the first handle introduced with the new profile.
Its shape literally nestles against the hand.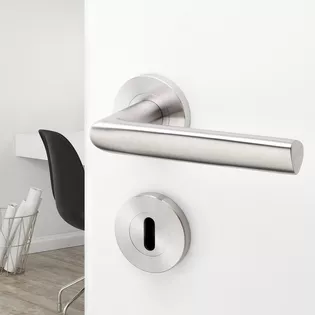 Care instructions for stainless steel: Door handles, window handles and co.
High quality material with intelligent surface
GRIFFWERK is not limited to noble design - we are proud of the inner values of our products. We exclusively use stainless steel of alloy 304, also known as "1.4301". This high quality steel is - matt or polished - due to its composition stainless with special corrosion resistance and durability. Stainless steel forms a very thin protective passive layer, which rebuilds even after surface damage caused by chemical reactions.
Our care spray
GRIFFWERK recommends the "GRIFFWERK Care Spray", which is specially designed for our products, to care for and maintain the value of your stainless steel door handles and fittings. It cleans intensively, has a dirt-repellent effect and thus maintains the value of your stainless steel room door set, door handles and door fittings. Please do not use any aggressive cleaning agents or scouring agents containing alcohol for cleaning - regardless of whether the stainless steel surface is matt, polished or shiny. Please note that the surface of the lever handle set can be damaged under extraordinary stress, for example by building dirt, grinding dust, aggressive vapors or salt water. For this reason, clean the handle set with GRIFFWERK Care Spray immediately after soiling. Our GRIFFWERK care spray is available from all our trade partners.