color/opacity: PURE WHITE/matt
glass panel TYPO 628
hardened glass PURE WHITE matt
535x1420x4mm
Glass door TYPO laser design 628
Trend-setting
Your glass door as a poetic entrance to the next living room? Whether entrance areas, kitchen or bathroom - treat yourself to typographically designed reading pleasure on your glass doors. You are free to decide how much transparency you want. Clear doors allow an open view.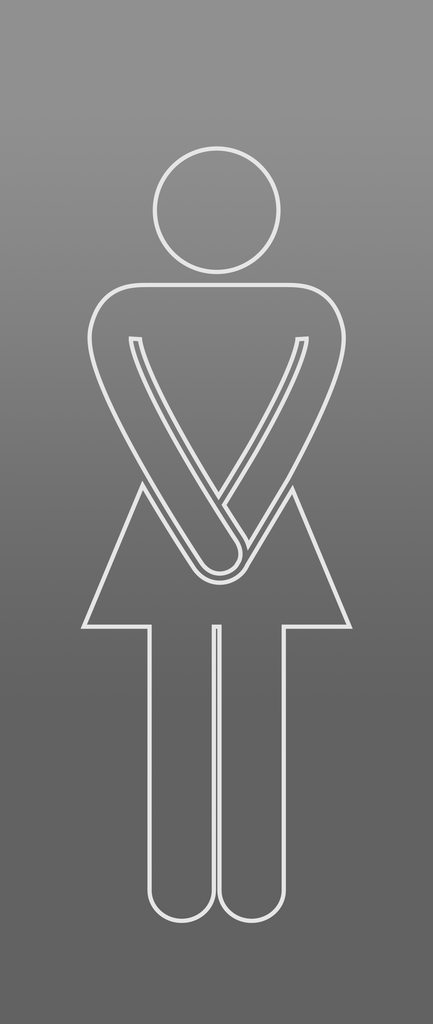 Light openings
Light openings are glass inserts for wooden doors and thus a real option for a style-conscious modernisation of the living space. The living spaces receive more daylight overall and radiate a brighter atmosphere. Glass type and decors for light openings from Griffwerk can be selected individually. Many variation possibilities result from the extensive product range.
Pure White
White glass has a particularly noble effect and is characterised by a bright lighting effect in modern rooms. The green or grey tinge present in the product range is reduced to a minimum here. With PURE WHITE from Griffwerk, colour-neutral and flexible room design is guaranteed. White tones and daylight are expressed in a particularly natural way.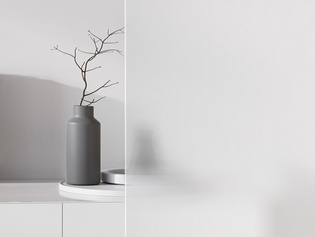 Matt or rather clear glass?
Matt glass surfaces provide better privacy and are also very popular for their aesthetics. The tactile quality of the surface of our matt glass doors nevertheless feels smooth due to the screen printing process and is extra scratch-resistant.
Reflections are softly softened, giving frosted finishes a calmer atmosphere. In contrast to clear glass, the view through frosted glass is only diffused due to the soft drawing. Objects or people behind a frosted glass door are only visible in shadowy form. In addition, the scattered incidence of light gives rooms and objects soft shadows and leads to a natural living feeling.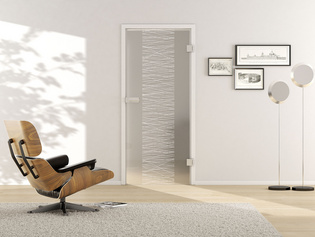 What is Laser TWO SIDE?
With TWO SIDE, the manufacturer processes the glass door on both sides
The glass door blank has a full-surface silk-screen print on the back (matt on the back)
The laser decor is on the front side
Light transmission is in the foreground here
Rooms flooded with lightdespite guaranteed privacy
Glass doors: Fascinating Laser technology
Bundled light engraves delicate lines into the glass surface. Point by point and precisely controllable, detailed motives and finely graduated progressions can thus be transferred to glass. Our laser places microscopically small pixels next to each other, permitting photo realistic results. The deeper engravings change the light reflection. Laterally ingressing light makes the patterns virtually light up. Laser-processed glass doors remain transparent. If you wish more protection from looks, simply pick the version in TWO-SIDES with rear satination.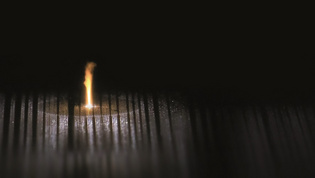 Laser doors from Griffwerk meet ESG standard
GRIFFWERK glass doors made of toughened safety glass ("ESG") meet all requirements for applied laser technology according to the German Institute for Building Technology (DIBT). Since then, GRIFFWERK has been allowed to mark all glass doors with the ESG test stamp, which complies with the DIN EN 12150 standard. The stamp is placed inconspicuously on the hinge side of the glass edge. We are proud to be able to offer you tested safety.
How do I clean a light cut-out?
When cleaning your interior glass, it is sufficient to clean the surface of the glass with warm water. To do this, please use a sponge or a soft, lint-free cloth. Clean over a large area and not selectively.
In the case of residues such as fingerprints on the glass door, you can also use commercially available glass cleaners (foam cleaners). Please do not use any abrasive, corrosive, acidic or alkaline cleaning agents. They attack the glass surface and can cause scratches. Excess water can be wiped dry with a microfibre cloth. If water is left on the glass for a long period of time, stubborn limescale residues can form. Therefore, please use only as much water as necessary right from the start. Excessive use of water or cleaning agents can cause the wooden strips to swell.
With laminated glass, make sure that the edge seal does not come into contact with water, otherwise moisture and the cleaning agent can penetrate the laminate.
Attention
Please do not use any scratching tools, razor blades or scrapers. They can leave visible and irreparable scratch marks on the surface.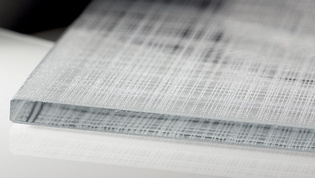 Particular attention should be paid to this with satinised and lasered surfaces
To avoid abrasion of the surface structure, do not apply too much pressure. To avoid the so-called cloud formation, rub your glass door dry over a large area with a microfibre cloth. Do not use paper or cellulose cloths. They cause too much abrasion.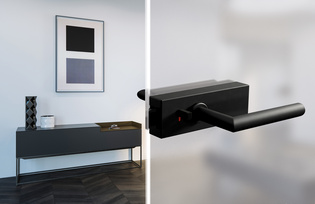 Particular attention should be paid to this with screen-printed glasses
Screen-printed surfaces are softer than the pure glass surface and therefore more sensitive to mechanical cleaning agents. In addition, they must not be cleaned with acids, as these can attack the printed image.