handle ULMER GRIFF
R graphite black
Handle ULMER GRIFF for security fitting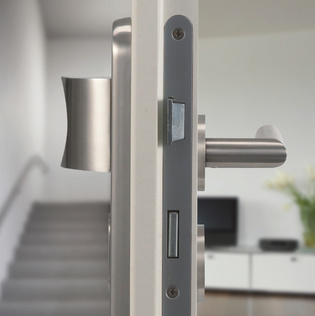 Create your own security fittings.
All doors in one look without giving up security!
Combination security fittings can be combined with rosette sets. This guarantees the protection of the flat door to the outside and to the inside you enjoy the uniform look on all doors. Choose from the extensive range of different designs for an individual result - from lever handle to rosette, from stainless steel to brass look. As a rule, you also receive the same door handle for glass lock cases and for windows.
Construction kit for security fittings
Combine the handle, inner rosette set and combination security fitting according to your design ideas. Our range leaves nothing to be desired.
Consisting of 3 parts
1
Combination security fitting
Available in other versions, with profile cylinder or cylinder cover.
2
Combination inner rosette set
Available in further versions round, square, with and without decorative ring in all surfaces.
Combination inner rose sets always consist of a lever handle and key rose with substructure and screws for the door thickness range 38 - 50 mm.
3
Handle
Can be combined with almost all handles from the Griffwerk range.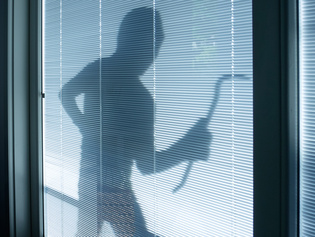 Secure the front door with protective fittings!
Every four minutes there is a burglary in Germany. The biggest weak point in flats: the flat entrance door.
Although around 75% of all burglaries target apartment buildings, too little attention has so far been paid to securing the flat entrance door with front door fittings. Burglars are under great time pressure. Attempts to resist for as little as five minutes fail. Moreover, 80 percent of the perpetrators are only occasional thieves. They do not take a high risk of detection and choose properties with unsecured weak points. Contrary to popular belief, 80 percent of burglaries take place during the day when the residents are out of the house - preferably between 10 am and 1 pm. Apartment buildings are particularly affected.
Prising open the shield of a front door security fitting or pulling protruding cylinders can be effectively warded off with a security fitting from Griffwerk.
Download information leaflet security fittings (only in german)
Effective burglary protection for your home!
The number of domestic burglaries continues to rise in Germany. However, most attempts could be thwarted by the right burglary protection. Too little attention is paid to the protection of front doors in particular.
You should pay attention to this with your flat entrance door:
Invisible screwing prevents screwing on/off from the outside.
Special hardened steel plate offers resistance to drilling, knocking off and bending.
3. Hardened steel cylinder cover prevents the profile cylinder from being pulled out.
Resistance classes of protective fittings
For classification purposes, protective fittings are classified into resistance classes. They indicate how strong the burglary protection is. Depending on your individual protection needs, choose fittings from four different protection classes (ES0-ES3).
GRIFFWERK equipped the revised range of protective hardware with flanking sales support for specialist trade and crafts. GRIFFWERK has solutions at hand for sales exhibitions and mobile consulting as well.
Resistance class ES0
Components in the resistance class have basic protection against attempts to break in with physical force (mainly vandalism) such as kicking, counter-jumping, shoulder throwing, pushing up and tearing out.
✓ Suitable for secondary doors such as garage doors
Resistance class ES1
The casual burglar additionally tries to break open the locked and bolted component with simple tools such as screwdrivers, pliers and wedges.
✓ Suitable for flat entrance doors, front doors
---
Renovation advice for apartements for rent
A safety upgrade in apartments for rent must be coordinated with the landlord just like all changes affecting building substance. A written permit that excludes the obligation to remove it again when moving out is sensible as well. Ideally, change requests should be clarified before entering into the rent contract.
Insured object
Never just pull the front door shut. Under certain circumstances, they are legally considered to be unlocked. In order to benefit from insurance cover in the event of damage, it is worth checking with your insurance company. Take this opportunity to clarify whether the resistance class of the protective fittings is sufficient.
A design classic from Ulm
From 1952, Max Bill headed the department for architecture and product form at the HfG Ulm. Together with the student Ernst Moeckl, he developed a door handle for the university building during this time. In 2012, GRIFFWERK reedited this handle in close cooperation with the max, binia + jakob bill stiftung, following the preserved originals.
The Ulm Handle by Max Bill
The ULMER HANDLE reedited by GRIFFWERK features the characteristic, soft transition of form from circle to ellipse. A principle based on mathematics, as Max Bill also called for in his 1946 work "the mathematical way of thinking in the art of our time". The ULMER HANDLE BY GRIFFWERK is the world's only licensed reedition and therefore entitled to bear Max Bill's signature.
Look & Feel!
The surface finish developed by GRIFFWERK, soft2touch by GRIFFWERK, combines an extraordinary look with a velvety soft feel. Surfaces make a decisive contribution to a positive product experience. This is especially true for door handles, which are touched countless times every day - not only on inner doors.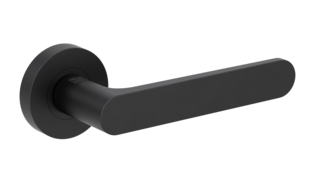 In three colours
In addition to graphite black, there are two other colours to choose from: velvet and cashmere grey. What all surfaces have in common is their exceptional tactile quality. The three new colour shades were developed by GRIFFWERK and coordinated down to the last detail.
Triple finished
For the desired 'soft2touch' effect, three wafer-thin layers are applied. The process has been fine-tuned down to the last detail. A special carrier layer serves as the basis. It has a fine structure so that a lively material effect is created. The texture varies depending on the shade. 'Cashmere' and 'Velvet Grey' are distinguished by a discreetly ground appearance; 'Graphite Black' appears finely grained. The colour tone is defined by the subsequent pigment layer. The particularly pleasant feel of the handles is created by a final soft seal. It also gives the colour shades brilliance and depth.
Inspiration Graphit
We chose an exceptionally matt, very deep black that fits perfectly with the loft-style window and door elements. Glossy black would look much more unsettling, as the reflective surfaces would contrast strongly with the surroundings. Matt simply looks more noble and stands for modernity.
soft2touch advantages at one look:
Design dream thanks to new colors in cashmere grey, velvet grey (nickel-plated) and graphite black
Particularly pleasant to touch due to velvety soft feel
Less cold in the hand than stainless steel
Silky-matt appearance instead of being polished to a high gloss
Available for all systems in the house (glass doors, wooden room doors, windows)