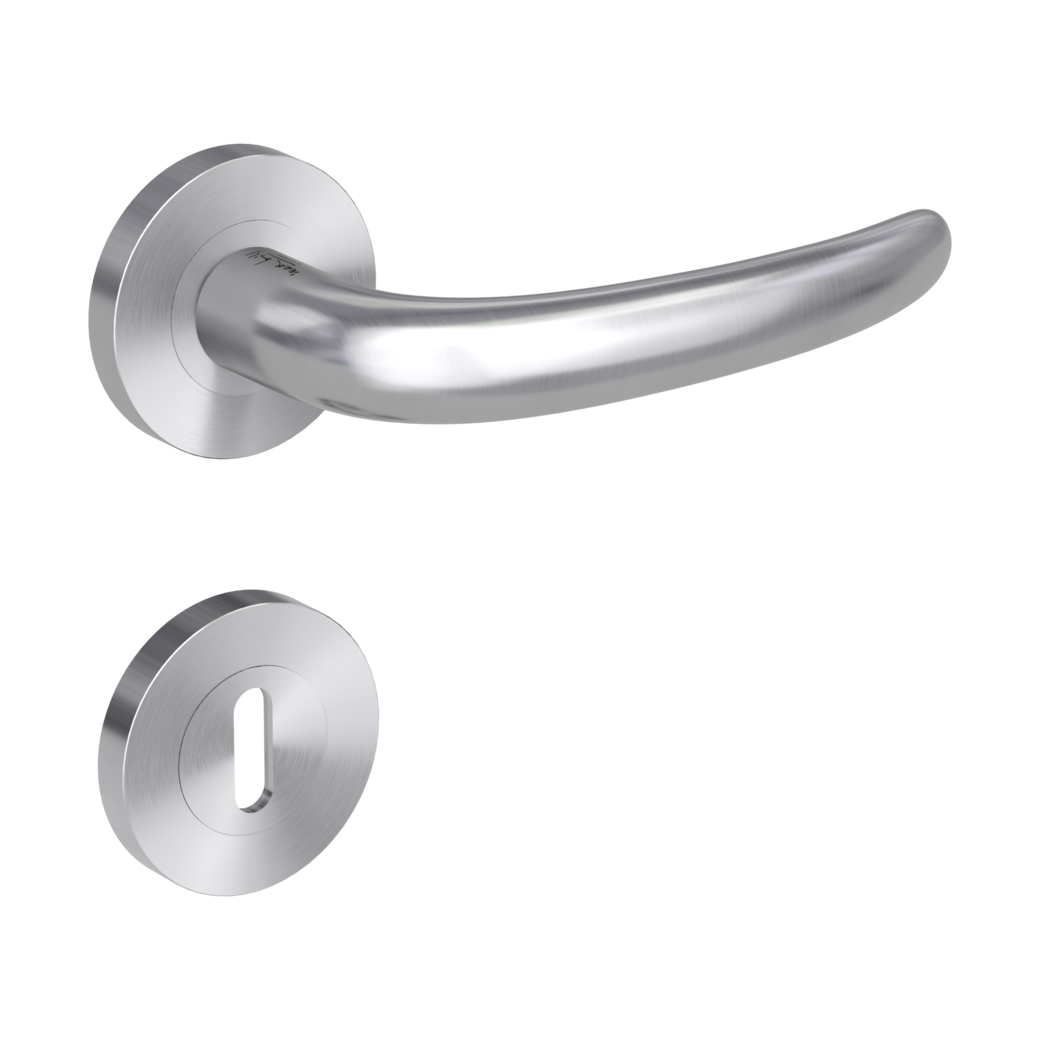 Door handle set
ULMER GRIFF PROF
Art. No. 271010171
Type of locking
Cipher bit
Finish
Satin stainless steel
description40char1
ULMER GRIFF PROF door handle set
description40char2
Screw-on system GK4 round escutcheons
description40char3
Satin stainless steel cipher bit
ULMER GRIFF PROFESSIONAL
With respect and license
The ULMER GRIFF reedited by GRIFFWERK is characterized by its characteristic and flowing shape transition from a circle to an ellipse. This design principle is based on mathematical concepts already called for by Max Bill in his groundbreaking 1946 work "Die Mathematische Denkweise in der Kunst unserer Zeit". The ULMER GRIFF BY GRIFFWERK represents the world's only licensed reissue of this unique design and thus proudly bears the signature of Max Bill. Discover the timeless beauty and mathematically inspired aesthetics of this unique door handle, which is not only functional, but also a work of art in itself.
A design classic from Ulm
From 1952, Max Bill headed the department for architecture and product form at the HfG Ulm. Together with the student Ernst Moeckl, he developed a door handle for the university building during this time. In 2012, GRIFFWERK reedited this handle in close cooperation with the max, binia + jakob bill stiftung, following the preserved originals.
The Ulm Handle by Max Bill
The ULMER HANDLE reedited by GRIFFWERK features the characteristic, soft transition of form from circle to ellipse. A principle based on mathematics, as Max Bill also called for in his 1946 work "the mathematical way of thinking in the art of our time". The ULMER HANDLE BY GRIFFWERK is the world's only licensed reedition and therefore entitled to bear Max Bill's signature.
Mid-Century Modern
Mid-Century Modern stands for a special design in architecture. Living styles originated in the USA and Europe between the 1930s and 1960s. Mid-Century Modern is characterized above all by clear lines, organic forms and streamlined design without further embellishments. In terms of color, earth tones are particularly popular. In homes today, the Mid-Century Modern furnishing style is often found in sofas and other furniture, but the style is also a furnishing idea for door handles. our door handles are a perfect match.
Care instructions for stainless steel: Door handles, window handles and co.
High quality material with intelligent surface
GRIFFWERK is not limited to noble design - we are proud of the inner values of our products. We exclusively use stainless steel of alloy 304, also known as "1.4301". This high quality steel is - matt or polished - due to its composition stainless with special corrosion resistance and durability. Stainless steel forms a very thin protective passive layer, which rebuilds even after surface damage caused by chemical reactions.
Our care spray
GRIFFWERK recommends the "GRIFFWERK Care Spray", which is specially designed for our products, to care for and maintain the value of your stainless steel door handles and fittings. It cleans intensively, has a dirt-repellent effect and thus maintains the value of your stainless steel room door set, door handles and door fittings. Please do not use any aggressive cleaning agents or scouring agents containing alcohol for cleaning - regardless of whether the stainless steel surface is matt, polished or shiny. Please note that the surface of the lever handle set can be damaged under extraordinary stress, for example by building dirt, grinding dust, aggressive vapors or salt water. For this reason, clean the handle set with GRIFFWERK Care Spray immediately after soiling. Our GRIFFWERK care spray is available from all our trade partners.
Door handle set ULMER GRIFF PROF
Art. No. 271010171