Door handle ALESSIA PROFESSIONAL
PROFESSIONAL LINE
Our demands are reflected in detail!
The PROFESSIONAL LINE units convince with a rosette height of only 8 mm, delicate joints around the screwon rosettes, smallest radii and the PROFESSIONAL LINE's specific and unmistakable Premium Finish. Highquality equipment details such as the two lifting springs and a subconstruction of stainless steel supplement the offered range.
Professional quality for object and personal use
More detailed information about the PROFESSIONAL LINE product-family can be found in our latest catalogue. In addition specification details and product drawings can be found here on our webpage. For further support please contact our specification team who will be pleased to assist you.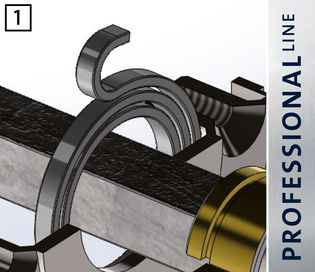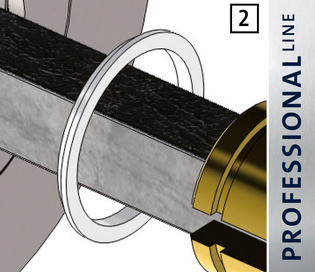 Care instructions stainless steel
General care of the material: Stainless steel
GRIFFWERK is not just limited to an attractive outer design – we are proud of our products' inner values too. We exclusively use 304 alloy stainless steel, designated as 1.4301. The composition of this high-quality stainless steel makes it a corrosion-proof stainless steel with special corrosion resistance and resilience. Corrosion-proof stainless steel forms a very thin protective passive layer that forms again by chemical reactions, even after the surface has been damaged.
Care instructions
GRIFFWERK recommends the "GRIFFWERK Pflegespray" care spray, which is specifically designed for our products, to care for and retain the value of your products. It has an intensive cleaning and dirt-repellent effect and thus retains the value of your products. Please do not use any aggressive cleaning agents or abrasive agents containing alcohol. Please note that the surface of the fittings can be damaged if subjected to excessive wear and tear, for instance from construction site dirt, grinding dust or aggressive vapours and sea water. Therefore, please clean your products with GRIFFWERK Pflegespray care spray as soon as they have become dirty. Our spray is available from all our trade partners.
Produkte
ALESSIA PROFESSIONAL Screw-on -stainless steel matt rose set -screw-on technique -single tumber lock -door thickness 40-45mm

Artikelnummer:

105130171

EAN:

4250214332312

ALESSIA PROFESSIONAL Screw-on -stainless steel matt rose set -screw-on technique -profiled cylinder -door thickness 40-45mm

Artikelnummer:

105130271

EAN:

4250214332329

ALESSIA PROFESSIONAL Screw-on -stainless steel matt rose set -screw-on technique -WC -door thickness 40-45mm

Artikelnummer:

105130371

EAN:

4250214332336

ALESSIA PROFESSIONAL Screw-on -stainless steel matt rose set -screw-on technique -WC r/w -door thickness 40-45mm

Artikelnummer:

105130471

EAN:

4250214337263

ALESSIA PROFESSIONAL Screw-on -stainless steel matt rose set -screw-on technique -knob R2 -transfer lever LH -door thickness 40-45mm

Artikelnummer:

105130571

EAN:

4250214332343

ALESSIA PROFESSIONAL Screw-on -stainless steel matt rose set -screw-on technique -knob R2 -transfer lever RH -door thickness 40-45mm

Artikelnummer:

105130671

EAN:

4250214332350

ALESSIA PROFESSIONAL Screw-on GK4 -stainless steel matt rose set -screw-on technique -single tumber lock -door thickness 40-45mm

Artikelnummer:

105010171

EAN:

4250214311409

ALESSIA PROFESSIONAL Screw-on GK4 -stainless steel matt rose set -screw-on technique -profiled cylinder -door thickness 40-45mm

Artikelnummer:

105010271

EAN:

4250214311416

ALESSIA PROFESSIONAL Screw-on GK4 -stainless steel matt rose set -screw-on technique -WC -door thickness 40-45mm

Artikelnummer:

105010371

EAN:

4250214311423

ALESSIA PROFESSIONAL Screw-on GK4 -stainless steel matt rose set -screw-on technique -WC r/w -door thickness 40-45mm

Artikelnummer:

105010471

EAN:

4250214330288

ALESSIA PROFESSIONAL Screw-on GK4 -stainless steel matt rose set -screw-on technique -knob R2 -transfer lever LH -door thickness 40-45mm

Artikelnummer:

105011971

EAN:

4250214311430

ALESSIA PROFESSIONAL Screw-on GK4 -stainless steel matt rose set -screw-on technique -knob R2 -transfer lever RH -door thickness 40-45mm

Artikelnummer:

105012071

EAN:

4250214311447

ALESSIA PROFESSIONAL Screw-on GK4 -stainless steel matt short plate set -screw-on technique -single tumber lock -door thickness 40-45mm

Artikelnummer:

105070171

EAN:

4250214333210

ALESSIA PROFESSIONAL Screw-on GK4 -stainless steel matt short plate set -screw-on technique -profiled cylinder -door thickness 40-45mm

Artikelnummer:

105070271

EAN:

4250214329756

ALESSIA PROFESSIONAL Screw-on GK4 -stainless steel matt short plate set -screw-on technique -WC r/w -door thickness 40-45mm

Artikelnummer:

105070471

EAN:

4250214329794

ALESSIA PROFESSIONAL Screw-on GK4 -stainless steel matt short plate set -screw-on technique -knob R2 -transfer lever LH -door thickness 40-45mm

Artikelnummer:

105071971

EAN:

4250214329800

ALESSIA PROFESSIONAL Screw-on GK4 -stainless steel matt short plate set -screw-on technique -knob R2 -transfer lever RH -door thickness 40-45mm

Artikelnummer:

105072071

EAN:

4250214329893

ALESSIA PROFESSIONAL Screw-on FS -stainless steel matt rose set -screw-on technique -profiled cylinder -door thickness 38-50mm

Artikelnummer:

106010271

EAN:

4250214315759

ALESSIA PROFESSIONAL Screw-on FS -stainless steel matt short plate set -screw-on technique -profiled cylinder -door thickness 38-50mm

Artikelnummer:

106070271

EAN:

4250214329763

ALESSIA PROFESSIONAL Screw-on FS panic -stainless steel matt rose set split spindle -screw-on technique -profiled cylinder -DT 38-50mm

Artikelnummer:

106012971

EAN:

4250214319702

ALESSIA PROFESSIONAL Screw-on FS panic -stainless steel matt rose set -screw-on technique -knob R2 -transfer lever LH -door thickness 38-50mm

Artikelnummer:

106011971

EAN:

4250214315766

ALESSIA PROFESSIONAL Screw-on FS panic -stainless steel matt rose set -screw-on technique -knob R2 -transfer lever RH -door thickness 38-50mm

Artikelnummer:

106012071

EAN:

4250214315773

ALESSIA PROFESSIONAL Screw-on FS panic -stainless steel matt schort plate set split spindle -screw-on -profiled cylinder -DT 38-50mm

Artikelnummer:

106072971

EAN:

4250214329770

ALESSIA PROFESSIONAL Screw-on FS panic -stainless steel matt short plate set-screw-on -knob R2 -transfer lever LH -DT 38-50mm

Artikelnummer:

106071971

EAN:

4250214329817

ALESSIA PROFESSIONAL Screw-on FS panic -stainless steel matt short plate set-screw-on -knob R2 -transfer lever RH -DT 38-50mm

Artikelnummer:

106072071

EAN:

4250214329909

ALESSIA PROFESSIONAL Screw-on -stainless steel matt handle set -screw-on technique -handle pair

Artikelnummer:

105001071

EAN:

4250214315780

ALESSIA PROF Schraubt. -EM

Artikelnummer:

105001171

EAN:

4250214318279

ALESSIA PROF Schraubt. -EM

Artikelnummer:

105001271

EAN:

4250214318286

ALESSIA PROFESSIONAL Screw-on -stainless steel matt single handle (frontal scrub screw) -screw-on technique -handle grub screw front

Artikelnummer:

105001371

EAN:

4250214356813

ALESSIA PROFESSIONAL Screw-on -stainless steel matt window handle -screw-on technique -UV L/R -length of pin 7x32mm

Artikelnummer:

105350171

EAN:

4250214311621

ALESSIA PROFESSIONAL Screw-on -stainless steel matt window handle -screw-on technique -UV L/R -length of pin 7x42mm

Artikelnummer:

105350771

EAN:

4250214464938