Loft character
With sliding door system PLANEO Loft
Fine lines of aluminium form filigree grid systems on the glass surface of the PLANEO LOFT glass door system. The design was inspired by the characteristic, factory-like façade windows of the state Bauhaus in Dessau. However, PLANEO LOFT speaks a much more minimalist design language. The aluminium lines, so-called pilaster strips, are only 0.8mm wide and are applied directly to the glass surface. This means that the glass door does not have to be subdivided. The sliding door system gains in lightness and stability. The all-round, filigree frame profile that encloses the glass surface also serves as edge protection. PLANEO LOFT is available as a single or double-leaf system, as well as in a ceiling-high version or in special sizes.
Set content Planeo Loft
sliding door system PLANEO 120
grip rod pair PLANEO_GS 49011
frame PLANEO AIR incl. glass door SNOWWHITE_501 with aluminum strips on the glass surface
PLANEO LOFT was developed in Blaustein. It's a shade more in the direction loft character. New areas are reminiscent of lattice windows of old industrial buildings. Individual solutions are possible.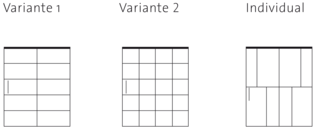 Find your local specialist dealer now and get advice:
Minimalistic
---
Planeo Air
A narrow, fine frame made of aluminium outlines the glass surface of the multi-award-winning PLANEO AIR system. The 6mm wide frame profile not only creates exciting contrasts, it also serves as functional edge protection. The matching handle strip is also minimalist. It looks like a fine, graphic line. The filigree design is only possible because there is no need to drill holes in the glass. The SENSA by GRIFFWERK adhesive technology is used to apply the handle strip to the glass. No drill holes are required for the glass door itself either. This minimises effort, costs and sources of error. PLANEO AIR is available as a single-leaf and double-leaf sliding door system. Special dimensions can also be realised.
Product features Planeo Air
PLANEO AIR is a design variant for the PLANEO 120 premium sliding door system.
A 6 mm wide aluminium frame profile encloses the glass edge.
Wall or ceiling mounting
For ESG and VSG 8 and 10 mm
1 and 2-leaf sliding door systems
Maximum glass door size: 1400 x 2500mm
Available in standard and special sizes
---
New generation loft doors
A classic loft door is understood to be a heavy steel and glass construction that is closely based on historical predecessors. GRIFFWERK has reinterpreted the loft door. It now not only looks more modern, but also has many other advantages:
Loft door systems in comparison
PLANEO system by GRIFFWERK
System construction, special dimensions possible
Can be ordered with other doors from specialist dealers
Frame made of lightweight aluminium
Hardly any additional weight
Modern, light appearance due to frame
Conventional steel-glass systems
Expensive individual production
Production via locksmiths
Long production and delivery times
Frame made of welded steel
High weight, therefore problems
Massive, dominant appearance
Matching handle strips
Handle bars of the PLANEO system look like modernist sculptures and are the perfect complement to loft and industrial style. Very characteristic: the formal reference to semi-finished products such as round profiles. They are typical of the beginning of industrialisation and bring with them their own aesthetic. Find out more about the PLANEO handle bars here.
---
---
---