Glass doors in old buildings
Old buildings have Wooden doors. Maximum with Glazing cut-out and then possibly Tiffany?
Can. But not necessarily. Here you can find out how it can be done differently - with Glass doors - and what effect they have.
The integration of Glass doors into old buildings, when done well, is a fascinating way to fuse traditional architecture and modern design. This fusion opens up a wide range of design possibilities and brings with it numerous other benefits that enrich both the aesthetics and functionality of old buildings.
Old is not the same as old
Glass doors bring a touch of lightness and modernity to old buildings. This is true for all kinds of old buildings, but each in a different way:
Clear glass doors, for example, are the best choice for medieval half-timbered houses. They take the constriction out of often small rooms with low ceilings, visually connect them to a larger living ambience and allow natural light to stream into otherwise rather dark corners. They also act as subtle accents to ornate old carvings or visibly old beams with the marks of the centuries.
Clear Glass doors in a solid, rustic wood texture also create an intriguing contrast of lightness and strength. You can emphasize it even more by adding corresponding elements to the room, such as a glass table with visible old solid wood beams as table legs or frame. Table top and Glass door can either both be made of clear glass or, as a special "something" can be given the same design, e.g. a matching partial frosted finish.
Even where a modern extension has been added to a preserved medieval building, a Glass door is the ideal transition, in this case preferably a frosted or partial frosted Glass door, it then acts as a light "curtain between the times": On the "old side" it provides lightness and light, while at the same time it is only slightly noticeable, and on the "new side" it blends seamlessly into the modern ambience.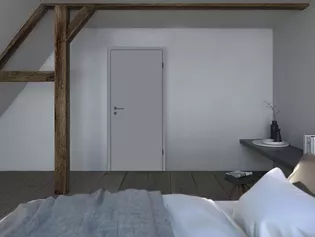 Gründerzeit villas have high ceilings, often spacious rooms and large windows. None of these problems are due to the lack of light; Glass doors tend to emphasize the already light-flooded ambience. That's why Glass doors in Wilhelminian style houses can be made of frosted glass or partially satinized glass. This is particularly attractive when the design of the door matches the stucco work on the ceiling. In this type of old building you can use Glass doors to emphasize the effect of modern, even minimalist furniture, creating a perfect fusion of old and new. If you like it more traditional, old doors with modern Glazing cut-outs are the way to go to keep the classic look and add a touch of contemporary atmosphere to the apartment.
Old factory buildings are often used as offices or loft apartments. Windows in such old buildings are usually framed with Metal, so an aluminum frame for the Sliding door fits in well. Here, the challenge is to create smaller units from large halls without cutting off any of them from daylight. That's why large, multi-leaf sliding door systems are particularly well suited to old industrial buildings: They divide the rooms and let the light through. In terms of design, Glass sliding doors with black frames and pilaster strips, such as our PLANEO LOFT system, smoked glass or etched glass with a vintage look are particularly suitable. Industrially inspired details such as rivets or partial cladding in a Steel look can also serve as design elements and pay homage to times gone by.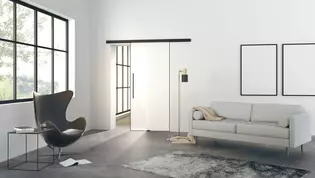 Again differently, you can use Glass doors in old country houses: Clear glass doors in traditional wooden frames perfectly match rustic wooden details in the room. The natural light that spreads over several rooms in this way emphasizes the warm and cozy character of old country houses, and the glass adds a touch of modernity without disturbing the traditional order.
Whatever your old building looks like: Griffwerk has the ideal Glass door to match.