Glass door fittings
Glass door locks
Fittings for glass doors
Do you love glass because it creates boundaries but does not block the view? Glass is becoming increasingly popular in contemporary living environments. It allows natural light to flow into the rooms and its transparency allows lines of sight between the different functional areas. Glass opens up. This creates spatial impressions of great expanse. The accents of the glass doors are the fittings. Carefully designed, they succeed in creating a stylistic unity with the room.
Glass doors themselves can be transparent and full of shine, or matt with decorations. They can even be coloured or black and reflective like dark lacquer. The lock cases complement them perfectly: starting with the choice of the right surface and ending with the combination with the right handle. Creativo alone is available in four finishes. Choose from the extensive range to suit your taste: from classically elegant to provocative and idiosyncratic.
Glass door and fitting belong together. It's nice when they are in a corresponding design. All lock cases can be combined with handles of your choice from the GRIFFWERK collection. In this way, the same look can be maintained on wooden and glass doors. The glass door locks can even be matched to a harmonious look of your handles on windows and flat entrance doors. Let us inspire you.
Our glass lock cases guarantee whisper-quiet closing: The whisper latches are equipped with special plastic surfaces on the latch, which effectively dampen the impact of the metal latch on the frame. Our multiple award-winning Gate lock case from the "sieger design" collection is also available in the Invisio Close comfort variant. A magnetic mechanism guarantees gentle yet secure closing without the need for a visible stop plate on the frame.
You will find a large selection of matching handle bars and shells for your glass door with sliding door system in the GRIFFWERK range. In the SENSA system, you do not need to drill a hole in the glass to install the fittings. This saves you both time and money, as there is no need to wait for a suitably drilled glass door. It can be adapted to the premises on site without any complications.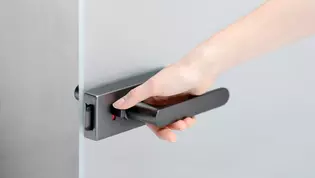 Glass door lock: What is there to consider?
Did you know? Glass door locks differ depending on where they are used. For example, interior doors to frequently frequented areas, such as offices, require more robust locks than in private homes. Locks for sliding doors differ from those for swinging doors.
You can also choose between glass door fittings with and without keyholes. Lockable doors can be equipped with a buntbart lock or a profile cylinder lock. Buntbart locks are more commonly used in interior doors, while profile cylinders are fitted in front doors and security doors. Locks with profile cylinders are much more difficult to pick and are therefore used for doors where a high level of burglary protection is desired. In addition to these two types of lock, there are also classic bathroom or WC locks, which usually have an emergency opening and an "occupied" indicator. GRIFFWERK will be happy to assist you with the selection of these elements.
In addition, the handle set, glass door fitting and lock stand out as a contrast to the door. Therefore, make sure that the design elements are harmonious. With GRIFFWERK, you can match all the individual parts with each other in colour, e.g. in a trendy stainless steel look.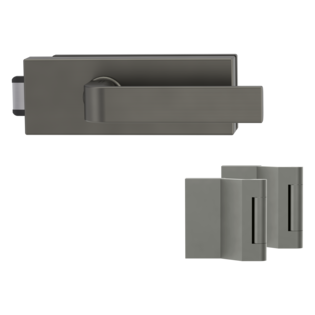 Whether glass door lock or glass door fitting - you will find it at GRIFFWERK
The glass door lock not only locks the glass door - unlike other locks, it is particularly visible. This means that it can visually enhance the room if it fits in with the overall picture. At GRIFFWERK, we attach great importance to premium quality products. We help you find the right lock, fitting and lever handle for your door. Our products combine sophisticated technology with the most modern design.
Whether office, entrance hall or WC: glass doors do not have to be boring. In addition to matching accessories, we also offer glass doors with stylish engravings and individual motifs. This is how you give every room your personal touch. There are no limits to creativity. Let our online catalogue inspire you!
---
Security fittings: Matching your glass fittings
Security fittings protect doors, locking cylinders and handles against manipulation from the outside. They are composed of an inner shield with a door handle or door knob and a resistant outer shield to which a knob, handle or door knob is attached. Screwed from the inside, protective fittings have no attack surface for burglars: nothing sticks out that can be broken off or twisted or pulled out.
If you opt for special glass fittings inside, you don't want to have to make any compromises for the house or flat door. With our protective hardware construction kit, you can equip your entire living space with handles in your desired colour throughout: from cashmere grey to stainless steel to graphite black and copper.
Glass door fittings: FAQ
How do I care for glass fittings?
When cleaning glass fittings, water with a little washing-up liquid is often sufficient as a cleaning agent. After wiping with a towel, always dry well to avoid rust.
Glass fittings for glass doors
Yes, you can replace glass fittings for glass doors yourself. A Phillips or slotted screwdriver and, if necessary, a hexagonal wrench and a drilling template are sufficient in most cases to change glass fittings.
What material are glass fittings made of?
Glass fittings are made of sturdy material, such as metal, stainless steel, brass or aluminum.
What is a whisper latch?
A whisper latch is a door latch that has been partially coated with plastic. The plastic dampens the impact of the metal latch in the lock. Doors can thus be closed "whisper quietly". Whisper latches are available for door handles for wooden doors as well as for glass lock cases on all-glass doors.
What has to be considered for fittings with clamp mounting?
LSG doors can be used for glass door systems with clamp mounting SENSA by GRIFFWERK. The inner foil is only slightly elastic. We nevertheless recommend readjusting the screws of the fixing after some time and later if necessary. Glass doors, like wooden doors, can adapt to changing room conditions and thus change. Please refer to the respective product data sheets for detailed information.