Griffwerk - Opening Doors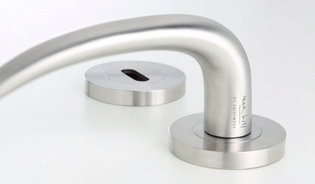 Max Bill
In the 1950s, the founding rector of the Ulm School of Design Max Bill collaborated with his student Ernst Moeckl to design a door handle for the school building. This ULMER GRIFF is obtainable again - now also in the unique color graphite black and only available at GRIFFWERK.
---
Premium glass doors by GRIFFWERK
The smoked glass shade that we favour is called MOON GREY. It reminds us of the innumerable bluish, gentle shades of grey in moonlight that it is named after. The laser engraves subtile lines in the surface.
Our high-quality LSG PRIME doors impress with perfect sound and heat protection. They are now available with all laser patterns.
---
sieger design by GRIFFWERK
sieger design developed the Characters collection for GRIFFWERK. It comprises three individual door handles and the matching and award-winning apron named Gate.
For sieger design, door handles are an ultra-present and recurring feature of household life. They represent the specific interface between man and architecture and form a functional unit with the door. Door handles are essentially tools, although their design is not only defined by their function, functionality and ergonomics. They are perceived by a person's multiple senses, are visually registered and understood, as well as being felt and understood, thereby providing orientation.
---