Glamorous opulence VS. Purist Minimalism
Are you comfortable in an opulent space with lush decor and rich colors, or do you prefer a minimalist ambiance with a clear aesthetic and room to breathe? Choosing a decorating style is a very personal decision that reflects your lifestyle and preferences. Our ONE door handle series in Gold matt and Silk white finishes offers the perfect accessory for both styles.
Magnificent extravagance
When it comes to designing living spaces in an opulent style, it's all about skillfully drawing from the full. Here, warm colors like deep reds, browns and royal blues take center stage. Precious materials and accents in gold give the room a sensual feel and exude an aura of extravagance.
Glamorous statement
AVUS ONE in Gold matt is available with smart2lock intelligent locking technology. Since the locking mechanism is integrated into the handle, None Escutcheons are no longer required.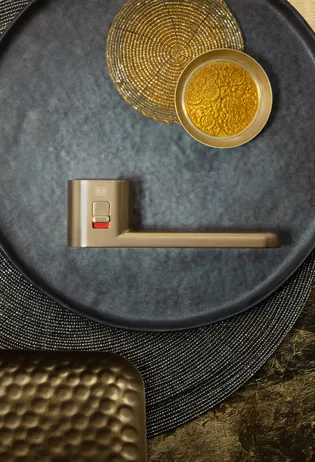 ---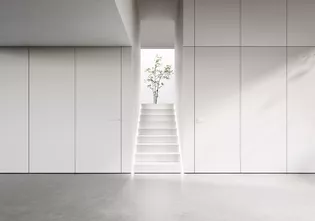 The aesthetics of emptiness
On the other side of the spectrum, we find the aesthetic sophistication of Minimalism. Here, less definitely stands for more, and the focus is on clear lines, neutrality and maximum reduction. White finishes and purist furnishings create a clear aesthetic that exudes openness and allows the mind to rest.
Restrained elegance
R8 ONE speaks a clear, geometric design language and yet offers a pleasant gripping experience. The front surface runs parallel to the door leaf and gives the handles visual calm. Thanks to the White finish, nothing disturbs the minimalist overall appearance.
---
Experience ONE Handles Live Now
Try the minimalist of door handle styles, ONE, on-site at your dealer.
---
ONE design line
ONE stands for maximum reduction and is the programmatic resolution for this design line. Rosettes are dispensed with. All functions have been condensed into one form. Thanks to specially developed technology, the handle now sits singularly on the door leaf. It nevertheless fits doors with standard locks.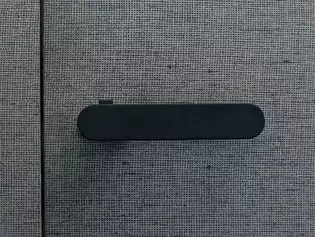 ---
Smart2lock: Innovative technology
With smart2lock by GRIFFWERK, a new era begins. smart2lock stands for innovative, intelligent locking technology. All door fittings can be locked and opened with just one hand. A short click activates the mechanism integrated in the handle. To the outside, a discreet red indicator signals "do not disturb" - the most beautiful pause sign in the world.
---
Door handles without escutcheon ONE