Door handles
---
Stylisch living thanks to high-quality door handles
Door fittings are our passion. For us they are the jewel in the crown of the door. We love the different haptics of the forms and surfaces: angular, clear, cool and modern or cosy, softly cuddly. There is no element of our home that we touch more often every day. Our recommendation: Enjoy the variety, test, touch and find your personal door fitting.
Our door fittings are made of stainless steel, either matt or polished.
The elaborate surface polish gives the door handle a noble finish. In matt brushed stainless steel, on the other hand, the high-quality steel is particularly stylish. With GRIFFWERK, the fine lines of the grinding pattern dynamically follow the line shape of the design and thus support the aesthetic effect. Thanks to our extensive product range, you are guaranteed to find the right door handle for your home.
A modern look
Existing doors can be given a completely different, modern look with new fittings. As a rule, a new fitting also fits on old doors. Long backplates are suitable for covering all drill holes. An overview of our long backplate sets can be found further down on this page.
Combining different design styles creates tension and dynamics. Especially in old apartments, the accents of modern door handles have a stimulating effect. When choosing your door handle set, you can pick up details of the architecture or the interior. This creates a modern and harmonious overall effect.
In the GRIFFWERK assortment you will find fittings for the apartment entrance door, wooden interior doors, glass doors and even window handles - modern in a matching design.
---
Door handles: Which design variants are available?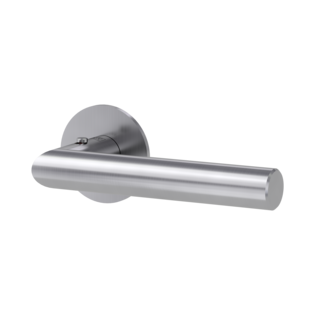 What is smart2lock?
smart2lock stands for an innovative and intelligent locking technology that functions maintenance-free without electronics. A short click activates the mechanism integrated in the door handle. When locked, the door handle can no longer be operated on either side. On the outside, a red indicator on the door handle discreetly signals "do not disturb" - the most beautiful pause sign in the world. Of course, an emergency release on the outside of the door has also been thought of.
What is a mortice lock?
Mortice lock door handle sets, called BB for short at Griffwerk, are suitable for any type of room doors, e.g. interior doors made of wood. This is also referred to as a simple design door lock. Buntbart locks should not be used outdoors, as they can be easily opened by unauthorized persons even without a key with a locking hook. Thus, a BB lock is particularly suitable for interior doors without security requirements.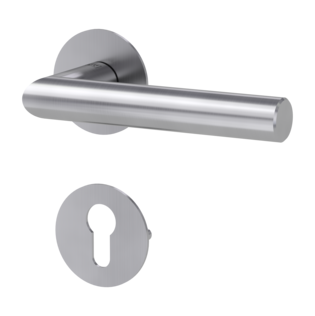 What is a profile cylinder?
A profile cylinder lock is used as a classic for house, office and flat entrance doors. A profile cylinder is a cylinder that can be operated with a key. Profile cylinders therefore also provide a certain degree of protection - although less than protective fittings. Attention: If you want a door handle with profile cylinder insert, please note the marking PZ.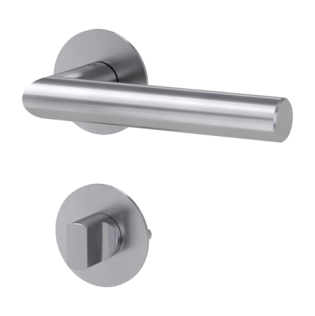 What is a WC-closer?
The rosette set with WC lock is considered the classic for the bathroom. A door handle with WC lock, abbreviated WC at Griffwerk, is equipped with a rotary knob on the inside and an emergency release on the outside. With the WC lock on the inside, the room door can be locked from the inside by turning it once. In an emergency, the door can be emergency unlocked from the outside, e.g. with a coin.
---
What is a rosette set?
A rose set consists of two lever handle roses with two handles (door handle), two key roses, a square spindle and matching screws.
What is a long plate set?
You want to give an existing interior door a new face? The old door handles are quickly history, but possible drill holes can be disturbing. To cover these, simply use a long backplate fitting. If you don't have the same problem with your old door, use a short backplate fitting.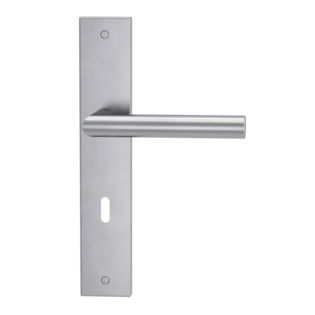 ---
What are the installation types for Door handles?
Clip-on system
Easy installation in a few steps
invisible screw connection
Maintenance-free, invisible friction bearing (None black ring on the door handle)
counter-rotating M4 screw connection
fixed door handle with bearing
pre-assembled door handle
high retaining springs on both sides
certified according to DIN EN 1906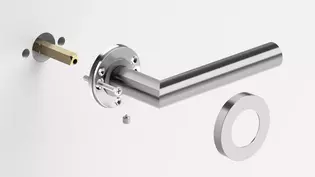 Screw-on system
Screw-on roses in Stainless steel
invisible screw connection and cut fine thread
Maintenance-free, invisible friction bearing (None black ring on Door handles)
counter-rotating M4 screw connection
fixed door handle with bearing
pre-assembled door handle
high holding springs on both sides
substructure made of Stainless steel
Screw-on system Professional GK4
Screw-on roses in Stainless steel with Solid spindle
invisible screw connection
Maintenance-free friction bearing
counter-rotating M4 screw connection
fixed handle
high retaining springs on both sides
substructure stainless steel
certified according to DIN EN 1906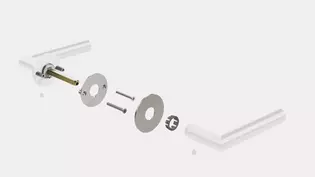 Piatta S - Flush optics
Flat escutcheon in Stainless steel with only 2 mm Height
Door handle with fixed pivot bearing
spring support made of high performance spring steel
M4 screw connection
SMART-KLIPP
pre-assembled door handle
---
Door handles: PROFESSIONAL LINE
Our demands are reflected in detail!
The lever handle sets of the PROFESSIONAL LINE convince with only 8 mm height of the rose set, finest joints of the screw-in rosettes, smallest radii and unmistakable premium finish. High-quality equipment details such as retaining springs on both sides and a stainless steel substructure make the door handles of the PROFESSIONAL LINE a special experience in everyday life - modern and cuddly in the hand.
Professional advantages:
A high-quality equipment detail are the high hold-up springs on both sides.

A Slide Perfect plain bearing ensures professional quality.

A Stainless steel (not plastic) substructure completes the performance spectrum.
---
SOFT2TOUCH.
New cosiness thanks to new door handles
WARM COLOURS AND NATURAL MATERIALS
Hello Hygge! Cosiness, naturalness and tasteful restraint determine the Interiour trends. Home should be a place of security - no matter what happens out there in the world. That's why we furnish ourselves all the more comfortably. Warm tones and materials are increasingly asserting themselves against the large-scale white of recent years. Our handles with the velvety soft stainless steel look of soft2touch are a perfect match. And in three colors they complete the hip Interiour looks.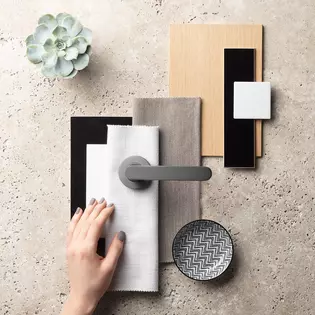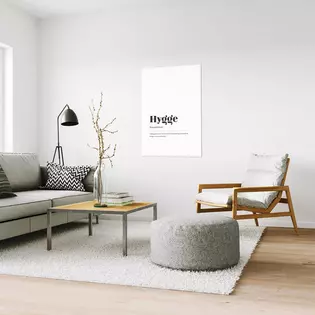 soft2touch: Noble look and velvety soft feel ‒ a surface to look at and touch.
For a pleasant feel when gripping, the surface is at least as important as the form itself. soft2touch combines a silky matt stainless steel finish with a velvety soft feel. Especially in the color cashmere grey, handles in stainless steel look with soft2touch are a daily luxury - for eyes, hands and every room door.
soft2touch advantages at one look:
Design dream thanks to new colors in cashmere grey, velvet grey (nickel-plated) and graphite black
Particularly pleasant to touch due to velvety soft feel
Less cold in the hand than stainless steel
Silky-matt appearance instead of being polished to a high gloss
Available for all systems in the house (glass doors, wooden room doors, windows)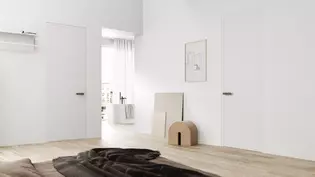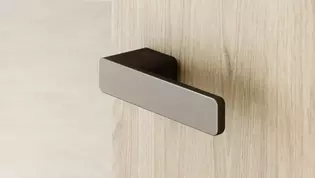 ---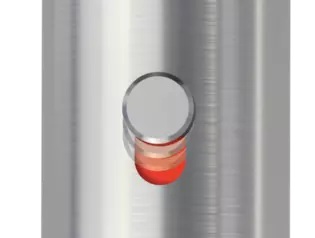 smart2lock. Benefits at a glance.
Undisturbed with one click - privacy for every room
Comfortable 1-hand operation
Integrated locking systems
New door aesthetics without key rosette
Simple emergency unlocking
Compatible with any standard mortise lock
NEW: Occupied External display
You can immediately see if the door is locked by the red dot with integrated emergency unlocking. Unlocking can be done with a pointed object (e.g. ballpoint pen).
---
Care instructions for stainless steel: Door handles, window handles and co.
High quality material with intelligent surface
GRIFFWERK is not limited to noble design - we are proud of the inner values of our products. We exclusively use stainless steel of alloy 304, also known as "1.4301". This high quality steel is - matt or polished - due to its composition stainless with special corrosion resistance and durability. Stainless steel forms a very thin protective passive layer, which rebuilds even after surface damage caused by chemical reactions.
Our care spray
GRIFFWERK recommends the "GRIFFWERK Care Spray", which is specially designed for our products, to care for and maintain the value of your stainless steel door handles and fittings. It cleans intensively, has a dirt-repellent effect and thus maintains the value of your stainless steel room door set, door handles and door fittings. Please do not use any aggressive cleaning agents or scouring agents containing alcohol for cleaning - regardless of whether the stainless steel surface is matt, polished or shiny. Please note that the surface of the lever handle set can be damaged under extraordinary stress, for example by building dirt, grinding dust, aggressive vapors or salt water. For this reason, clean the handle set with GRIFFWERK Care Spray immediately after soiling. Our GRIFFWERK care spray is available from all our trade partners.
---
Door handles: FAQ
Which door handle?
Mortice lock door handle sets, BB sets for short, are suitable for room doors made of wood. Doors that are typically equipped with a door lock cylinder require a door handle with profile cylinder insert, or PZ for short. The most common door handle for use on bathrooms and toilets is the WC set with closer. For more intelligent closing and locking, there are door handles with Griffwerk smart2lock technology. The locking mechanism is integrated in the handle. You no longer need a key rosette. Smart2lock handles also impress with a modern and puristic design.
Which material for door handles?
Match the material for door fittings to the look of the door. Stainless steel and aluminium go well with glass doors - whereas brass door handles tend to harmonise better with dark wood and plastic fittings are most suitable for lacquered or powder-coated doors. For heavy doors, stainless steel handles are preferable to all others.
Stainless steel fittings made of rust-free stainless steel, optionally matt or polished, are of particularly high quality. GRIFFWERK door handles in soft2touch surfaces offer exciting accents. Their velvety soft feel makes them particularly pleasant to touch.
Where to buy door handles?
How to disinfect door handles?
To disinfect a door handle set, you need a virucidal disinfectant for surfaces and disposable wipes - such as from a kitchen roll.
In the first step, wet the door handle completely with disinfectant. The areas where the palm of the hand rests on the door handle are particularly important. For WC sets, do not forget the WC lock.
Afterwards, the disinfectant must act according to the manufacturer's instructions. Follow the respective product instructions.
Finally, wipe the surface with the disposable cloth. When doing so, avoid rubbing the cloth back and forth on surfaces that have already been disinfected and avoid using the cloth several times.
To ensure that the surface remains beautiful after frequent disinfection, it can be wiped with water or soapy water. Disposable cloths should also be used for this purpose. Throw the water away afterwards.
Door handles: How often to clean?
Basically, weekly cleaning is sufficient. First remove dust or similar particles with a dry towel, then wet with detergent and wipe thoroughly. In pandemic times like Covid-19, we recommend disinfecting hard surfaces that are touched often several times a day. So if there is a risk of your door handles being touched by infected or possibly infected people, wet the door handle with disinfectant. Pay special attention to the areas where the hand rests. Allow the disinfectant to take effect. Please follow the manufacturer's instructions. Finally, wipe the surface once with a disposable towel.
Is it easy to change door handles?
Door handles are very easy to change: Remove the old handles - to do this, simply loosely turn the small grub screw on one side of the door and pull both door handles outwards. Then remove the door plates or rosettes and mount the new handle set in the reverse order of removal. Finished.
Are door handles normed?
Many dimensions of door fittings are standardised - such as the square spindle and the distance between the lever handle and the keyhole.
To ensure that every square spindle fits in every door, they all have the same cross-section of 8 by 8 millimetres - except for fire doors, where there is an extra millimetre. However, the length of square spindles differs. It depends on the dimensions of the handle set.
The keyhole is 72 millimetres from the centre of the lever handle on all room doors.
Attention: The outer dimensions of the door handles and fittings are different. When replacing them, make sure that the new one is at least as large or larger than the old one.
What kind of door handles are there?
Rosette door handles, escutcheon door handles, lever handles, half handles, Ulmer door handle - and all of this made from a wide variety of materials. In addition, there are long plates, short plates, fire protection fittings, security fittings and many more.
Which Door handles are in trend?
A continuing trend: Black Door handles. Griffwerk offers a comprehensive range of these. The special feature: The black door handle is available from Griffwerk in the specially developed black shade Graphite black: particularly matt, high-quality, soft feel.
What for what kind of door handle?
Escutcheons consist of door handle and cover or border of the door lock. Escutcheon fittings: Door handle and keyhole are connected with a metal plate ("door shield"). Interchangeable sets consist of two different door handles: on one side a classic door groff, on the other side a knob.
Half sets are characterized by the fact that one side has a completely different door handle installed than the other - mainly to connect two rooms with different interior style.
Which DIN norm for door handles / door knobs?
DIN EN 1906 "Building hardware - Lever handles and door knobs - Requirements and test methods" specifies properties such as permanent function, corrosion resistance, the free angular movement and displacement of lever handles and door knobs. Door handles are differentiated into categories of use (medium to frequent use by persons with low care), fire resistance (no performance to smoke and fire doors), security (from normal purposes to security requirements), corrosion resistance and burglary resistance.
Which door handles match which interior?
Door handles can be made of metal, aluminum, brass, stainless steel or plastic. Most door handles are silver, gold or black. Plastic door handles can have almost any color. Round and curved door handles go best with playful furnishings. To a design interior fit clean and straight lines.
What are the shapes of door handles?
Door handles can be of different shapes. The door handle can be straight, curved, square or round. The shape of the protective fittings are also shaped to match the door handle.
Can you replace door handles yourself?
Yes, usually a screwdriver or cordless screwdriver is sufficient to remove the protective fittings and pull out the door handle.