sliding doors: modern living
More light, more space, more elegance: with sliding glass doors.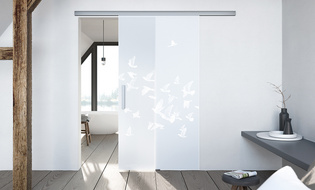 A glass sliding door is an elegant and filigree alternative to hinged and sliding doors made of wood.
The biggest advantage: the living space gains light. Glass doors open up rooms, allow wide lines of sight and make living areas appear brighter and larger.
Sliding doors - advantages at one look
Sliding glass doors allow daylight into every room
Each glass sliding door saves space as they have no pivoting range
Sliding doors are a stylish and elegant way of creating connection and separation of rooms - great alternative to the wall as a room divider.
Sliding door systems are ideal for barrier-free living
The sliding door does not close in case of draught
They allow larger dimensions than hinged door
The sliding glass door can disappear behind furnitur
Sliding glass doors turn niches into small rooms - such as a walk-in wardrobe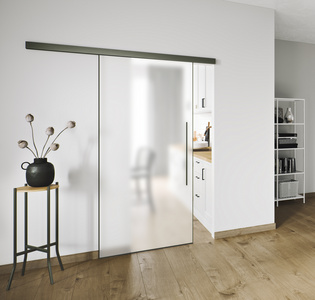 stylish design - perfect technology
Unmistakable design and perfected technology of the highest quality and durability - this is what distinguishes our sliding glass doors: all configured online - and can be ordered.
PLANEO in graphite black, for example, sets strong design accents and offers maximum ease of use. Thanks to Softclose, the glass sliding doors do not hit hard, but are gently and quietly retracted into the locking position of the guide rail.
The configuration of a sliding door
1. door leaf
Clear or satinized, with or without decorative elements - there are no limits to the design of glass door leaves.

2. track
Whether minimalist concealed or visible technology - the sliding door track keeps the weight down and ensures that the glass door runs smoothly.

3. handle
The control element on the door is available as a handle bar or a handle shell.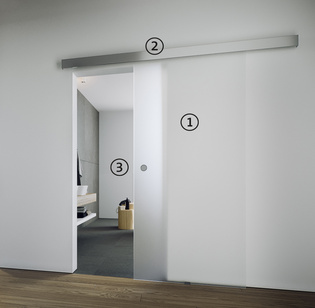 ---
Sliding door systems
---
---
glass sliding door leafs
---
More light thanks to sliding glass door
Clearly recognisable functions, authentic materials, a high standard of quality and durability: that's what we value. We develop sliding door systems with unmistakable design and unobtrusive but perfected technology.
Uncovered sliding door systems display their function. They exude a touch of loft character and, especially as a double-leaf variant, look like generous portals. Covered sliding door systems, on the other hand, are simple and discreet. The mechanics are concealed inside. They are available in stainless steel or aluminium look and in numerous variants.
The new Black
We have equipped the sliding door fitting PLANEO 120 with additional space solution possibilities. The range now also includes fanlights, side elements and much more. In addition, PLANEO 120 is now also available in the "graphite black" surface. All variants are also available with soft close. This means that the glass sliding door does not strike, but is gently pulled into the locking position: small details that simply offer more living comfort. All glass doors can also be realised at room height.
The space-saving wonder
In many cities, living space is getting scarcer and scarcer. Rooms can be adapted to personal living needs with clever solutions - very modern without an additional wall. Flats can be visually enlarged by allowing long lines of sight. The best way to do this is with sliding glass doors, because they open up rooms - unlike opaque sliding wooden doors, for example. For example, sliding glass doors provide a view of the living area from the hallway - and the small adjoining room facing the backyard benefits from daylight on the sunny south side thanks to sliding glass doors. Especially in old flats, you often find many smaller, nested rooms. An interior door made of glass improves an awkward cut. How about, for example, connecting the dining room with the living room or kitchen by replacing the old wooden doors with new, light sliding glass doors? Even in old buildings, you don't have to do without such attractive combination rooms.
Another piece of advice
Those who have particularly little space available are well advised to use sliding glass doors because, unlike hinged doors, they do not require a swing area into the room. They run along the wall to save space. The old doors do not have standard dimensions or wooden doors cannot be installed? Particularly tricky installation situations can be easily mastered with sliding glass doors, because at GRIFFWERK you can find almost any desired special dimensions online. Our specialist retail partners will be happy to help you find the right dimensions - for a convenient way to create your own individual model. The right hardware solution can also be selected there: GRIFFWERK offers design systems for fittings and sliding glass doors from a single source.
Full height, please!
Low ceilings seem oppressive and uncomfortable. If you can, you afford room height; the higher, the better. It's nice if the doors also use the full height. Various door and fitting solutions are available. Full-height all-glass doors have the strongest effect, unlike wooden doors. All our all-glass doors can be ordered as special sizes. Your specialist dealer will advise you on the right size and the right fittings. They also know which door weights are suitable for which hinges or sliding door systems, because large doors weigh more - and should not be lowered later.
Individual solutions
GRIFFWERK offers coordinated hardware solutions for floor-to-ceiling glass doors. High-quality equipment details such as drill hole adapters in the hinges for swing doors stabilise large doors. The matching adapters are available from GRIFFWERK with the hinged door fittings - simply research online on our site, quickly find a dealer or online shop, and you're done. If you don't want continuous door heights, choose a solution with fanlights. Skylights are transparent areas above the door, usually divided by a cross frame. The standard door dimensions are thereby visually opened upwards. This can also be useful if you want to include a design reference to other doors at normal door height.
Optimized floor plans with sliding glass doors
Glass doors open up rooms, allow wide lines of sight and make living areas appear brighter and larger. They are therefore ideal for optimising floor plans, especially in renovations. In new buildings, on the other hand, open floor plans are already gaining ground. Here, functional areas are connected with each other - for example, entrance and living area or kitchen and dining room. Interior doors made of glass can nevertheless be used to create open room boundaries. They function as a vestibule or offer more privacy through satinised glass or frosted glass. The open whole is not lost.
Contrast with filigree frame profile
The micromatt surface of screen-printed glass doors in white glass PURE WHITE by Griffwerk reflects light similar to a crystalline, radiant snow surface. This lighting effect is particularly effective in full-surface screen printing. Unclouded, natural daylight flows into other rooms. The transparency connects rooms to spacious, open spaces.
A filigree frame profile only 6 mm wide surrounds the glass surface of the PLANO AIR sliding door system. Its matt black contrasts with the brilliant white glass surface. The minimalist, black handle strip has been coordinated in design - no more than a fine, graphic line fulfils all functions. The concealed running track of the sliding door system features a softclose and other technical refinements.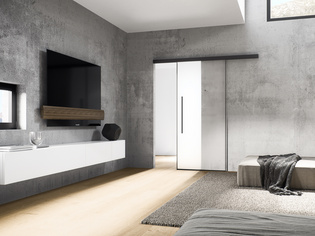 Planeo Air Silent - Sliding door tight and modern
With PLANEO AIR SILENT, GRIFFWERK developed a tightly closing sliding glass door system with Soft-Close that keeps out sound as well as kitchen smells, steam and draughts. This is made possible by laterally attached rubber lips. They were integrated into the narrow, all-round aluminium profile. The door reveal does not need to be changed. An additional slide-in system is not required. The puristic appearance is retained. PLANEO AIR SILENT is comparable to a wooden door in terms of sound insulation and was developed by GRIFFWERK in Blaustein.
---
Saving energy and power costs with glass sliding doors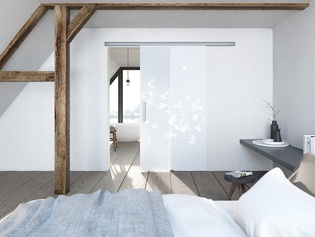 Lighter living feel
Dark rooms not only depress the mood. They also put you in a bad mood when it comes to energy consumption. You compensate for a lack of light with lamps - and they need electricity. This increases energy consumption and costs money.
You can achieve a lot with simple renovation measures. It doesn't have to be new wooden windows: Sliding glass doors also provide much better daylight through rooms. A smart solution that can also become an eye-catcher with the right design.
Sliding glass doors are versatile. Whether a windowless hallway, an awkwardly located living room on the north side or an adjoining room that is to become a walk-in wardrobe: Sliding glass doors let friendly sunlight flood into cool rooms and improve the living feeling.
PURE WHITE by GRIFFWERK
High-quality white glass, such as PURE WHITE by GRIFFWERK, which does not have the green tint of conventional float glass, is particularly bright. It blends neutrally and without colour clouding into the living ambience. Depending on the type of glass and the finish, glass doors offer a clearer view or more privacy. You can configure your glass sliding door individually online: For example, GRIFFWERK also offers all sliding glass doors with laser decor with a satin finish on the back (TWO SIDES) for more privacy.
Sustainable planning with sliding glass doors
Those who want to plan their living spaces with foresight are also well advised to use sliding glass doors. Sliding doors in particular contribute to barrier-free living with maximum room opening and threshold-free room transitions. Whether you opt for a sliding door system or a classic all-glass hinged door is up to your personal taste. Either way, glass room doors add value to the living ambience and are also real energy savers.
Dark rooms not only depress the mood, they also make for a bad energy balance. The lack of light must be replaced by artificial light sources, and these need electricity.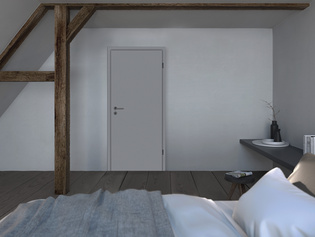 ---
Work at home
Even in smaller flats, previously unused side rooms can be transformed into attractive, light-filled workrooms with the help of sliding glass doors.
Sleep longer, make the work-life balance more flexible or work whenever your personal daily schedule allows? That sounds very attractive. That is why the home office is becoming increasingly popular. Many companies are now also offering flexible work options. In addition to lower travel costs, tax savings are also a factor.
With a glass sliding door, your own home office can be discreetly separated. You determine the transparency of GRIFFWERK glass doors the way you want it:
Opaque glass sliding doors such as Piano White offer maximum privacy protection.
Translucent glass also provides a high level of visual protection, but allows light to pass through.
Those who like a spacious loft character opt for more transparency and double-leaf doors.
Even in smaller flats, adjoining rooms can be converted into light-flooded offices, because wooden doors can easily be replaced by glass doors. Sliding doors can even be fitted over existing frames. Your sliding glass door is made of toughened safety glass (TSG) as standard. On request, it can also be made with laminated safety glass ( LSG).
---
Room optimization with glass doors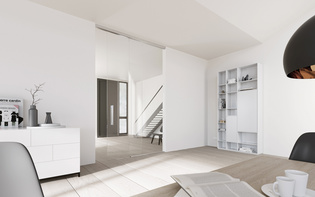 Creating poetic transitions with texts
This turns the glass door into a poetic entrance: texts or typographic decorations can be engraved on sliding glass doors using laser technology. This is how GRIFFWERK combines individuality and modern design. The motifs on grey glass have a particularly exciting effect. The white tone of the engraved lettering contrasts well with the grey tone of the glass material. You can also combine lettering motifs with green or white PURE WHITE by GRIFFWERK glass.
Simply choose your favourite motif or write your own text. Whether your philosophy of life, a meaningful date or a personal quotation: your door becomes a canvas. Letter business premises or waiting rooms in your own corporate design. Laser technology makes single and small print runs possible.
Sliding doors: FAQ
Why sliding doors?
Sliding glass doors let daylight into every room and save space at the same time. They are also wonderfully suitable as room dividers and optimal for barrier-free living.
How wide are sliding doors?
935mm x 2058mm x 8mm (width x height x depth). This is the typical standard size for sliding doors. Other standard dimensions are 1060x2085x8 mm and 935x2183x8 mm. Glass doors are also available in special sizes.
Which glass for sliding doors?
Toughened safety glass or laminated safety glass. The former is heat-treated glass with increased impact and shock resistance. In the event of breakage, small, blunt shards are produced.
If the sliding door is to be particularly robust, we recommend LSG PRIME DOORS. They consist of two thermally toughened safety glasses and an inner tear-resistant film. In the event of breakage, the shards adhere to this intermediate layer. In addition, LSG prime glass has sound-absorbing properties.
Which frame for sliding door?
Frames are not required for a sliding door. If frames are nevertheless installed, the distance between the sliding door and the wall can be increased by using a spacer profile, so that the door can easily run in front of the frame.
How are sliding doors installed?
Observe the material of the wall for the selection of the appropriate drill and dowel.
Align the running rail on the wall with the help of a spirit level. Mark the predefined fastening holes of the running rail on the wall. Drill the indicated fastening points and mount the rail.
Mark the floor guide on the floor according to the opening direction of the sliding door, pre-drill and install. If the floor is smooth, the floor guide can also be glued to the floor with the enclosed adhesive strip.
Slide the end stopper and soft pull into the sliding door rail. On the handle side, fix flush with the edge of the running rail with the appropriate torque. Do not yet fix the mounting parts on the other side.
Thoroughly clean the glass door leaf on the upper glass door surface before attaching the carriage. Adjust the runner for the corresponding glass thickness and mount the activator.
Fix the trolley in the appropriate position on the glass door. Loosen the safety screw and slide it downwards.
Hang the glass door leaf. Use the adjustment screws to align the glass door. Slide the glass door into the open position and lock the rear stopper and soft-close mechanism in this position.
Adjust the safety catch. If necessary, adjust the activator. Fit the cover for the sliding door rail and fix it in place with grub screws. Fit end caps.
Stick the handle shell or handle bar onto the glass door using the SENSA adhesive technique. If necessary, use a template for application.
What has to be considered for fittings with clamp mounting?
LSG doors can be used for glass door systems with clamp mounting SENSA by GRIFFWERK. The inner foil is only slightly elastic. We nevertheless recommend readjusting the screws of the fixing after some time and later if necessary. Glass doors, like wooden doors, can adapt to changing room conditions and thus change. Please refer to the respective product data sheets for detailed information.
How tight are sliding doors?
Sound as well as kitchen odours, water vapour and draughts are kept out by the tightly closing PLANEO AIR SILENT sliding door system from GRIFFWERK. The seal is made possible by laterally attached rubber lips and a floor brush. Both elements are integrated into the surrounding aluminium profile and blend into the purist design. The door reveal remains unchanged. PLANEO AIR SILENT is comparable to a wooden door in terms of sound insulation.
How soundproof are sliding doors?
The new tight-closing sliding door PLANEO AIR SILENT is comparable to a wooden door in terms of sound insulation. In addition, it seals rooms not only against sound, but also against kitchen odours, water vapour and draughts, for example.
How do I lock sliding doors?
With the PLANEO SMART2LOCK locking system from Griffwerk integrated in the handle, sliding doors can be locked at the touch of a button. The locking technology is invisibly integrated into the handle bar and sliding system. An LED on the handle bar indicates inside and outside whether the door is locked.
Where can I find the right sliding door?
Whether clear glass or float glass, toughened safety glass or laminated safety glass - at GRIFFWERK we manufacture individual sliding doors for specialist shops and private individuals. Your specialist dealer is sure to have GRIFFWERK products in stock. You can find out more about our wide range of models on our website. If you have any individual questions, your specialist dealer will be happy to advise you. https://www.griffwerk.de/en/store-locator/
How do I determine the allowance of the sliding door?
Whether you use a folding rule or a laser measuring device - the most important thing is to always measure at several points. Especially in old buildings, ceilings, floors and walls are not always completely straight. For an accurate measurement, it is best to measure at the far left and far right from wall to wall at three points (bottom, middle, top) and at the very top and very bottom at three points from the ceiling to the finished floor. When ordering the sliding door, always use the smallest dimension. As a rule, all sliding doors can be subsequently adjusted in height by one to two millimeters.
What is the cost of a sliding door?
The price of a sliding door depends on how big it is, whether it is single or double-leaf and what glass is used. A single-wing door in the simplest version can be obtained from about 100 euros glass + 250 euros hardware, whereas a double-wing sliding door with digital printing decoration can sometimes cost more than 1,000 euros.