---
Window handles - small design objects with great effect
Window handles are more than practical operating elements: they are small design objects with a big effect. Especially on windows that you open several times a day, they have to meet a high level of technical requirements.
In the Griffwerk range you will find window handles in different sizes and shapes as well as made of different materials. Thanks to our consistent design across all products, they are guaranteed to match the style of your door handles. So implement your design requirements down to the last detail - whether in matt or glossy, chrome-plated or brass-look, in velvet grey or graphite black. With our window handles, you can set the scene for your old windows or give your new windows the perfect design.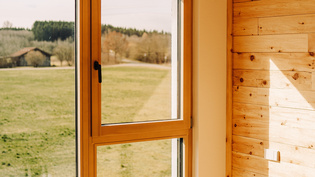 ---
Handles for lift-and-slide doors
What are our lift-slide door handles suitable for?
Lift-slide door handles are suitable for use on lift-slide doors. A lift-slide door is usually used as a door to a garden, balcony, conservatory or terrace. It is a tightly closing sliding door, which in most cases consists of two wings. One wing is often permanently glazed, while the other door wing can be pushed to the left or right by rollers in the floor.
When you want to open the lift-slide door, you have to operate the lift-slide door handle. The movable leaf is then lifted from the closed position and pushed open sideways, allowing an open passage without barriers. When closing the door, you then have to operate the lift-slide door handle again - the leaf is pushed closed and lowered. Unfortunately, the opening and closing mechanism of a lift-slide door does not allow for a tilt function.
---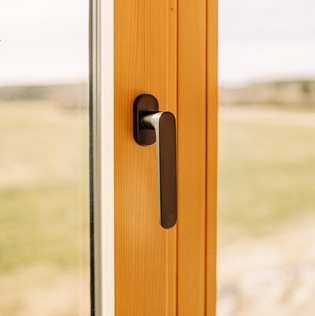 The window handle - shape, colour and material
When choosing your window hardware, you should not only consider your window size or whether the hardware is lockable. Your individual living style and whether your windows open to the left, right or up is also important for the right design and material.
You will find stainless steel fittings in all kinds of shapes and colours in our window handle range.
We are particularly proud of the inner values of our products. For all our handles, including window handles, we only use stainless steel of alloy 304 - also known as 1.4301 . Due to its composition, this high-quality steel is rust-free and therefore particularly corrosion-resistant and durable. Stainless steel forms a very thin protective passive layer that rebuilds itself through chemical reactions even after surface damage.
We process this stainless steel in so many different ways that you are guaranteed to get the perfect look: thanks to various grinding techniques, we can create shiny metallic surfaces, matt surfaces, slightly rough surfaces or smooth surfaces. We have made use of these properties in our design objects, enabling you to choose window handles from a wide range of designs.
Which variant you choose depends on the window material, style and your personal interior design style.
---
Replacing the window handle - little effort, great effect
Once you have decided on the look of your handles, you can easily change your window handles - in just three steps:
Removing the cover: Align the window handle horizontally to get at the screws that connect the handle to the window. Now you should be able to easily twist the screen that sits over the screws. Caution: Some screens may be glued. Loosen these carefully, for example with a cutter knife.
Remove the screws and pull off the window handle: If the screws are very tight, loosen them with a little oil. This way you will not damage the screw head. As soon as you can remove the screws, you can simply pull off the window handle. Clean the area where the handle has been placed very thoroughly - preferably with cleaning agent and a cloth.
Install your new window handle: Place the new window handle in the same horizontal position as the old handle. Now push the square into the window frame. Many handles come with new screws in the set. However, you can also reuse the old screws. Make sure to tighten the screws firmly so that the handle has no play. Finally, close the new cover. Done: The new window handle is ready for use.
---
One look. For the whole apartment.
If you decide on something special, you don't want to have to make any compromises. With our range you can equip your entire living room with handles in your desired colour throughout: from cashmere grey to stainless steel to brass look - from door to window.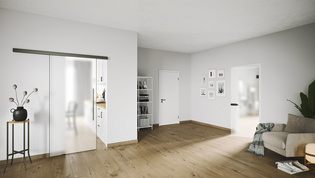 ---
Window handle - lockable and secure against burglary
To make your window burglar-proof, the hardware must be matched to the window construction. The frame, the window glass and the lock form a coherent unit. A locking cylinder is integrated in our lockable window handles. This includes a key. Once the window has been locked and sealed in the appropriate position by the window handle, the handle cannot be turned to any other position, thus increasing protection against burglary.
Window handles with child safety lock - safety in everyday life
Children are particularly inquisitive and are constantly learning new things. But this can also bring pitfalls: For example, when children learn to open windows on their own, dangerous situations can quickly arise. In the worst case, the child can fall out of the window and injure himself. To minimise this safety risk, parents should use window handles with child safety locks.
On the one hand, there are handles that have to be operated with the help of a key. These are often found in classrooms, daycare centres or kindergartens, for example. As a variant, there are also window handles that are equipped with a push button instead of a key. Furthermore, you can find extra devices with cables and bolts in the shops, which you also have to attach to the window.
We recommend lockable window handles as a child safety device, as these also offer adequate protection against burglary.
You can find window handle models in various designs, colours and materials at Griffwerk.
Window handles - technical equipment
The window handles are attached to the window frame by means of the 7 mm thick square pin. How deep the square pin must be pushed into the window to lock it depends on the thickness of the window. You can easily measure this in advance with the help of a thin object, for example a knitting needle. To do this, push the knitting needle into the opening as far as it will go and mark the spot with your fingernail. If you now measure this distance with a measuring tape, you will have the length of the pin.
In addition, our window handles are equipped with a sliding bearing for a durable, smooth and above all silent function. Without costly maintenance work!
Window handles: FAQ
How does a window handle work?
Window handles are firmly anchored in the window frame. Their function is to close or open the window easily and silently. Whether for ventilation or protection from rain - a window with a handle is essential and gives a feeling of security. Even if you like to put your window in the tilt position, you need a window handle for this. You can find high-quality window handles for your house or flat at Griffwerk - in all kinds of colours and shapes, ideally matched to your interior design style.
Where can I find lockable window handles?
Lockable window handles are suitable as an additional means of burglary protection or child safety. Whether plastic windows or noble wooden frames - whether plain silver or noble brass look - in our Griffwerk range you will find the right lockable window handle for every window variant. Ask your specialist dealer about Griffwerk products.
Why is a window handle called an olive?
In the past, window handles were also called "window olives". This is because their shape was reminiscent of an olive. Nowadays, the one-armed lever or turn handles resemble the Mediterranean fruit less. But the term has still become common parlance in places of its own.
Which screws are needed for a window handle?
The right hardware for the professional installation of the window handle is supplied by Griffwerk. Depending on the version, the handle is mounted with a square pin and suitable screws. For further information on mounting, please visit our homepage or contact your specialist dealer.
How do you install window handles?
Window handles are fixed to the window frame with the help of a 7 mm square pin. The thickness of the window determines how deep the square spindle must be pushed into the window in order to lock it optimally.
We recommend the following trick for measuring: Take a thin object, e.g. a knitting needle, and push it into the opening as far as it will go. Mark the spot with your fingernail or tape. Then measure the distance with a tape measure.
How to remove a window handle and how to replace window handles?
First you should loosen the cover of the previous window handle. When doing this, align the handle horizontally so that you can reach the screws that connect the handle and the window. Now turn the cover that sits over the screws. If the cover is glued, loosen it carefully with a cutter knife.
Then remove the screws and pull off the window handle. Screws that are stuck can be loosened with a little oil.
Now you should clean the area where the handle was attached very thoroughly.
Finally, mount the new window handle. Hold it in the same horizontal position as the old handle. Now fix the square pin into the window frame. Now screw the new handle on as tightly as possible. Then close the new cover. Your window handle is now ready for use.
Are window handles normed?
Yes, lockable window handles can be standardised. To be more precise, this is DIN 18267 for "latchable, lockable and lockable window handles". The standard specifies certain dimensions that can be applied to all types of window handles: Square spindle 7 mm and screw joint spacing 43 mm. However, window handles with lift-slide, lift-slide-tilt or parallel slide-tilt elements are not covered by this standard.
In addition, the DIN EN 13126-3 standard for window and door hardware applies to all window handles. It specifies certain quality standards, but no dimensions.
Our lockable window handles from Griffwerk are of course standardised handles.
What does a new window handle cost?
Fenstergriffe von Griffwerk liegen aufgrund ihres edlen Designs und der hochwertigen Materialien im mittleren bis oberen Preissegment. Einfache Fenstergriffe erhalten Sie ab 28 Euro, abschließbare Fenstergriffe ab 116 Euro.
Are window handles universally applicable?
The window handles from Griffwerk can be individually matched to other design elements. Choose your window handle in the same look as your door handle or show your colours and surprise with strong contrasts: At Griffwerk, every taste will find what it is looking for.
As a renowned manufacturer of handles of all kinds, we at Griffwerk always try to cater to individual needs. Griffwerk window handles can be made with different square spindle lengths and can therefore be used in any window frame. On request, we produce special designs with variable pin lengths. Contact us!
How secure are lockable windows?
It depends. As burglary protection, they work mainly for casual burglars. Experienced thieves use more sophisticated methods to get into houses or flats. Here, the combination of different burglary prevention methods is the most important factor. Our tip: From Griffwerk you will also find protective fittings for your doors for optimum burglary protection.
Lockable window handles have a greater benefit as security against windows being opened from the inside. They reliably protect children, pets or cognitively impaired persons from unintentional opening of the window. This can prevent dangerous situations and, in the worst case, accidents. For this reason, lockable window handles have proven their worth in kindergartens and schools, but also in hospitals, for decades.
How does a window handle with push button work?
A window handle with push button is basically a normal handle with an additional lock button. If the lock button is pressed, the handle can be used normally. If the button is not pressed, the handle is restricted in its movement. When you close the window, the latch engages. Pressing the lock button or the push button unlocks the window and it can be opened again.
Window handles with a push-button are mainly used as child safety devices. For example, children can put a window in the tilt position, but not open it completely - for their own safety.
Sometimes these handles are also used in combination with a lock cylinder and the corresponding key. Here, a key must first be inserted in order to be able to exert pressure on the knob.