Glass doors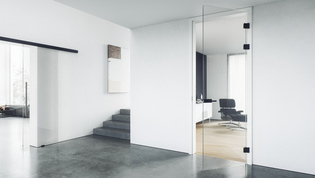 Glass doors are the stars among doors: they open up rooms and perspectives. Glass doors provide living rooms with light, allow wide lines of sight and make living areas appear friendlier, brighter and larger. A revolving door made of glass is the optimal alternative to a revolving door made of wood.
Why glass doors? All advantages at a glance
Glass doors let natural daylight into every living area – by hinged or sliding door equally
Rooms appear larger thanks to transparent room transition
Opaque frosted glass provides privacy but still allows light into the room
Certified safety with toughened or laminated safety glass (TSG / LSG)
Creative interior design with individual motifs on the room door
Durable, as less susceptible to scratches and wear and tear
Material without evaporation for more healthy living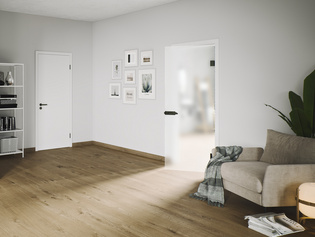 ---
Glass door: Homely inspired
Glass doors are ideal as room doors for noble and bright rooms - whether kitchen, living room, hallway or bathroom. By the way, to replace an existing wooden door with a glass door is very simple. For a glass revolving door, you can even use the existing frame. With a sliding door, room transitions can be staged in a new way. This looks good and also saves space. Unlike glass revolving doors, they do not need a swing area, because a sliding glass door runs along the wall to save space. With a soft-close version, you treat yourself to additional comfort.
Every all-glass door design from the GRIFFWERK range is basically available as a swing door system or as a sliding door system.
Even in smaller flats, previously unused side rooms can be transformed into attractive, light-filled workrooms with the help of glass doors.
Spectacular white glass doors
With PURE WHITE by GRIFFWERK, daylight can flow unobstructed into rooms
Glass doesn't need to be green
Usually for an all-glass door soda-lime-silica glass is used. It has a distinct green tint. The reason for this is the iron oxide used for the glass melt. Depending on the light conditions, the green cast of the material is more or less visible. The brighter, whiter and clearer the interior design is, the more disturbing this discoloration is. Even in front of a plain, white wall, the difference is clearly visible. Especially in contemporary architecture, pure and high-quality materials are essential.
The pure difference
Glass door instead of wooden door? Of course you want to invite as much light as possible into your rooms. With PURE WHITE by GRIFFWERK, daylight can flow unobstructed into the interior and colours, especially white tones, come across unadulterated and clearly. White glass has been proven to be more translucent than the basic green version. With a six millimetre thick glass door, the light transmission is improved by about three percent. On large surfaces, the light gain has a more pronounced effect. The translucent light is also pure and colour-neutral. If you decide on glass instead of wood for an interior door, light gain is the main reason.
Glass doors: Why White glass?
Our passion for glass began in 2014 when we designed our first collection of glass doors. Glass is a fascinating material: it is 100 percent recyclable. For the production of white glass PURE WHITE by GRIFFWERK, the iron oxide content is reduced to minimize the green tint. White glass has a special lighting effect and brings out the brilliance of decorations. That's why we have been processing white glass with finishing and printing processes since 2016, even at our headquarters in Blaustein in southern Germany - for a perfect result.
Simple float glass has a distinct green tint, which alters the light effect and is also perceptible as a clear discolouration in the glass surface. Pure White glass doors from Griffwerk remain colour-neutral. Our smoked glass MOON GREY: also in the range.
Smoked glass
We advocate white glass PURE WHITE by GRIFFWERK for glass doors. Actually. Then we developed the new grey shades: Four new shades that perfectly complement our range.
The new glass MOON GREY reminds us of the countless soft shades of grey in moonlight. Laser technology engraves fine lines into the surfaces. SMOKED GREY is what we have called the clear glass version. In the TWO SIDES variant SATIN GREY, the glass door is fully frosted on the back and shields glances.
The FROSTED GREY and FROSTED WHITE glass doors are made of high-quality laminated safety glass PRIME glass and have a particularly elegant appearance thanks to the frosted finish on both sides. FROSTED GREY owes its grey tone to a coloured, internal film and is translucent. FROSTED WHITE is opaque due to a white film on the inside.
---
Glass types for your all glass doors
TSG or LSG - The difference
TSG = toughened safety glass.
Specially heat-treated glass with increased impact and shock resistance. In the event of breakage, small, blunt shards are produced.
High safety
High impact and shock resistance
Blunt-edged shards in case of glass breakage
Countless designs possible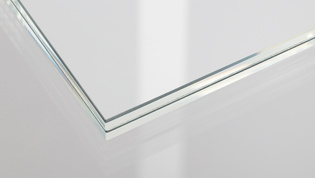 LSG = laminated safety glass
LSG PRIME DOORS consist of two thermally toughened safety glasses and an inner, tear-resistant film. In the event of breakage, the shards adhere to this intermediate layer. LSG PRIME glass also has sound-absorbing properties.
High safety
More sound insulation
Ideal for XL formats
Matting possible on both sides
Highest opacity possible
Rich sound when closing
---
Glass door finishing techniques
Glass door with Digital print
In the digital printing process, a motif is printed on the interior security film of a laminated security glass. If a transparent film is used, the selected design can also be seen mirror-inverted on the back of the glass door. However, the film can also be matt or white, for example, which makes printed photo motifs stand out extremely clearly - Suitable for sliding glass doors and hinged glass doors similarly.
Advantages digital print
No fading of the colour thanks to protection against UV radiation through the bond between the film and the glass pane
High resolution of the motif
Brilliant and high light fastness of the colours behind the glass
Transparency and translucency (light transmission)
Glass door with Silkscreen
For screen printing on the glass door, ceramic ink is permanently baked into the glass during the manufacturing process of the toughened glass.
In the screen printing process, the glass surface is additionally sealed for the application of motifs. The manufactured glass door has a closed, smooth surface that is extra scratch-resistant.
Advantages silk screen
Very high scratch resistanc
Abrasion and weather resistan
Robust
Closed, smooth surface for easy maintenance
Precise patterns and motifs
Glass door with Laser technology
For the refinement of the glass door with laser technology, laser beams are bundled and brought to the point with millimetre precision. The laser penetrates 0.3mm deep into the surface. In the process, the spot where the laser hits is briefly melted, but this does not negatively affect the safety glass. Precisely controlled beams enable images to be created on the glass by lining up dots.
Advantages laser technology
Motifs on the glass in breathtaking clarity and sharpness
Depending on the incidence of light, the decor has a very high luminosity and beautiful light effect
Very noble and stylis
Individual motifs can be realised without problems
---
Glass doors: Fascinating Laser technology
Bundled light engraves delicate lines into the glass surface. Point by point and precisely controllable, detailed motives and finely graduated progressions can thus be transferred to glass. Our laser places microscopically small pixels next to each other, permitting photo realistic results. The deeper engravings change the light reflection. Laterally ingressing light makes the patterns virtually light up. Laser-processed glass doors remain transparent. If you wish more protection from looks, simply pick the version in TWO-SIDES with rear satination.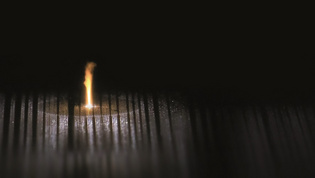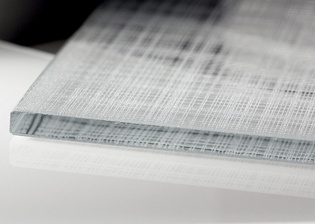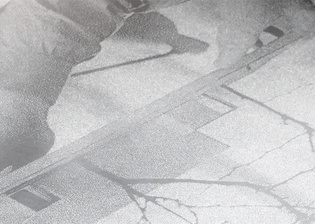 Light in its strongest form
Thanks to innovative laser technology, particularly fine and haptically attractive textures can be engraved on any glass door. The surfaces are durable and easy to clean.
Griffwerk laser doors meet ESG standard
GRIFFWERK offers tested safety for lasered glass doors made of single-pane safety glass ("TSG glass"). According to the German Institute for Building Technology (DIBT), the laser technology applied by GRIFFWERK fulfils all requirements. Since then GRIFFWERK is allowed to mark all glass doors with the TSG test stamp.
The stamp contains the number of the standard (DIN EN 12150) and is placed on the edge of the glass at GRIFFWERK in an optically unobtrusive manner on the hinge side. TSG is available from GRIFFWERK as green glass or in the high-quality white glass variant PURE WHITE by GRIFFWERK. Both glass types can be lasered and also meet the TSG standard when lasered.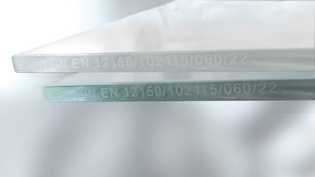 ---
Individual laser patterns on your glass door
You love it individual?
Have your favorite quotation, your children's names or any text lasered onto your glass door! Choose the size, format and placement to suit your needs
If you are interested please ask your
Your favourite picture as laser engraving?
Design your own glass door! Whether a family photo or memories of an unforgettable moment - everything is possible.
Please contact your dealer!
---
What is the DIN direction for doors?
The DIN direction indicates in which direction a door opens. Do you want to find out which DIN direction is the right one for you? Then imagine that you are standing in front of the door opening towards you. The hinge side determines the DIN direction.
If the hinges are on the right, it is a DIN right-hand door.
If the hinges are on the left, your door is a DIN left door.
What is the tape side and the tape opposite side?
Door hinges connect a door to the door frame and at the same time enable a turning movement. The hinge side is the side on which the door hinges are located. The opposite hinge side is the side opposite the door hinges.
---
Two sides of a glass door - "TWO SIDES"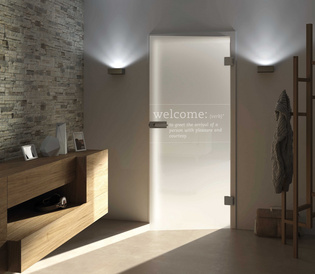 Almost all all-glass doors in our range are also available in the translucent "TWO SIDES" variant. This will be processed from both sides: one side with laser decor, the other one flat satinized. So you can choose between two different versions of your favorite motif. The matt TWO SIDES variant offers more privacy.
By the way, our TWO SIDES option has nothing to do with the difference in DIN direction - i.e. whether the doors are "DIN left" or "DIN right". All our models are available in both versions. If hinges and fittings are mounted on the left, we speak of "DIN left" doors. If they are mounted on the right, they are "DIN right" doors.
What is Laser One Side?
ONE SIDE means one-sided processing of the glass door with laser technology
A clear glass blank is used for this purpose
The transparency of the door is maintaine
Depending on the incidence of light, the laser decor has a very high luminosity
One Side is very noble and stylish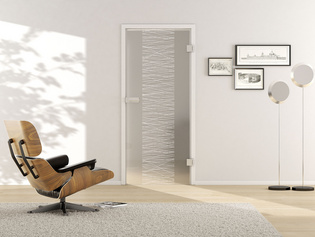 What is Laser TWO SIDE?
With TWO SIDE, the manufacturer processes the glass door on both sides
The glass door blank has a full-surface silk-screen print on the back (matt on the back)
The laser decor is on the front side
Light transmission is in the foreground here
Rooms flooded with lightdespite guaranteed privacy
---
Glass door: What is LSG?
LSG stands for laminated safety glass. Two panes of toughened safety glass are joined together with a highly elastic, tear-resistant plastic film. In the event of glass breakage, the fragments adhere to this film. The film on the inside can be clear, matt or coloured. The manufacturer Griffwerk also processes colour-neutral white glass PURE WHITE by GRIFFWERK into glass doors made of laminated safety glass.
More security
The essential advantage of a LSG door is the plus in stability and safety. If the door is damaged, the shards adhere to the inner composite film. No splinters are distributed in the room or fall down; the residual load-bearing capacity remains intact. Moreover, the use of two toughened safety glass panes results in only small glass crumbs. Deep cuts are avoided.
More noise protection
The double structure of a laminated safety glass pane optimises the sound insulation properties. LSG glass is therefore also used for soundproof windows. As a rule, hinged doors close better than sliding doors. If you attach a lot of importance to sound insulation but do not want to do without light, you will appreciate a wooden door with a light cut-out made of laminated safety glass. By the way: the thickness of the double-layered glass prevents vibrations in the glass. The sound when closing the door is quieter, comparable to the door of a high-quality car.
Glass doors: VSG PRIME meets LASER
In the everyday life of a family, things can get a little rough. A glass door is then actually taboo - not with us: Because we have a solution with maximum protection in our offer. Laminated safety glass. First of all, there is the higher safety if glass breaks. The fragments adhere to the inner, tear-proof film, thus minimising the danger of injury. Additionally, our LSG PRIME glass doors are made of two connected ESG glass panes. They are characterised by crumbly fragmentation that prevents cuts. This is good to know. Safety comes first, especially for families. The decision to use LSG PRIME glass rightfully ensures a good feel.
LSG PRIME glass has plenty to offer aesthetically as well. The inner film can be coloured matte-grey smoky or even opaque. Colour tonalities in the interior can be controlled this way, and the desired degree of sight protection can be chosen freely. Now all laser patterns are avaliable on LSG PRIME.
Reflecting gloss with glass doors
In VSG doors, a PVB-film is embedded between two ESG panes. This offers true additional safety: if the glass breaks, the shards will remain adhering to the film. Both sides are high-gloss and easy to clean. High-quality VSG doors also convince with better sound protection properties.
The high-gloss surfaces of the glass door design PIANO WHITE offer pure white reflection. They are a refined eye-catcher, especially in rooms designed in white. They also are an invitation to subtly play with the appearances of different surfaces.
We love the opposites of high-gloss glass in contrast with rough stone, natural wood or matte wall plaster. PIANO BLACK in deeply black glass is a special statement. VSG TRANSLUCENT is opaque but light-permeable as well.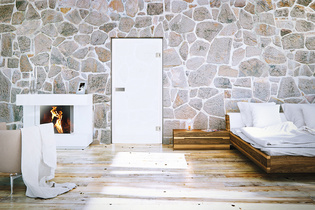 One look. For the whole apartment.
If you decide on something special, you don't want to have to make any compromises. With our range you can equip your entire living room with handles in your desired colour throughout: from cashmere grey to stainless steel to brass look - from door to window.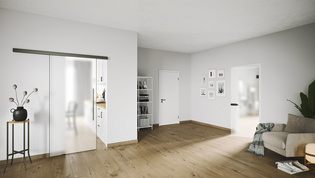 ---
How do I clean my glass door?
When cleaning your interior glass, it is simply enough to clean the surface of the hinged or sliding door with warm warm water. For this, use a sponge or a soft, lint-free cloth. Clean a large area, rather than pointedly.
In case of residues such as fingerprints on the glass door, you can additionally use commercially available glass cleaners (foam cleaners). Please do not use any abrasive, corrosive, acidic or alkaline cleaning agents. They attack the glass surface and can cause scratches. You can wipe excess water dry with a microfibre cloth. If water acts on the glass door for a longer period of time, stubborn limescale residues may form.
For LSG doors, observe that the edge composite must not get into contact with water, since this may cause moisture and cleaning agent to enter the laminate.
For satined and laser-treated surfaces
To avoid abrasion of the surface structure, you should not exert too much pressure here. In order to avoid the so-called cloud formation, rub your glass door with a microfiber cloth to dry a large area. Do not use paper or cellulose cloths. They have too much abrasion.
For screen-print glasses
Screen-printed surfaces are softer than the pure glass surface and therefore more sensitive against mechanical cleaning agents. They also must not be cleaned with acids since they may attack the print pattern.
Attention
Please do not use any scratching tools, razor blades or scrapers. They can leave visible and irreparable scratches on the surface.
Glass doors: FAQ
Why white glass for my glass door?
White glass has a special lighting effect, allows a particularly large amount of light into the room and shows off decors to brilliant effect. For the production of white glass PURE WHITE by GRIFFWERK, the iron oxide content is reduced to minimise the green cast.
Why glass doors?
Glass doors allow natural daylight into every living space. Rooms appear larger thanks to transparent room transitions. A glass door offers privacy through opaque matting, but still lets light into the interior. ESG and VSG glass offer certified safety. Individual motifs on the glass door create a creative interior design. Glass doors are durable as they are less susceptible to scratches and wear. The material of the glass door has no evaporation and thus contributes to healthy living.
Can a glass door be installed in a normal frame?
Yes. Existing frames for wooden doors can also be used for glass doors. When installing a glass door, please note whether 2-part hinges or 3-part hinges are to be used. To match the respective hinges, only the frame section needs to be replaced, readjusted and screwed tight. Then just hang it in place. That's it.
Which frame for a glass door?
For glass doors, you can use your existing frame.
How can glass doors be shortened?
Not at all. A glass door made of safety glass cannot be shortened or cut. Doors made of safety glass include TSG (toughened safety glass) or LSG (laminated safety glass) doors. The manufacturing process of a safety glass door hardens the glass. Due to the tempering of the glass, the glass door would shatter if it were shortened.
How to clean LSG doors?
Glass is insensitive to acids, alkalis and solvents but is sensitive to scratches. Cleaning utensils should therefore be clean and soft. It is best to clean glass with plenty of clean water and a microfiber cloth or sponge. If necessary, commercial cleaners can be used. With laminated safety glass, care must be taken to ensure that the laminated film is not exposed to high levels of moisture. It is sufficient to simply dry it off so that any remaining moisture is removed.
Which glass for glass doors?
Toughened safety glass is very robust and not very sensitive to impact on the glass surface. If the glass does break, small crumbs are produced without sharp edges.
With a laminated safety door, shards adhere to the laminated film. In the Griffwerk range you will find TSG and LSG ( LSG-Prime doors) with the respective safety properties.
Toughened safety glass or laminated safety glass? Which is better?
Both glasses provide a safe living feeling. TSG is very robust and insensitive to impacts on the surface. When damaged, it breaks into small crumbs. This prevents deep, serious cuts. With a laminated safety glass door, all shards also stick to the composite film, comparable to the windshield of a car. The shards do not splinter into the room. The door continues to hang in its anchorage due to the extremely tear-resistant foil. Interior foils for laminated safety glass are so efficient that they are also used for burglar-proof glass and are even produced in bullet-proof versions. LSG Prime doors from Griffwerk combine the security properties of ESG and LSG.
When to use LSG?
Which glass variant is best depends greatly on the place of use. In highly frequented areas, we recommend laminated safety glass doors. Even if the home is rather turbulent, e.g. because children are running around, it makes sense to invest in a higher-quality LSG glass.
Glass door: More security desired?
If you want to make your home as barrier-free as possible, glass doors made of laminated safety glass are also a good choice. We also recommend doors with large-area decorations or frosted backs, as these are more visible. The purchase is worthwhile. It always feels good to invest in a little more security and comfort.
What do LSG doors cost?
LSG doors are more expensive than TSG doors. After all, the manufacturing process is much more complex. If you have to pay closer attention to your budget, you can only use LSG doors where extra safety is particularly important. This is the case in some rooms, for example on staircases where there is a risk of tripping, in narrow corridors, in bathrooms (where floors can become slippery), at room transitions where there can be strong draughts and, in general, always in places where people who are in particular need of protection, such as children or elderly people, are present. In any case, only doors made of safety glass should be used - regardless of whether they are TSG or LSG. We offer many designs in both types of glass.
How thick is LSG?
As a rule, LSG panes are 8.8 mm thick. However, the thickness of our LSG glass doors depends on the format. For larger formats, we recommend a thickness of 10.8 mm.
Can LSG be cut?
No. Since our LSG glass doors are made of TSG panes, they cannot be cut. Due to the stress conditions in the single-pane safety glass (TSG), normal cutting wheels cannot be used. The glass would shatter. Later adjustment of your door is also not necessary. Griffwerk offers all common formats in its range. Special sizes can be ordered. It is best to use our practical measurement sheets to order your new glass door. So nothing can go wrong and everything fits perfectly.
Can LSG be lasered?
Yes, Griffwerk also refines LSG glass doors with laser decorations. The filigree surface engraving by laser has an impressively noble effect on this premium material. Numerous motifs are available. Let yourself be inspired and enjoy the plus in aesthetics and security.
Glass door: Which glass for room-high doors?
We recommend a thickness of 10.8 mm for larger formats. In principle, toughened safety glass or laminated safety glass doors with a thickness of 8.8 mm can also be installed. However, due to the height and the larger amount of glass, we would advise a LSG door with a thickness of 10.8 mm. Room-height doors appear remarkably spacious and create an open living feeling. In LSG, they are of particularly high quality.
Is laminated safety glass also available tinted?
Yes, of course, tinted glass can be processed into LSG doors. As a rule, however, special functional foils are used. The inner foil processed in a laminated glass door can be matt, opaque or colored and can even be printed with motifs. Double-sided frosted glass doors are particularly elegant. This is also possible with LSG glass.
Why use white glass for LSG doors?
The two-layer structure of a laminated safety glass door would also double the green tint present in regular float glass. We therefore recommend colour-neutral white glass PURE WHITE BY GRIFFWERK for glass doors made of laminated safety glass - especially if these are to be frosted over a large area, as the frosting further emphasises the inherent colour of the material.
What is meant by residual carrying capacity?
In the case of a glass breakage, the fragments of a laminated glass door do not only adhere to the film on the inside. The entire glass door remains suspended in the anchorage due to the high tensile strength of the film. It therefore does not fall to the floor and does not splinter into the room. LSG is therefore indispensable for overhead roofing in particular. The residual load-bearing capacity naturally also increases safety in the event of glass breakage in living areas.
How sensitive is LSG?
LSG prime glass doors can withstand a lot. This is already due to the fact that the door leaf is made of two TSG panes. LSG has a significantly higher stability than normal float glass. For example, the bending strength alone is three times as high. The impact and shock resistance is also significantly better. These properties are achieved by a thermal pre-treatment of the ready-cut TSG pane. The glass is heated and then cooled relatively quickly. Two different tensions are created in the glass. There is compressive stress on the inside and tensile stress on the surface. Unfortunately, these stress conditions also have disadvantages, because TSG becomes very sensitive at the edges. The edges are actually the weakest point of a pane. This also applies to LSG glass doors.
What should you pay attention to with glass doors?
Glass doors cannot be subsequently shortened in height or width. When ordering the glass door, the appropriate size should therefore always be ordered. Special sizes are also possible. For a small surcharge, most glass doors are also available in a white glass version. These have a special lighting effect and brilliantly accentuate decors.
Where can you buy glass doors?
The best place to buy is from specialised retailers, such as glaziers or timber merchants. You can view and compare the products of different manufacturers and designers in online shops as well as in stationary specialist shops. You can find recommended dealers online at https://www.griffwerk.de/en/store-locator/
How soundproof are glass doors?
Anyone who wants sound insulation can opt for glass doors. In principle, all-glass revolving doors can provide sound insulation up to class 2 (SK2 according to DIN 4109) - i.e. offer the same sound insulation as wooden doors. This is mainly because glass throws sound back into the room rather than letting it through. The reason is simple: glass has no cavities and does not vibrate easily, which would amplify sound.
Tip: A door leaf made of LSG glass, unlike simple single-pane safety glass (TSG), has sound-absorbing properties. The sound insulation film is softer and decouples the panes. As a result, the sound is better insulated.
A special feature of glass doors: they need a floor gap so that dirt particles such as small stones do not damage the glass. This minor disadvantage is easy to compensate for: with sound-absorbing materials in the rooms - such as deep pile carpets or curtains.
How heavy is a sliding glass door?
The weight of a sliding glass door as an interior door depends on the thickness of the door leaf and the dimensions of the door. As a rule, they weigh between 30 and 40 kilograms.
How can you darken a glass door?
Optimum privacy is achieved with the help of a film that is inserted between two panes of toughened safety glass. In the Griffwerk range, you will find high-quality VSG PRIME glass that can bear matt, grey or opaque film in various colours and nuances. The advantage of opaque matting: with adequate privacy protection, enough light still flows into the room. Such doors are suitable, for example, for bedrooms, office doors and, of course, bathrooms.
What does a glass door cost?
You can even find reasonably priced glass doors from Griffwerk for less than 150 euros. Our most luxurious models are priced at more than 1000 euros.
Are glass doors normed?
There are so-called norm doors for glass doors. These have standard dimensions so that they can be hung in various door frames. These are the widths: 709 mm, 834 mm and 959 mm, in combination with the heights 1972 mm or 2097 mm.
Can you replace a wooden door with a glass door?
Basically, it is possible to keep the frame of a wooden door and only replace the door leaf. In this case, you should first measure whether your frame corresponds to a standard dimension. To do this, measure the rebate dimensions. To do this, take the distance between the inner edges of the rebate cladding in width and the distance between the lower edge of the rebate cladding to the upper edge of the floor covering in height. If the rebate dimensions are standardised, you can choose your new glass door directly and install it in the frame.
If you need special dimensions, you can either have a new frame fitted so that you can use standard sizes. As a cost-effective alternative, we recommend having the glass door leaf custom-cut.
Also bear in mind that the glass door needs to be drilled. This cannot be done on site - a professional should drill the glass door before installation. The door fittings are then fitted in the resulting recesses.
Furthermore, you should bear in mind that not every door hinge will work with the new glass door. However, you can replace these without any problems.
What is available for glass doors?
What type of glass doors do you need? Thanks to our wide range, you are guaranteed to find the right glass door for you: choose from the following types:
- Sliding glass door
- All-glass revolving door
- White glass door
- Smoked glass door
- ESG door
- VSG door
- Glass door with digital print
- Glass door with screen printing
- Laser engraved glass door
- Clear glass door
- Frosted glass door
- Textured glass door
- Partially frosted glass door
How safe is a glass door?
Provided that you properly handle glass doors before and during installation, they are safe. So: do not put them on the edges, but on soft wood, styrofoam or cardboard - avoid bumping.
Glass doors are made of safety glass TSG (single-pane safety glass) or LSG (laminated safety glass) - this makes them less sensitive than "normal glass panes". Therefore, this is much less sensitive than a simple pane of glass. A glass door on two wooden trestles holds well and gladly 2-3 people standing on it.