---
Warmth
Glass doors make every room even more individual. The diversity of the door materials and designs permits new room interpretations every time. Replacing an existing wooden door with a glass one is very easy, by the way. Rotary doors can even use existing frames. Sliding doors can re-create room transfers. It looks good and saves space, since no swivel range is needed, in contrast to rotary doors. Sliding doors run space-savingly along the wall. A soft retraction version will give you additional comfort.
All glass door designs from the GRIFFWERK range are generally available as rotary door system and sliding door system. We wish you a lot of pleasure in choosing your glass door.
Spectacular white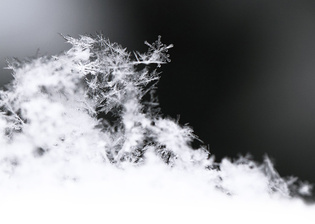 Glass doesn't need to be green
Usually, glass doors are produced using calcium sodium silicate glass. It has a clearly green tinge. This is caused by the iron oxide used for the glass melt. Depending on lighting, the green tinge in the material may be more or less evident. The brighter, whiter and clearer the interior design, the more annoying will the discolouration be. The difference will be considerable even in front of a simple white wall. Contemporary architecture particularly values purity and high-quality materials.
The pure difference
With PURE WHITE by GRIFFWERK, daylight can enter inner rooms unclouded so that colours and specifically whites will appear true and clearly. White glass is verifiably more light-permeable than the green basic version. Light permeability of a six-millimetres thick glass door is improved by approx. three percent. The light gain is even greater on large areas. The light falling through is also pure and colour-neutral. Light is one of the primary reasons for choosing glass instead of wooden doors in the interior area.
Why White glass?
Simple float glass has a clear green tinge, which changes the light effect and also can be performed by a clear discolouration in the glass surface. PURE WHITE by GRIFFWERK remains colour neutral.
---
Fascinating Laser technology
Bundled light engraves delicate lines into the glass surface. Point by point and precisely controllable, detailed motives and finely graduated progressions can thus be transferred to glass. Our laser places microscopically small pixels next to each other, permitting photo realistic results. The deeper engravings change the light reflection. Laterally ingressing light makes the patterns virtually light up. Laser-processed glass doors remain transparent. If you wish more protection from looks, simply pick the version in TWO-SIDES with rear satination.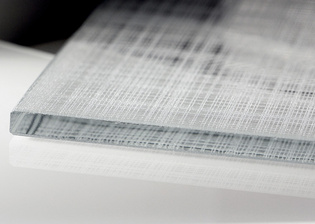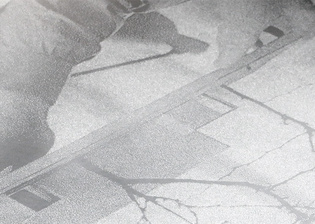 Light in its strongest form
Thanks to innovative laser technology, particularly fine and haptically interesting texture can be engraved on glass. The surfaces are permanently resilient and easy to clean.
Griffwerk laser doors meet ESG standard
GRIFFWERK offers tested safety for laser-treated glass doors of single-pane safety glass. According to the general building supervisory approval from the Deutsches Institut für Bautechnik (DIBT), the laser technology applied by GRIFFWERK was able to meet all specifications. GRIFFWERK was therefore approved for marking these glass doors with the ESG test stamp.
The stamp contains the number of the standard (DIN EN 12150); GRIFFWERK places it visually unobtrusively on the glass edge at the hinge side. ESG is available from GRIFFWERK as green glass or the high-quality white glass variation PURE WHITE by GRIFFWERK. Both glass types can be laser-treated on request and continue to meet the ESG standard then.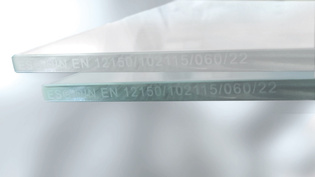 ---
Two sides of a door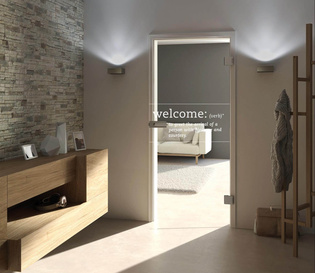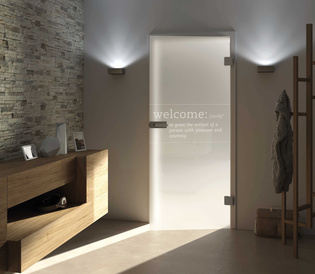 The most glass doors in the GRIFFWERK-collection are also available in the version "TWO-SIDES". Here the door is fully matted on the rear to shield against looks for more privacy. So you can choose between two different versions of your favorite decoration.
Smoked glass MOON GREY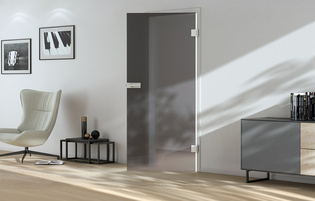 We generally recommend PURE WHITE BY GRIFFWERK white glass for glass doors. At least we have so far. The new greys have convinced us. Four new colour nuances will supplement the range for 2017.
There is no way to deny it: A light bulb has a light colour, too. Unfortunately, however, it is only one. Daylight in contrast offers any number of nuances. Cool morning twilight, warm mid-day sun or mystic moonlight: each time of the day makes rooms appear "in a new light". Glass doors provide space for this play of light. MOON GREY turns the room into a mysteriously shining silver-grey.
VSG PRIME meets LASER
Laminated safety glass brilliantly stands out with a number of benefits. First of all, there is the higher safety if glass breaks. The fragments adhere to the inner, tear-proof film, thus minimising the danger of injury. Additionally, our LSG PRIME glass doors are made of two connected ESG glass panes. They are characterised by crumbly fragmentation that prevents cuts. This is good to know. Safety comes first, especially for families. The decision to use LSG PRIME glass rightfully ensures a good feel.
LSG PRIME glass has plenty to offer aesthetically as well. The inner film can be coloured matte-grey smoky or even opaque. Colour tonalities in the interior can be controlled this way, and the desired degree of sight protection can be chosen freely. Now all laser patterns are avaliable on LSG PRIME.
---
Individual laser patterns on your glass door
You love it individual?
Specially chosen words, such as your favourite quotation or the names of your children can be lasered onto your glass door in the size and arrangement you desire.
If you are interested please ask your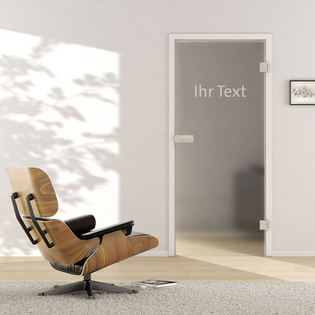 Your favourite picture as laser engraving?
Design your own glass door! Whether a family photo or memories of an unforgettable moment - everything is possible.
If you are interested please ask your
---

In the series GLAS2ART, GRIFFWERK introduces unique glass doors created in cooperation with designers and artists. The transparent material, as well as the technical possibilities of the laser engraving lend the works an unusual, visual quality, which also wins by the generosity of the format.
Glass door BIRDS&BIRD_LD_695, laser pattern| TSG
Design: Sarah Bühler
---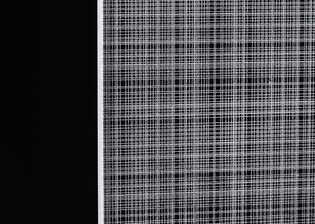 Transparency
The GRIFFWERK-range offers most glass doors in two versions. In the TWO SIDES version, the door is fully matted on the rear to shield against looks.
Laser technology permits very fine engravings. They delicately draw through the glass surface. The course of the lines is permitted to vary: strictly lined up, compacting, overlaying or unevenly interrupted.
---
Reflecting gloss
In VSG doors, a PVB-film is embedded between two ESG panes. This offers true additional safety: if the glass breaks, the shards will remain adhering to the film. Both sides are high-gloss and easy to clean. High-quality VSG doors also convince with better sound protection properties.
The high-gloss surfaces of the glass door design PIANO WHITE offer pure white reflection. They are a refined eye-catcher, especially in rooms designed in white. They also are an invitation to subtly play with the appearances of different surfaces.
We love the opposites of high-gloss glass in contrast with rough stone, natural wood or matte wall plaster. PIANO BLACK in deeply black glass is a special statement. VSG TRANSLUCENT is opaque but light-permeable as well.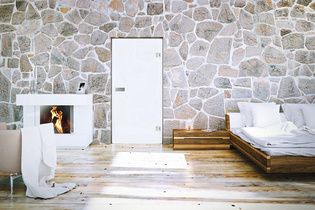 ---
care note for glass doors
When you clean your interior glass, it is enough to clean the surface with warm water. For this, use a sponge or a soft, lint-free cloth. Clean a large area, rather than pointedly.
If there are any residues, e.g. of fingerprints, you can also use commercial glass cleaners (foam cleaner). Please do not use any abrasive, corrosive, acid-containing or alkaline cleaning agents, since these will attack the glass surface and also may cause scratches. Excessive water can be wiped dry with a microfiber cloth. When water acts on the glass surface for an extended period, stubborn lime residue may form.
For LSG doors, observe that the edge composite must not get into contact with water, since this may cause moisture and cleaning agent to enter the laminate.
For satined and laser-treated surfaces
To prevent abrasion of the surface structure, you should not apply too much pressure here. To avoid clouding, rub your door dry generously with a microfiber cloth. Do not use paper or cellulose cloths, since they are too abrasive.
For screen-print glasses
Screen-printed surfaces are softer than the pure glass surface and therefore more sensitive against mechanical cleaning agents. They also must not be cleaned with acids since they may attack the print pattern.
Attention
Please do not use any scratching tools, razor blades or scrapers. They can leave visible and irreparable scratches on the surface.