Renovate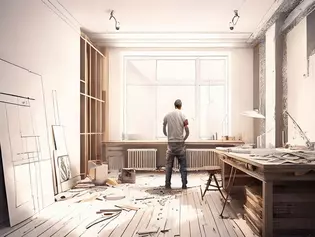 Renovating can be a very worthwhile investment in your home, especially if you own or are buying an older property. Not only can a renovation increase the value of your home, but it can also make living more enjoyable and comfortable.
On our blog, you'll find numerous articles that can help you make your renovation plans a reality. We offer useful tips and tricks that can help you make the right decisions to get the most out of your renovation.
Whether you're renovating an entire home or just making minor changes, our blog offers inspiration and practical advice. We'll also give you valuable information on materials and tools you'll need to successfully complete your renovation.
Visit our blog regularly to discover the latest trends and innovations in renovation. We are sure that you will find a lot of useful information that can help you with your renovation project.
More room, more light
Whether new construction, existing building or renovation project, sliding glass doors open up rooms and ensure the optimal use of daylight. With their clear aesthetic appeal, they give rooms a new modern effect.
Replace wooden doors
Wooden doors can be easily replaced with glass doors. But which type of door is particularly suitable for renovation and what to look for?
What to do with old frames?
Glass doors are versatile. Whether a windowless hallway, an awkwardly located living room on the north side, or an adjoining room that needs to become a walk-in closet: Glass doors let friendly sunlight flood cool rooms and noticeably and sustainably improve the feeling of living.
Replace single wooden doors
All designs from Griffwerk are available as a complete product family. For the rosette set for wooden doors, you can also get lockable variants. Glass doors do not have to do without the uniform look: The lock cases can be combined with handles from the entire range.
---
Renovation advice for apartments for rent
A safety upgrade in apartments for rent must be coordinated with the landlord just like all changes affecting building substance. A written permit that excludes the obligation to remove it again when moving out is sensible as well. Ideally, change requests should be clarified before entering into the rent contract.
Insured object
Never just pull doors shut. They may not be deemed shut legally. To profit from insurance protection in case of damage it pays off to ask your insurance company. Use this opportunity to clarify whether the resistance class of the protective units is sufficient.
What is a long plate set?
You want to give an existing interior door a new face? The old door handles are quickly history, but possible drill holes can be disturbing. To cover these, simply use a long backplate fitting. If you don't have the same problem with your old door, use a short backplate fitting.
Renovating with fittings - A new look!
New fittings generally also fit old doors. Long plates are ideal for covering all drill holes. This chapter will provide inspiration and a quick overview of the dimensions of our long plates.