VSG glass door leaves
Our LSG glass door leaves not only offer you outstanding security, but also an aesthetic design that enhances your rooms and adds elegance.
---
Glass door: What is LSG?
LSG stands for laminated safety glass. Two panes of toughened safety glass are joined together with a highly elastic, tear-resistant plastic film. In the event of glass breakage, the fragments adhere to this film. The film on the inside can be clear, matt or coloured. The manufacturer Griffwerk also processes colour-neutral white glass PURE WHITE by GRIFFWERK into glass doors made of laminated safety glass.
More security for your glass door
The essential advantage of a LSG door is the plus in stability and safety. If the door is damaged, the shards adhere to the inner composite film. No splinters are distributed in the room or fall down; the residual load-bearing capacity remains intact. Moreover, the use of two toughened safety glass panes results in only small glass crumbs. Deep cuts are avoided.
Glass doors: More noise protection
The double structure of a laminated safety glass pane optimises the sound insulation properties. LSG glass is therefore also used for soundproof windows. As a rule, hinged doors close better than sliding doors. If you attach a lot of importance to sound insulation but do not want to do without light, you will appreciate a wooden door with a light cut-out made of laminated safety glass. By the way: the thickness of the double-layered glass prevents vibrations in the glass. The sound when closing the door is quieter, comparable to the door of a high-quality car.
---
Why laminated safety glass for glass door leaves?
Our VSG glass door leaves offer you a multitude of advantages.
In addition to the security and the plus in sound insulation, they are extremely versatile and adaptable. You have the option of choosing from different types of glass such as clear glass, satin glass or even grey glass. In addition, various decors are available to realise your individual style and design preferences. Whether you prefer a modern, transparent glass door for a spacious room or a satin glass door for more privacy and an elegant atmosphere - you will find the perfect solution with us.
Glass doors: VSG PRIME meets LASER
In the everyday life of a family, things can get a little rough. A glass door is then actually taboo - not with us: Because we have a solution with maximum protection in our offer. Laminated safety glass. First of all, there is the higher safety if glass breaks. The fragments adhere to the inner, tear-proof film, thus minimising the danger of injury. Additionally, our LSG PRIME glass doors are made of two connected ESG glass panes. They are characterised by crumbly fragmentation that prevents cuts. This is good to know. Safety comes first, especially for families. The decision to use LSG PRIME glass rightfully ensures a good feel.
LSG PRIME glass has plenty to offer aesthetically as well. The inner film can be coloured matte-grey smoky or even opaque. Colour tonalities in the interior can be controlled this way, and the desired degree of sight protection can be chosen freely. Now all laser patterns are avaliable on LSG PRIME.
Reflecting gloss with glass doors
In VSG doors, a PVB-film is embedded between two ESG panes. This offers true additional safety: if the glass breaks, the shards will remain adhering to the film. Both sides are high-gloss and easy to clean. High-quality VSG doors also convince with better sound protection properties.
The high-gloss surfaces of the glass door design PIANO WHITE offer pure white reflection. They are a refined eye-catcher, especially in rooms designed in white. They also are an invitation to subtly play with the appearances of different surfaces.
We love the opposites of high-gloss glass in contrast with rough stone, natural wood or matte wall plaster. PIANO BLACK in deeply black glass is a special statement. VSG TRANSLUCENT is opaque but light-permeable as well.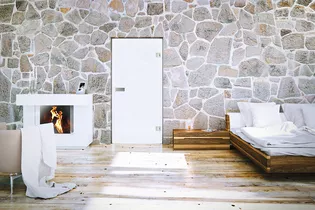 LSG glass door leaves for sustainable rooms
VSG glass door panels contribute to the energy efficiency of your rooms by providing improved thermal insulation. The multi-layer structure of laminated glass helps reduce heat loss while maximising natural light. This can lead to a reduction in energy costs as less energy is needed to heat or cool the rooms.
Five advantages of laminated safety glass:
Greater safety: minimises the risk of injury, as the glass splinters adhere to the film in the event of breakage.
Robust and durable: resistance to impacts and weather conditions
Versatile design: wide choice of glass types and decors
Sound insulation: reduced transmission of noise
Energy efficiency: improved thermal insulation and maximisation of natural lighting
LSG glass door leaves perfectly combined
Combine our LSG glass door leaves with the matching glass door hinges and a lock case with handle pair to create your perfect LSG glass revolving door. This type of door is extremely practical and allows stylish access to different rooms. Whether in living rooms, offices or business environments - LSG glass revolving doors give every room an appealing look and create an inviting atmosphere.
Take the step towards more security, style and elegance with our high-quality VSG glass door leaves and VSG glass revolving doors. Let your rooms shine and create an inviting environment for your guests and customers!