ACHAT VERTICAL
revolving glass door (lsg)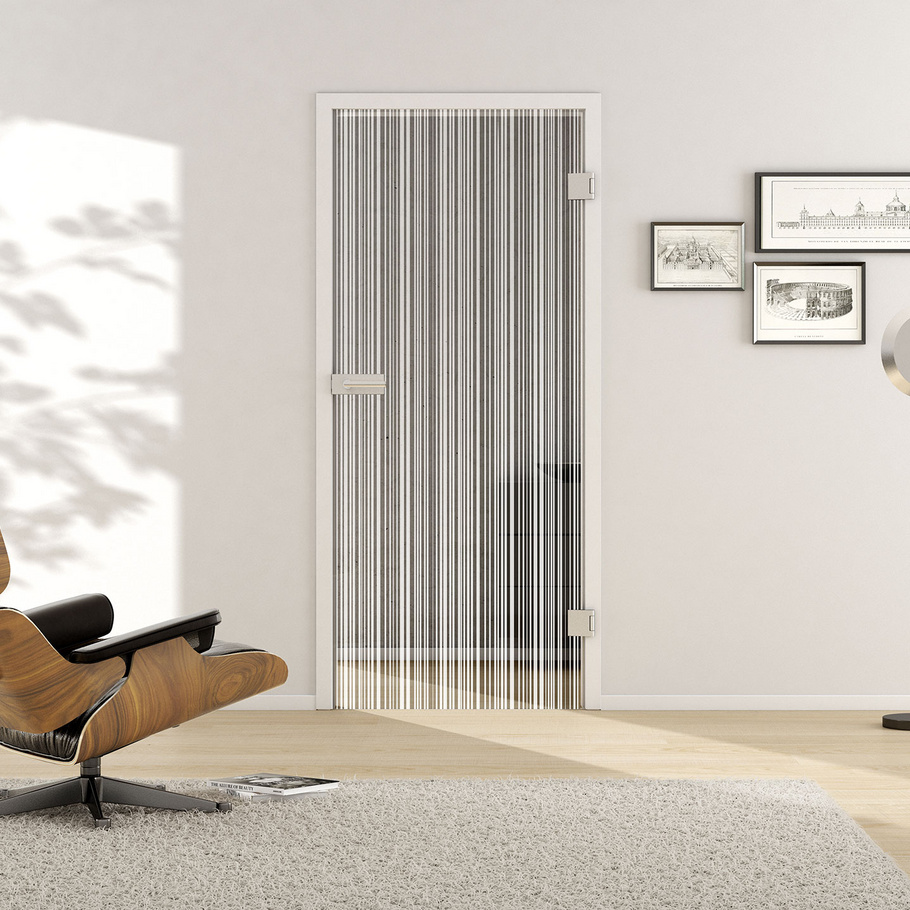 ACHAT VERTICAL
revolving glass door (lsg)
color/opacity: PURE WHITE/clear
Glass revolving door ACHAT VERTICAL
LSG PURE WHITE clear
834x1972x9.5mm Studio/Office DIN L/R
ACHAT VERTICAL 575 LSG
Groundbreaking
The strictly aligned, light lines inside the glass door are like fine, white bands. ACHAT is semi-transparent and lets glances pass. The pure white banding is particularly brilliant when combined with white glass in PURE WHITE by GRIFFWERK. A new classic of contemporary glass door design for us, if we dare to make this prediction.
Warmth
Glass doors make every room even more individual. The diversity of the door materials and designs permits new room interpretations every time. Replacing an existing wooden door with a glass one is very easy, by the way. Rotary doors can even use existing frames. Sliding doors can re-create room transfers. It looks good and saves space, since no swivel range is needed, in contrast to rotary doors. Sliding doors run space-savingly along the wall. A soft retraction version will give you additional comfort.
All glass door designs from the GRIFFWERK range are generally available as rotary door system and sliding door system. We wish you a lot of pleasure in choosing your glass door.
care note for glass doors
When you clean your interior glass, it is enough to clean the surface with warm water. For this, use a sponge or a soft, lint-free cloth. Clean a large area, rather than pointedly.
If there are any residues, e.g. of fingerprints, you can also use commercial glass cleaners (foam cleaner). Please do not use any abrasive, corrosive, acid-containing or alkaline cleaning agents, since these will attack the glass surface and also may cause scratches. Excessive water can be wiped dry with a microfiber cloth. When water acts on the glass surface for an extended period, stubborn lime residue may form.
For LSG doors, observe that the edge composite must not get into contact with water, since this may cause moisture and cleaning agent to enter the laminate.
For satined and laser-treated surfaces
To prevent abrasion of the surface structure, you should not apply too much pressure here. To avoid clouding, rub your door dry generously with a microfiber cloth. Do not use paper or cellulose cloths, since they are too abrasive.
For screen-print glasses
Screen-printed surfaces are softer than the pure glass surface and therefore more sensitive against mechanical cleaning agents. They also must not be cleaned with acids since they may attack the print pattern.
Attention
Please do not use any scratching tools, razor blades or scrapers. They can leave visible and irreparable scratches on the surface.