PLANEO AIR silent
The sliding door that seals.
With PLANEO AIR SILENT, GRIFFWERK developed a tightly closing sliding glass door system with Soft-Close that keeps out sound as well as kitchen smells, steam and draughts. This is made possible by laterally attached rubber lips. They were integrated into the narrow, all-round aluminium profile. The door reveal does not need to be changed. An additional slide-in system is not required. The puristic appearance is retained. PLANEO AIR SILENT is comparable to a wooden door in terms of sound insulation and was developed by GRIFFWERK in Blaustein.
---
PLANEO AIR SILENT - Advantages at a glance
soundproof, comparable to a wooden door
seals against vapors and odors, ideal for kitchen and bathroom
prevents draught, heat remains in the room
more privacy through lateral privacy protection
system invisible from the outside, the puristic look of the door remains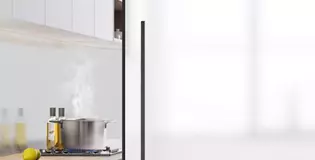 The technique - maximum effectiveness, minimum visibility
A rubber lip seals directly into the wall reveal.
A rubber lip seals to an aluminum bracket mounted on the wall.
Lateral finish
The almost complete closure is achieved by narrow rubber lips on the sides. On the opening side, they are directly connected to the reveal. On the opposite side, an aluminum bracket mounted on the wall provides the necessary stop.
No bottom gap
The lower edge of the glass door was equipped with a floor brush so that no gap is created. All elements are kept minimalistically filigree and do not disturb the simple appearance.
A brush locks the door to the floor.
---
Wide range of applications
Kitchen
Bathroom / WC
Home Office
Hobby room
Find your local specialist dealer now and get advice: